Published on June 27th, 2013 in: Current Faves, Documentaries, Music, Music Reviews, Retrovirus, Reviews, Soundtracks and Scores |
By Cait Brennan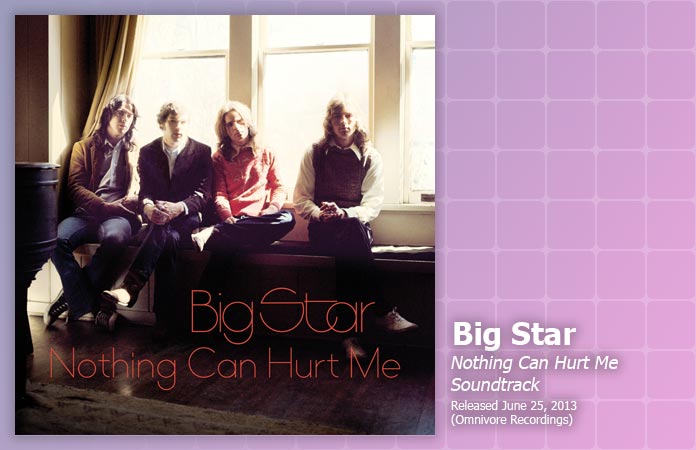 There's a part of you that gets wistful sometimes when you see some secret treasure you love finally get its day in the sun. You think back to the day, seven worlds ago, when a friend of a friend handed you a cassette tape of some band you never heard of called Big Star, on an obviously fake record label called PVC Records. The friend gives you a knowing look and you don't know; you don't know you have a universe in your hand, that this grubby little tape is going to change your life, it's going to detonate some ecstatic explosion inside you, and you will never be that person ever again. And a thousand miles later you chance across another copy in the cutout bin of some strip-mall record shop and you buy it for 49 cents and you put it in the hands of someone you love who's never heard it, and you look at their uncomprehending expression and think "that was me, once upon a time." And if you've chosen wisely and the quantum entanglement is aligned just so, the chain reaction goes on.
It turned out there were a lot of us in the Big Star fifth column. The Replacements sang their hosannas to Alex Chilton in 1987; This Mortal Coil covered two Chris Bell songs in '91; and in 1992 Rykodisc broke the whole thing wide open by reissuing Big Star's Third, an unreleased live session, and Chris Bell's I Am The Cosmos.
It's been a sea change since then, and somehow, against unbelievable odds, Big Star's now in the western canon as one of the all time great bands, the stuff of TV theme songs and glorious reissues and loving tributes, reunions both humous and post, and finally, what may stand as the definitive reassessment of their work: the documentary Big Star: Nothing Can Hurt Me, out now in theaters (review) and in a gorgeous soundtrack presentation by the good people at Omnivore Recordings. The secret's out. Resist it at your peril.
The Nothing Can Hurt Me soundtrack presents previously unheard alternate mixes and demos of some of the band's best-known songs, along with priceless studio chatter that shines daylight on the recording process and the personalities of the band. It's that rare soundtrack album that's totally simpatico with the film itself, curated with care and affection, rather than just a quickie greatest hits to cash in.
The album traces the trajectory of the band in true Henry-Blake's-plane style, from the optimistic, energetic songs of the #1 Record lineup (featuring Chilton, Bell, Jody Stephens, and Andy Hummel), to Radio City (after Bell had "officially" departed the group), to the harrowing, hauntingly beautiful center-cannot-hold implosion of Big Star's Third/Sister Lovers, when the band was down to Alex, Jody, and "play it for me, guitarist." The soundtrack is definitely weighted towards the power pop sounds of #1 Record and Radio City, with less attention to Third, an album that was never properly finished or released during the band's lifetime. There's also an astonishingly great mix of Bell's "I Am The Cosmos" which alone is worth the price of admission. "September Gurls," "The Ballad Of El Goodo," "In The Street," "Thirteen," and so many others are presented here in warm new mixes that reveal the songs in a new light.
The documentary—and the songs—are the sound of something beautiful slowly falling apart, but it's also the story of how something beautiful endures despite it all. Like Nick Drake, Big Star's time has finally come, but when the hipsters fade, that person-to-person connection is what matters, and it lives on only as long as we share it. See the film and get this album. And then put a copy of this treasure in the hands of somebody you love who's never heard of Big Star, and stand back for the fireworks.
The soundtrack to Big Star: Nothing Can Hurt Me was released on June 25 through Ominvore Recordings and is available to order from the label's website.