Published on June 26th, 2013 in: Music, Music Reviews, Reviews, Waxing Nostalgic |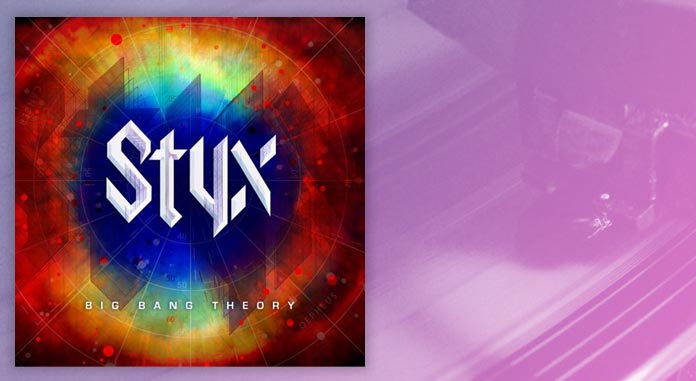 In retrospect, there weren't too many corporate pop/rock bands quite as ballsy as Styx. They were great proponents of the concept album, managing to score hit after hit with singles that, taken out of their album's context, gave no clue to the listener of what they were really about. While I was slow dancing with yet another girl who wouldn't let me touch her butt to "The Best of Times" in Tracy White's basement during another hormonally-interminable eighth grade party, I had no idea I was listening to a song about America, rising like a phoenix from the ashes of the Seventies and rushing headfirst into the Eighties. I just knew I was staying a virgin for another long weekend.
Styx's biggest hits tended to be the namby-pamby Dennis DeYoung ballads. The rocking songs like "Heavy Metal Poisoning" never had quite the same popularity. It's interesting, then, that for their covers album, Big Bang Theory, the band reaches out for the rockiest rock they can rock your rocks to. Even more interesting is how well it works.
DeYoung no longer performs with the band, having been replaced by Canadian Larry Gower. Gower's voice is a great fit for the band, a nice combination of growls and falsetto. When he comes roaring into the opening track, an amusingly heavy version of "I Am the Walrus," it takes the listener by surprise. Beatles tunes are rock's Ark of the Covenant, and Styx rips the lid off this one as sure as René Belloq, staring into the light and screaming how beautiful it is.
How do you follow the Beatles? Why, with the Who, of course, and Styx's version of "I Can See for Miles" is crunchy and rough, with perfect harmonies. After that, we get a gorgeous version of Blind Faith's "Can't Find My Way Home." The guitar work is impeccable, the vocals sweet, light, and mournful.
It's a trifecta of awesomeness that kicks off an album filled with high points. Styx has done what a cover album should do: take other people's songs and make them your own. There's nothing Styx knows quite as well as bombast, and this song is a smorgasbord of power chords. They'll take a classic and crunch it up, adding just enough extra vitamins and minerals to make this album incredibly good for you and an essential part of your arena rock breakfast.
Their cover of The Lovin' Spoonful's "Summer in the City" blew my mind. I wasn't sure if I should dance or just start breaking things in my living room. That rendition stands out as a fine example of what a fine cover should be. They even head for some deep cuts. Have you ever heard a song by Procol Harum that wasn't "A Whiter Shade of Pale?" Styx has, and they do "A Salty Dog" more than enough justice to make you want to find the original in your parents' vinyl collection.
A couple of missteps are to be found. The cover of The Allman Brothers' "One Way Out" doesn't lend itself well to the Stygian groove. Luckily, there is one way out. Skip it. I also have to take a few points off for covering their own song. It may be a six-minute long version of "Blue Collar Man," but that's not really a cover. We call that "wanking."
Still, for a band that most of the civilized world had written off, Styx has delivered a solid album filled with intelligent and surprising choices. They're still Styx, though. If you didn't know you were listening to Styx, your subconscious would be waiting for "Renegade" to start. Big Bang Theory certainly isn't Paradise Theater. Be honest. You wouldn't want that anyway. It is, however, a great rock album from a band that's been rocking for decades. Get your lighters out, kids, and hold 'em high. Big Bang Theory delivers.