Published on June 25th, 2013 in: Current Faves, Feminism, Music, Music Reviews, New Music Tuesday, Reviews |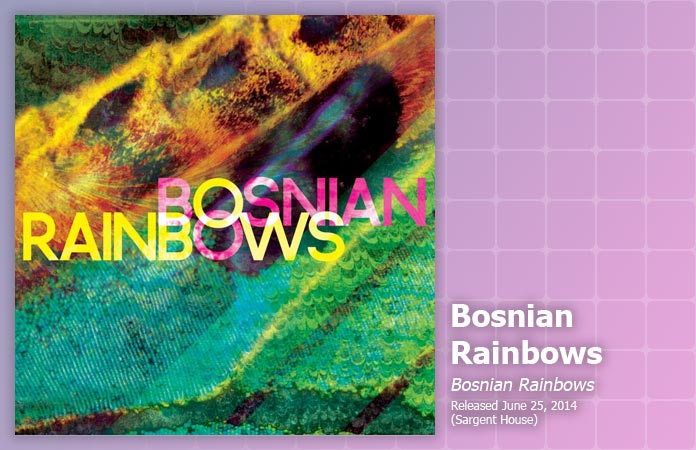 Remember the '80s? Not the kitschified dayglo era of synthesizers and Patrick Nagel portraits, but the pre-Nirvana era of college radio, fly-by-night indie labels, and adventurous bands with eclectic influences. Bosnian Rainbows, a Latin alternative supergroup-of-sorts, exemplifies the magpie musical styles and willingness to experiment that made the previous generation's proto-alternative bands so addictive.
Bosnian Rainbows trade in expansive, cinematic melodies, driven by curlicuing guitar riffs and strong arrangements. Omar Rodriguez-Lopez, the creative force behind the band, perfected these skills with his previous band, the Mars Volta. Reacting to what he saw as a dictatorial manner of producing and fronting a band, the guitarist opted for a more democratic experience with his next band.
To that end, Bosnian Rainbows' eponymous debut highlights the strengths of the individual members and their chemistry in working together. The music draws from a series of disparate musical influences. Drumbeats skitter and syncopate; ornate basslines complement and counter the melodies, and sepulchral organ parts weave eerily through the songs. While Rodriguez-Lopez's complex guitar playing is on full display here, it's one part of the kaleidoscopic mix instead of the main ingredient.
The powerful vocalist Teri Gender Bender serves as the band's nerve center and point of musical entry. Rodriguez-Lopez worked with her previous band, Le Butcherettes, in which she adopted a more confrontational approach to singing and engaging with an audience. While Gender Bender's stompier side flourishes on the song "I Cry For You," her work with Bosnian Rainbows brings out a greater emotional and vocal range. Her understated performance on the lyrically incongruent "Turtle Neck" limns the song with a great poignancy, and her exuberant, forceful turn on "Torn Maps," the album's first single, adds to its compulsively listenable qualities.
Critics have compared Bosnian Rainbows to a passel of other acts, ranging from Jefferson Airplane and Siouxsie and the Banshees to Rush and Tori Amos. This album reminds me a great deal of the underrated Boston band Tribe, who released two fantastically atmospheric LPs before disbanding in the mid-1990s. Gender Bender's dramatic vocals and the band's enchanting music bring to mind Tribe's prog-influenced yet sadly personal deep tracks. Fans of Tribe will want to check this album out, as well.
The clean, ungimmicky production of this album further shows off the excellent musicianship. Producer Johann Scheerer worked well with the all-analog recording and mixing, which gives the album a pleasingly full sound. As with the songs and performances, the production brings some of the band's timeless qualities to the fore while making the album sound exhilaratingly contemporary.
Bosnian Rainbows is out today from Sargent House and can be purchased from the band's website.
Tour Dates:
June 25, 2013 – LA, CA @ First Unitarian Church *
June 26, 2013 – Santa Ana, CA @ The Observatory *
June 27, 2013 – San Francisco, CA @ Great American Music Hall *
July 01, 2013 – Bogota, Colombia @ Rock Al Parque Festival
July 10, 2013 – Atlanta, GA @ Terminal West
July 11, 2013 – Carrboro, NC @ Cat's Cradle
July 12, 2013 – Washington DC @ U Street Music Hall
July 13, 2013 – Philadelphia, PA @ Underground Arts
July 14, 2013 – New York, NY @ Bowery Ballroom
July 16, 2013 – Hamden, CT @ The Spaceland Ballroom
July 18, 2013 – Cambridge, MA @ The Sinclair
July 19, 2013 – Hoboken, NJ @ Maxwell's
July 20, 2013 – Pittsburgh, PA @ Altar Bar
July 21, 2013 – Columbus, OH @ The Basement
July 23, 2013 – Cincinnati, OH @ Taft Theatre
July 24, 2013 – Chicago, IL @ Bottom Lounge
Aug 02, 2013 – Cork, Ireland @ Indiependence Festival
Aug 08, 2013 – Sibenik, Croatia @ Terraneo Festival
Aug 16, 2013 – Groningen, Holland @ Noorderzon Festival
Aug 17, 2013 – Hasselt, Belgium @ Pukkelpop Festival
Aug 31, 2013 – Copenhagen, DK @ Vega w/ Tomahawk
Sept 01, 2013 – Oslo, Norway @ Rockefeller Music Hall w/ Tomahawk
Sept 02,2013 – Stockholm, Sweden @ Debaser Media w/ Tomahawk
Sept 04, 2013 – Helsinki, Finland @ Circus w/ Tomahawk
Sept 06, 2013 – Berlin, Germany @ Berlin Festival
Sept 07, 2013 – Prague, CZ @ Smich Off Summer Festival
Sept 21-22, 2013 – Denver, CO @ Riot Fest
Oct 26, 2013 – Asheville, NC @ Mountain Oasis Festival
*w/ Sister Crayon opening