Published on June 24th, 2013 in: Music, Music Reviews, Reviews |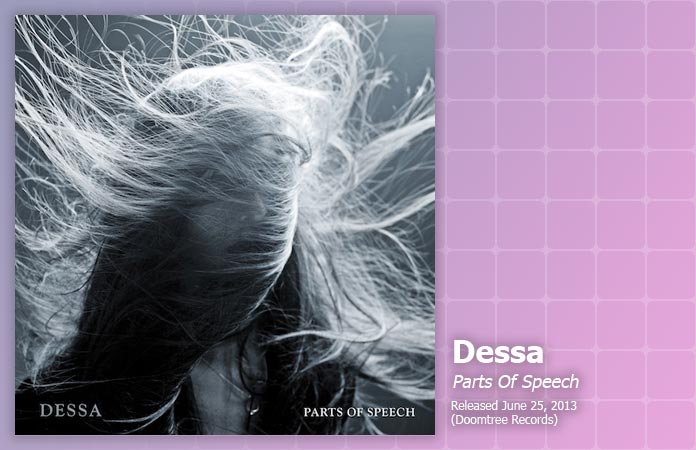 Performance poet Dessa burst on the scene in the mid-oughties with A Badly Broken Code, an inventive record that meshed the confrontational attitude of hip hop, the confessional qualities of poetry, and an appealingly rough-hewn production aesthetic. These seemingly disparate elements came together for an album that explored familial love, particularly Dessa's relationship with her disabled younger brother. Her flow was unimpeachable, and she transitioned well between spitting triples and crooning verses. Her use of analog and toy instruments underscored these themes and gave the album a greater poignancy.
In the three years since A Badly Broken Code dropped, Dessa's interest in exploring new genres and working with different styles of music is understandable. Parts of Speech represents a transition for Dessa: from the experimental rap style in which she made her name into a more traditional pop music idiom.
The tracks that work are those that play to Dessa's strengths. On tracks like "Warsaw," she peels off verses with the ease of a shrug, and she adeptly trades off between rapped verses and sung choruses on the "Call Off Your Ghost." Hearing the ways in which she tells stories through the sounds of words, like the rapid-fire verses on "Call Off Your Ghost," shows the depth of her talent.
Dessa falters with the more traditional pop songs. The emotion in the lyrics is still palpable, and the melodies are pleasant enough, to be sure. Many of the songs blend together due to the slow tempos and midrange production, and the busy arrangements further render her songs into adult-contemporary monotony. Without the evocative lyrics and emotional vocals, the more traditional tracks could be dropped into the background of an emotional scene on Dawson's Creek, and no one would be the wiser.
On her previous releases, Dessa has shown an inventive spirit and a willingness to step outside her creative comfort zone. With Parts of Speech, she's definitely shown some of the things that haven't come as easily to her as her poetry and hip-hop explorations. Because she's known as an excellent live performer, there's the possibility that the more traditional pop songs could win me over in a live setting. I'm glad to see Dessa branching out into different kinds of music, but I hope her next album is more cohesive than this one.
Parts Of Speech will be out June 25 on Doomtree Records and is available to order from the label's website.
Tour Dates:
6/29 – Minneapolis, MN – First Avenue (SOLD OUT)
7/08 – Omaha, NE – The Waiting Room
7/09 – Colorado Springs, CO – Black Sheep
7/11 – Phoenix, AZ – Cresent Ballroom
7/12 – San Diego, CA – The Casbah
7/13 – West Hollywood, CA – The Trobadour
7/15 – Costa Mesa, CA – Detroit Bar
7/16 – San Francisco, CA – Cafe Du Nord
7/17 – Santa Cruz, CA – Catalyst Atrium
7/19 – Bellingham, WA – The Shakedown
7/20 – Seattle, WA – The Crocodile
7/21 – Portland, OR – Mississippi Studios
7/22 – Boise, ID – Nuerolux
7/23 – Salt Lake City, UT – Urban Lounge
7/25 – Fort Collins, CO – Aggie Theatre
7/26 – Denver, CO – Bluebird Theater
7/27 – Kansas City, MO – The Record Bar
7/29 – Chicago, IL – Millenium Park, Jay Pritzker Pavilion
7/30 – St. Louis, MO – Firebird