Published on June 21st, 2013 in: Canadian Content, Current Faves, Documentaries, Feminism, Film Festivals, Horror, Movie Reviews, Movies, Reviews |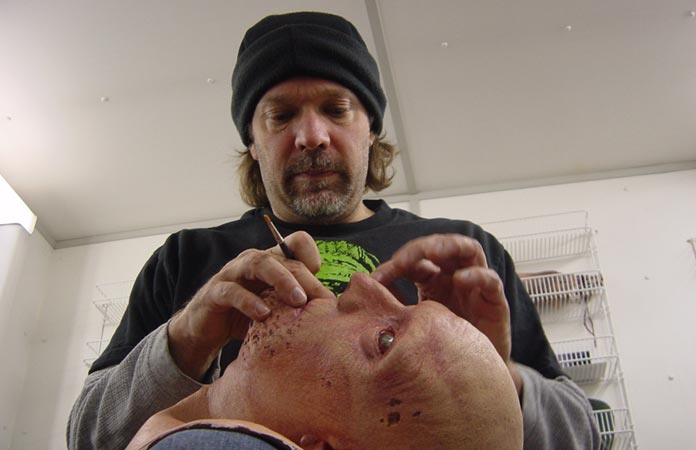 There's a fantastic quote from the mother of special effects wizard Greg Nicotero in Nightmare Factory, a new documentary from filmmaker Donna Davies. When she was pregnant with her son, Mrs. Nicotero says, she read a lot of "blood-curdling" novels, all the ones she could find. "It was fun and exciting to be scared," she adds. This is why horror junkies are horror junkies. The obsession with the craft of special effects is what's explored in Nightmare Factory, but it's clear that the fear factor is the spark that ignites the flame.
Davies's documentary includes interviews with Greg Nicotero and his business partner Howard Berger, who've been in the business since the 1970s. Their production company, KNB EFX, have worked on films like Day of the Dead, Evil Dead, Gross Anatomy, Dances With Wolves, The Green Mile, From Dusk Till Dawn, Sin City, The Chronicles of Narnia, Kill Bill, Death Proof, Piranha 3D, Inglourious Basterds, and TV series The Walking Dead, to name a few. If you think that seems like a wide range of genres, you're right. It's also a resume of which Nicotero is intensely, deservedly proud.
There are also interview clips with other effects artists and filmmakers like John Carpenter, George Romero, Quentin Tarantino, Robert Rodriguez, and John Landis, plus film critic/historian/programmer Jesse Wente. All of them give insights into what makes special effects important to the film industry as a whole, not just genre films.
Nicotero is also an avid videographer of his own life and work. Although there is a lot of new behind-the-scenes footage of KNB EFX at work (and play) from Davies and her crew, there is also an astonishing amount from Nicotero himself. Davies's ability to blend the two seamlessly is impressive. She also does a great job with resourcing an original score that melds perfectly with Nicotero's love of metal and hard rock music, both playing it and listening to it.
It's clear that these effects people are in the business for the love of the craft. All were horror or monster junkies from childhood, devouring movies and issues of Famous Monsters of Filmland. They have great admiration for the early pioneers like Dick Smith and Tom Savini who taught them the tricks of the trade, and they can't imagine doing anything else for a living. Nicotero also explains how being an effects expert means being an expert in every other aspect of filmmaking, which proves how integral they are to cinema as a discipline.
Nightmare Factory has a lot of great visuals and sound bites and will definitely give non-genre fans a deeper understanding and appreciation of special effects. (I also can't help wishing for another documentary focusing on women who work in special effects as females are mostly absent from this film.) However, the film seems to lack a clear agenda until the end, when we start to see how things have changed in the industry and that not everyone these changes are positive.
Berger is the most cynical, saying that studios, "don't care if it's good or bad; it's just money." He also worries that his is the last generation of special effects artists not beholden to digital effects. Visual effects supervisor Everett Burrell calls a lot of newer directors lazy, but admits it's not entirely their fault when studios give them time limitations on producing a product. He also admits that CG does allow for more freedom in the post-production process. Wente, however, thinks that limitations allow for more creativity, and wonders if the "age of great monsters is over." However, Nicotero isn't ready to put the nail in the coffin of old school, practical special effects just yet.
At one point, Nicotero recalls a conversation he had with George Romero, when a planned effect didn't go as he'd hoped. "Things aren't perfect," Romero told him, "but it's the imperfections that make it real." Hopefully, this can serve as a metaphor for the special effects industry as a whole.
Nightmare Factory is the kind of movie that anyone interested in horror films should show to those who don't or won't appreciate the genre, think it's too violent, or that it has a negative influence on society. It's an inspiring, positive look at not only genre films but also the film industry as a whole.
Nightmare Factory is screening tonight at 10:30 p.m. as part of the Female Eye Film Festival in Toronto at The Carlton Cinema. An audience Q & A with the directors in attendance will take place after the screening.