Published on June 20th, 2013 in: Culture Shock, Current Faves, Found Footage, Movie Reviews, Movies, Music, Reviews |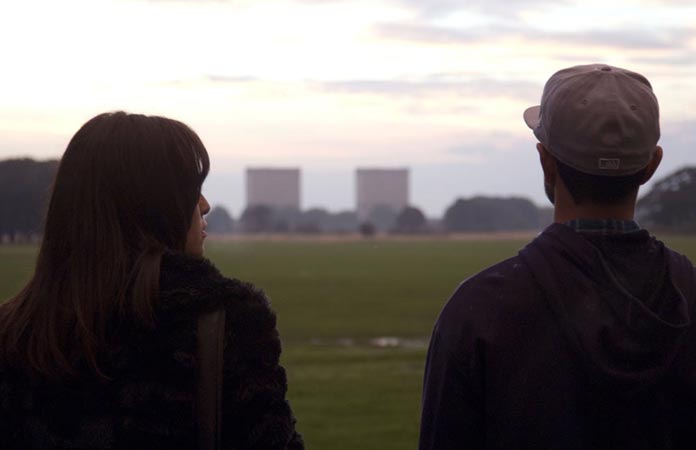 iLL Manors, the turbulent, invigorating debut film from Ben Drew (a.k.a. hip hop artist Plan B), begins with Drew rapping about the harsh realities of life in a council estate. It's the kind of intro that will either suck you in or turn you off immediately, but it will definitely get your attention. You should stick with the film, though, because it reveals an incredible depth of insight into and sympathy for a segment of society that is so frequently misunderstood, ignored, or forgotten: kids who grew up in the social services/foster care system and whose lives have been shattered as a result.
For those unfamiliar with the term council estate, it refers to the UK's version of public housing or "the projects." In North America, public housing is often associated with people of color and the various visible minorities in iLL Manors show that racism and poverty are a cause and effect equation in the UK as well.
At first, none of the main characters in the film are sympathetic: drug dealers, prostitutes, junkies. However, as events progress, we begin to understand these characters' motivations and what has transformed them into thugs and killers.
Some of this change of heart is in response to Drew's unique method of exposition through visual montages set against rap songs whose lyrics provide background detail. Much of our emotional connection, however, comes from a deeper understanding of the horrible situations these kids have been exposed to and how this has resulted in some limited emotional maturity. There are bad people here, but there are also unlikely heroes and heroines.
iLL Manors utilizes a mixture of trained or experienced actors and those with small resumes, but all are impressive. The thick English accents and use of regional slang will likely bewilder those who don't have much exposure to it, but once you get acclimated to the characters' way of speaking, it will become easier to understand. It also helps that all of the cast members are gifted at portraying their characters with physical cues.
Another outstanding aspect to Drew's directorial method is the usage of different cinematic styles, including cell phone videos, surveillance footage, and home movies. There are those who will find the layering of home movie footage with modern day events to be heavy-handed or emotionally manipulative, but in this case, I feel it's the perfect approach. iLL Manors also elevates the language of communication for these kids from something considered disposable into something meaningful. These segments come across almost like found footage, which is a remarkable reinterpretation of a style commonly associated with horror films.
There is horror in iLL Manors, to be certain, but it is all too believable. The confluence of seemingly unrelated characters into a fateful web shows not only how connected these characters are, but also how trapped. The only way for them to escape is to die or to leave, and there are examples of both.
iLL Manors is a gritty, uncompromising look at those who don't always get the opportunity to be seen through a compassionate lens and also allows us to see the burgeoning talents of Ben Drew, who looks to be a fresh new voice in cinema.
iLL Manors premiered at TIFF in 2012 and will be screening in Toronto at Cineplex Odeon Yonge & Dundas Cinemas from Friday, June 21 through Tuesday, June 25.