Published on June 19th, 2013 in: Current Faves, DVD, DVD/Blu-Ray Reviews, Feminism, Horror, Movie Reviews, Movies, Reviews, Science Fiction |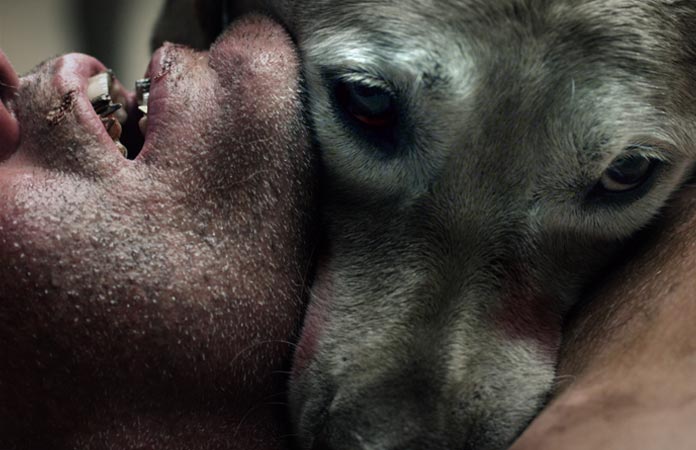 D Is For Dogfight by Marcel Sarmiento
Even to a horror fan, the idea of a film omnibus devoted to death could seem a bit morbid. The ABCs of Death is a complex, thoughtful glimpse at not only death, but also the work of 26 filmmakers from 15 different countries. Each director was assigned a letter and given complete artistic freedom to pick a word from the alphabet and design his or her own cinematic interpretation of death.
Although there are only two female directors on the list, there are quite a few female-centered films. The most heartbreaking and perhaps difficult to watch of these is P Is For Pressure, from Simon Rumley (Red, White & Blue). Focusing on a young prostitute who also happens to be a single mother, it contrasts the squalid reality of poverty against the brightly colored tropical landscape of Surinam. We are so wrapped up her story that the ending simultaneously horrifies and makes us fight against the urge to judge.
The female protagonist in X Is For XXL from Xavier Gens (The Divide) is just as pitiable, but the bad guy is both diffuse and specific. It's dark, gory, and remarkably touching, providing an uncompromising glimpse at female self-hatred. On the other end of female hatred is the brutal misogyny in I Is For Ingrown from Jorge Michel Grau (We Are What We Are). At first glance the interplay between the husband and wife could be interpreted in a couple of different ways; Grau's commentary track, however, explains that feminicide is what compelled him to make the film. Although the effects in R Is For Removed are repugnant, Srdjan Spasojevic's (A Serbian Film) statements about the role of film are not. His commentary track is a poetic narrative of the events onscreen, making this almost as much of a political proclamation as Grau's contribution.
It's not all intensely disturbing, though viewers should definitely prepare themselves for L Is For Libido from Timo Tjahjanto (Macabre) and Y Is For Youngbuck from Jason Eisener (Hobo With A Shotgun). There is also quite a bit of comedy in The ABCs of Death, with perhaps a shocking amount of poop and fart jokes. I don't even need to describe F is For Fart—the only film to pass the Bechdel Test—but it's definitely worth watching it again with the commentary after you've seen it. (Director Noburo Iguchi is also responsible for Dead Sushi.) J Is For Jidai-Gekei (Yudai Yamaguchi), N Is For Nuptials (Banjon Pisanthanakum), and Q Is For Quack (Adam Wingard, Simon Barrett) are all genuinely funny, but there's something especially hilarious about Lee Hardcastle's T Is For Toilet.
Some films, like Adrian Garcia Bogliano's B Is For Bigfoot, mix horror and comedy quite well. One can definitely see similarities between this segment and Bogliano's Here Comes The Devil with respect to sex, death, kids, and monsters. E is For Exterminate, from Angela Bettis, is a funny, fairly low-tech, but remarkably effective creeper. Similarly, the Twilight Zone-esque C is For Cycle from Chile's Ernesto Diaz Espinoza (Bring Me The Head Of The Machine Gun Woman), is simple, yet undeniably off-putting.
Certainly the expression "la petite mort" played a part in O is For Orgasm, from Belgian filmmakers Bruno Forzani and Héléne Cattet (Amer). It's one of the most visually stunning of all 26 films, with evocative usage of color and sound that speaks volumes without a shred of dialogue.
With 26 directors and 26 films, what's most surprising is how few of the segments are duds. It's almost impossible to see how Jon Schnepp's W is For WTF fits in with the other bits. It's goofy and dumb and not in a good way. Even the commentary is grating. I was disappointed in both Ti West's M Is For Miscarriage and Ben Wheatley's U Is For Unearthed, not because either is outright terrible, but because their full-length films—The House Of The Devil and Kill List, respectively—are so fantastic.
The film I didn't expect to like as much as I did is D Is For Dogfight by Marcel Sarmiento (Deadgirl). The title is mildly misleading, for one. Second, despite my misgivings about using animals in films, particularly when they are subject to violence, it's obvious that the dog is never being harmed. The film actually contains some of the most dazzling images of a dog I've ever seen on film. That makes the fact that the budget was only $5K even more unbelievable.
There is an astounding amount of talent and innovation in The ABCs of Death, and definitely enough to please not only hardcore gore hounds but also those who enjoy the more cerebral side of genre filmmaking.
The ABCs Of Death was released on DVD on May 21 through Magnolia Home Entertainment. Each filmmaker contributes to the commentary track. The DVD also includes behind-the-scenes featurettes for letters A, B, C, D, H, I, J, R, T, V, and W; a featurette called "AXS-TV" A look at The ABCs of Death"; and the film's trailer.