Published on June 18th, 2013 in: Current Faves, Music, Music Reviews, New Music Tuesday, Reviews |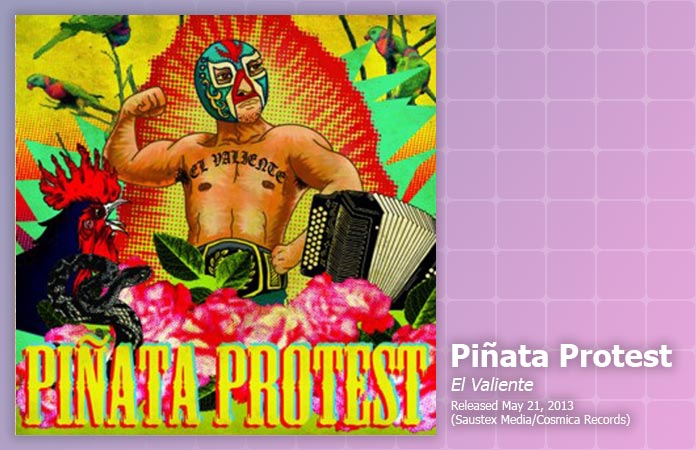 When I hit play on my demo copy of El Valiente, a series of brostep-style drops came out of my speakers. My heart sank. Had "los muy chingóns de Norteño Punk" gotten sidetracked by that most loathsome of EDM subgenres? One second and a long yip later, I realized I didn't have to worry.
For the uninitiated, Piñata Protest has mastered a sound that blends the buzzing cacophony and shout-along choruses of punk with Norteño, an accordion-driven form of traditional Mexican music. While the two genres may seem at odds with one another, the fast tempos and slyly political lyrics for which Norteño is known play well with the exuberant energy of punk. It's a wonder other bands haven't tried this kind of you-got-your-peanut-butter-in-my-chocolate crossover.
Piñata Protest play to their strengths on El Valiente, and their fusion of these genres gives the songs a satisfying heft. On songs like "Life on the Border," they incorporate surprising elements (like the "Pop Goes The Weasel"-sounding accordion riff that opens the song) into the verses. The organ-like sound of the squeezebox fills out the midrange and invests the melody with a mockingly religious tone. The band also throws in some unexpected time signatures—the 3/4 waltz time of "Tomorrow, Today" plays well with the slamming tempo and vocalist Alvaro Del Norte's crooning, slightly sarcastic tenor.
Much of the album deals with the experiences of growing up in a town on the Mexican/US border. While they don't write with an explicitly political viewpoint, there's a strong sense of ambivalence in songs like "Life On The Border." "Vato Peron," the album's opening track, chews up stereotypes of Mexican-American youth and spits them back out with bile and dark humor. Del Norte is able to pull off the traditional ballad "Volver, Volver" with the same sense of urgency that runs through the throbbing title track.
Chris "Frenchie" Smith, who manned the boards for fellow Texans And You Will Know Us By The Trail Of Dead, gives the album a full sound and stays true to the irresistible energy that has become the band's trademark. If El Valiente's brief length leaves listeners hungry for more, be sure and check out their previous EP, Plethora. Fans of the Dropkick Murphys' earlier records will definitely want to give Piñata Protest a listen.
El Valiente was released on May 21 through Saustex Media/Cosmica Records and can be purchased from the band's website.