Published on June 13th, 2013 in: Current Faves, Horror, Music, Music Reviews, Reviews, Soundtracks and Scores, TV |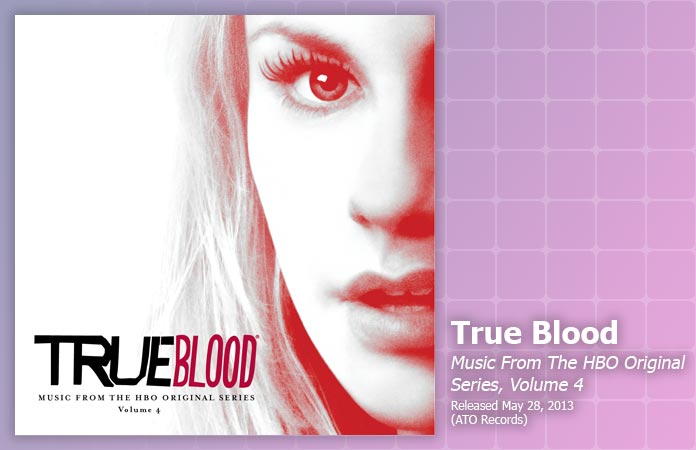 The latest installment of the True Blood soundtracks, True Blood: Music From the HBO Original Series, Volume 4, reinforces the idea that no matter how silly or bewildering or campy the show is (even in the best way), the soundtrack is invariably perfect. It's listenable and enjoyable out of the context of the show, though if you want to reminisce about Alcide and Sookie getting their drink on, you can listen to "Let's Boot And Rally" and remember that magical time as well. Or possibly remember any time that Alcide was shirtless. I digress.
Like the last soundtrack installment, the leadoff track is a clever cover/duet by divergent artists (last time it was Neko Case and Nick Cave's awesome "She's Not There" which still gives me goosebumps). Eric Burdon and Jenny Lewis team up for "Don't Let Me Be Misunderstood" like silk and sandpaper; all smoky and eerie.
The True Blood soundtracks traffic in interesting, clever covers. Bosco Delrey takes John Mellencamp's "Authority Song" and makes it sinister and experimental. It sounds like there's a space-age carnival happening in the background. My Morning Jacket doesn't break much new ground on the Pete Seeger-penned, Byrds'-popularized "Turn Turn Turn." They execute a fairly faithful cover with heavier (but still jangly) guitars and I swear at one point, he sings the word as "refwain." I'd love to hear "Turn Turn Turn" as a gothic dirge sometime. Mobley brings a hard edge to the Beatles chestnut "I Wanna Be Your Man."
Proper blues songs get a shake here, too. "Smokestack Lightnin'" by Howlin' Wolf, that of the impeccable harmonica and teeth-grittingly perfect vocals, is here. Koko Taylor's "Whatever I Am, You Made Me" is so good it hurts. What a voice.
The aforementioned "Let's Boot And Rally" just rocks. A duet by Iggy Pop and Bethany Cosentino of Best Coast, it's a grungy, rumbling thing, an anthem for a night of shenanigans. I'll always buy whatever Iggy's selling.
Like on Volume 3, UK-based The Heavy supply a delightful track. "What Makes A Good Man" has fuzzed-out guitars and call and response with a soulful backup chorus.
What I love about True Blood is the use of breaking bands over the end credits. The first time I heard Alabama Shakes was on the show. Brittany Howard has the kind of voice that female singers try desperately to affect, and fail at. It's powerful and quirky, and on the propulsive "Pocket Change" it is showcased. That's a top-down, summer driving song.
Other up-and-coming bands here are The Naked and Famous, whose synth-driven, whispery, trancey, dancey "The Sun" is gorgeous. Warpaint, with their layered vocals and harmonies, are sparse, atmospheric, and lush (though a bit long) and their "Undertow" brings the dream pop. I was blown away by Deap Vally and "(She's A) Wanderer." A kick ass female duo that plays gritty, scuzzy garage rock, they have quite the ear worm here.
The Flaming Lips give us "Your Face Can Tell The Future." It's both sonically crushing and endearing (and also, I learned that I cannot listen to The Flaming Lips whilst I'm driving, because I like to listen with my eyes closed and no good can come from that).
The final track, another subversive cover, is the 1939 Vera Lynn classic, "We'll Meet Again" done by Los Lobos. It's been covered by everyone from Johnny Cash to the Turtles, and it has never sounded so much like a threat. It's haunting and echoey and heavy.
As always, the True Blood soundtrack is delicious. True Blood: Music From the HBO Original Series, Volume 4, is a grab bag of inventive tracks and atmosphere, new artists and old, and a feast for the ears.
True Blood: Music From The HBO Original Series, Volume 4 was released on May 28 through ATO Records and is available to order from the label's website, iTunes, Amazon, and HBO.