Published on June 12th, 2013 in: Music, Music Reviews, Retrovirus, Reviews |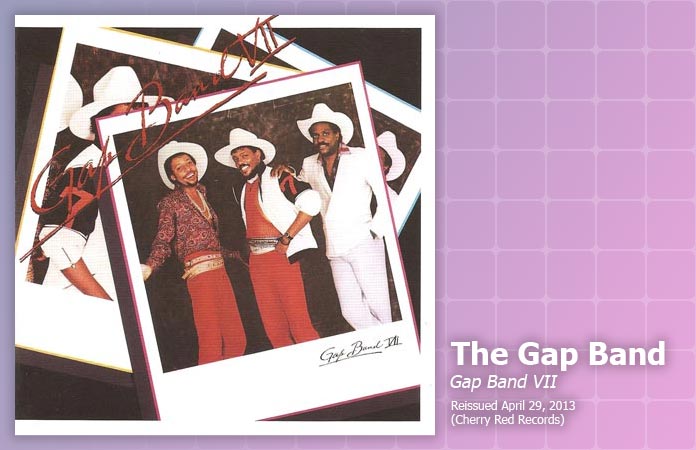 For the first time on CD and remastered like it's spanking new, The Gap Band's 1986 Gap Band VII, is a strange, unsatisfying blend of things. There are moments of pure brilliance and pleasure, and there are moments of uninspired insipidness. The moments of brilliance nearly make up for those. Nearly.
The Gap Band sounds like a group at a crossroads here, retreading familiar territory like on "Desire," which has a nearly identical drum track as one of their big hits "You Dropped A Bomb On Me." "Desire" is awash in crisp electronic flourishes, almost a "throw it against a wall and see what sticks" sort of production approach. The production is also strange on "I Want A Real Love," an up-tempo ballad with vocals too far down in the mix and jangly guitars that overwhelm. The song meanders and doesn't go much of anywhere.
Much better are the songs that bring the funk. "Automatic Brain" is the best of the lot; catchy and hummable, with Prince-like synth riffs, and a fiery guitar solo. This one wasn't a hit but should have been. It's remixed two more times on this extended version of Gap Band VII. It actually needed a 12″ single and got two. The Club Mix is notable for what sounds like a child's slide whistle providing the beat. The Rap Version is good up to a point, but like all 12″ singles, it goes on a bit too long.
Two other songs sound like lost P-Funk tracks. "L'il Red Funkin' Hood" boasts smart harmonies and a head-bobbing beat. "Bumpin' Gum People" (which reminds us "Bumpin' not humpin'") gives us a wildly popping bass and infectious, nonsensical lyrics. It sounds a lot like what happens when you mess around in a studio and record it. The elegant female vocals and the weird little giggle in the background are interesting.
The vocals here are often great. "Going In Circles" has slinky harmonica and dead sexy vocals, showing off Charlie Wilson's range. Because it was 1986, "Going In Circles" was remixed twice, once in a long version, which is perfunctory, but more bizarrely, there is a 12″ instrumental with harmonica, in case you feel like karaoke, I suppose. "I Need Your Love" has silky, powerful vocals, and almost hilarious interjections by another band member, like a hype man.
What doesn't work is "I Know We'll Make It." A rote dance song awash in synths and drum machines, it is overlong and the vocalist sounds bored.
The "Desire" remixes are here as well, and the 12″ Dub Mix is entertaining. Adding to the kitchen sink approach of the original mix, you get to play the "what's that sound" game. Like "Is that the sound of a car starting? A star falling? A piano falling down the stairs?" It lacks the lyrics, but does feature studio strangeness.
Gap Band VII definitely has its moments. "Automatic Brain" is killer. When The Gap Band is good, they're terribly fun.
Gap Band VII was reissued on April 29 by Cherry Red Records and is available to order from the label's website.