Published on June 11th, 2013 in: Current Faves, Feminism, Music, Music Reviews, New Music Tuesday, Reviews |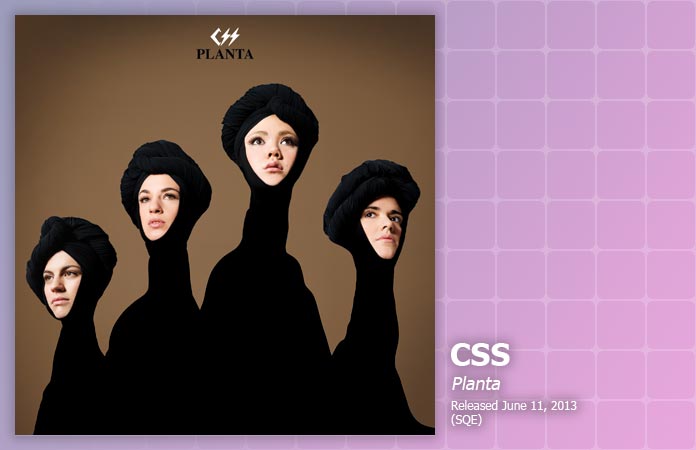 Listening to the latest CSS album may inspire listeners to develop a vicarious crush on the object of the band's affections. Washes of fizzy synths sound like the rush of dopamine one experiences while in the throes of infatuation, and the thumping, staccato rhythms pulse with exuberant energy.
Since their first album dropped in 2006, CSS have put their own spin on '80s synth pop, investing the underrated genre with a sassy personality and a dollop of post-riot grrrl feminism. Compared to its predecessor, La Liberacion, Planta takes a more introspective lyrical approach, with songs that depict the giddy highs of falling in love and note the heartbreak of unrequited emotions. While the lyrics to individual songs might seem bratty and shallow, the album as a whole has such a desperate, obsessive quality that it comes off like the soundtrack to a film version of Orpheus and Eurydice as adapted by John Hughes.
The music meets the standards that Hughes set for his soundtracks. The skittering beats that open "Teenage Tiger Cat" directly quote the New Order song "True Faith," and the talk-sung vocals of "The Hang Out" could have been lifted from a mid-'80s update of a beach party movie. Other tracks, like "Hangover," interpolate their signature sound with the steel drums and horn sections popular in Brazilian music. Their use of a keytar to mimic the strumming of a guitar on some tracks gives the arrangements a playful quality.
While much of the album revels in major keys and sunny moods, the last track, "Faith in Love," pinpoints a new direction for the band. Only the layered synth arrangements and Lovefoxxx's lead vocal tie it to the rest of the album. Lovefoxxx's controlled vocals, the Bernard Herrmann-worthy melody, and the minor key in which the song is set point to a darker, more melancholy mood. Thematically, this could represent an end point for the album's blissed out tone—when unrequited love withers on the vine, this is what you're left with. On a musical level, this sounds like a new direction for CSS, one that I hope they explore on their next album.
For the most part, though, Planta has an endearing, buoyant quality that will sound great blaring out of club speakers or pouring out of open car windows on balmy days. The percolating energy of the album put a spring in my step on a dreary late spring day.
Planta is out today from SQE Music. Check out the band's website to order a copy.
Tour Dates:
June 14 – Santa Ana, CA – Observatory*#
June 15 – Los Angeles, CA – Fonda*#
June 16 – San Francisco, CA – The Independent*#
June 17 – San Francisco, CA – Great American Music Hall*#
June 19 – Portland, OR – Crystal Ballroom*#
June 20 – Seattle, WA – Showbox#
June 22 – Denver, CO – The Summit#
June 25 – Minneapolis, MN – Fineline#
June 27 – Detroit, MI – Majestic#
June 28 – Cleveland, OH – Grog Shop#
June 29 – Chicago, IL – Lincoln Hall#
July 1 – Washington, DC – 930 Club#
July 2 – Philadelphia, PA – Union Transfer#
July 4 – Toronto, ON – The Opera House#
July 5 – Montreal, CA – Le Mondial Loto-Quebec#
July 6 – Cambridge, MA – The Sinclair#
July 8 – NYC – Bowery Ballroom#
July 9 – Brooklyn, NY – Brooklyn Bowl#
July 16 – Baton Rouge, LA – Varsity Theatre%
July 17 – Houston, TX – Fitzgerald's%
July 18 – Austin, TX – Emo's%
July 19 – Dallas, TX – House of Blues%
July 20 -San Antonio, TX – White Rabbit%
MS MR = *
IO Echo = #
MNDR = %