Published on June 10th, 2013 in: Canadian Content, Current Faves, Feminism, LGBTQ, Movie Reviews, Movies, Music, Reviews, Teh Sex |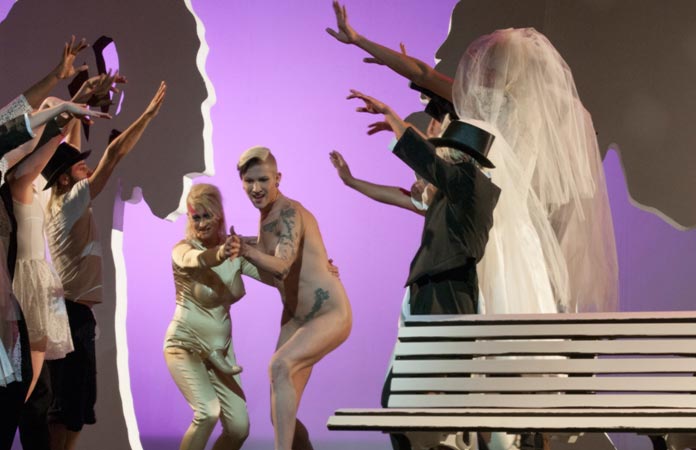 Photo © Angel Ceballos
You don't need to know her music beforehand to "get" the new concert-cum-performance-art film from Peaches, but even fans will marvel at how accurately the songs in Peaches Does Herself tell the story, as if they were written expressly for the film. Furthermore, although the narrative is fairly simple, the concepts within it are complex, including sex, romance, gender, confusion, anger, and acceptance.
"Performance art" is a term that makes many roll their eyes and shriek "pretentious," but there is nothing pretentious about this movie. Early on, we see a young Peaches composing music in her bedroom (which turns into a giant vagina, but I'm getting ahead of myself). There's a quiet awkwardness to her actions which reminds us that no matter how fiercely fearless she is in front of an audience, every performer starts off in a similar fashion. Anyone who doesn't already appreciate Peaches's extraordinary vocal gifts will have their ears opened by this film.
Peaches Does Herself also has plenty to look at. The costume design is sumptuous, but remarkably organic, particularly in the opening when the Fatherfucker Dancers pink full body spandex suits zip off into sections or during "More" when creatures rise from the floor, writhing in metallic mesh bags which stretch, cling, and glitter in the light and smoke. Both Peaches's metallic blue ensemble with giant robotic shoulders and genderqueer suit make me more than a little covetous. The Fatherfucker Dancers are mesmerizing, not just because of their skills but their enthusiastic energy and uninhibited facial expressions. The camera work, much like the film itself, is not static; there are frequent close ups and zooms, plus cuts from different viewpoints, which at times feel incredibly intimate and behind the scenes, especially in conjunction with the vivid color palette of black, red, electric blue, hot pink, and gold.
If you haven't yet been exposed to Sandy Kane or Danni Daniels, then Peaches Does Herself has even more to offer. Kane, also known as The Naked Cowgirl, acts as a sort of fairy godmother for young Peaches in the beginning, and her raunchy jokes are hilarious. Daniels, a transgender porn actress who is jaw-droppingly stunning, portrays Peaches's paramour in the film, but also appears as both a white stag and a black one.
According to Celtic mythology, white stags would appear when one was transgressing a taboo. If Peaches Does Herself can be described as only one thing it would be transgressing taboos. Really, it's so much more than that. It's also a hell of a lot of fun to watch.
Peaches Does Herself premiered at the Toronto International Film Festival in 2012. It will be screening at the Bloor Hot Docs Cinema in Toronto, ON on Wednesday, June 12 at 9:00 p.m.
Additional screenings include the Roxy Theatre in Saskatoon, SK on June 8 at 12:00 a.m. and five screenings at the Metro Cinema in Edmonton, AB. For future screenings, check the Peaches Does Herself page on the Films We Like website.