Published on June 5th, 2013 in: Culture Shock, DVD, DVD/Blu-Ray Reviews, Feminism, Found Footage, LGBTQ, Movie Reviews, Movies, Reviews |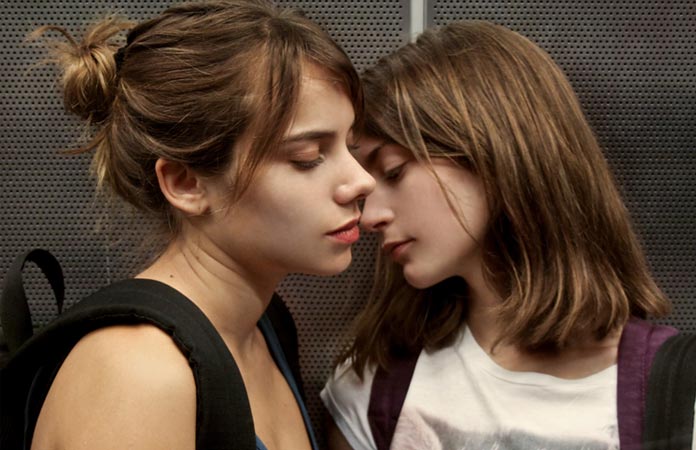 Eighteen-year-old Daniela has the makings of a precocious sex geek. She is bisexual and game to playing with new partners, and she writes about her adventures in her blog, "Jovenes & Alocada." Two factors make Daniela's story a little more notable: She grew up in Chile during the post-Pinochet era, and her family is deeply involved with the Evangelical church. Daniela's experiences as a queer teenager comprise the story of Young & Wild.
When her relationship with a fellow student becomes common knowledge, Daniela is expelled from her religious high school a few weeks prior to her graduation. Instead of protesting the expulsion—or trying to learn the truth about her experiences—her parents find her a job at a CBN-style TV station. Though her new job bombards her with very conservative political rhetoric, she also meets her two lovers through working in the studios. The film is organized as a series of vignettes complete with voice-over narration and color commentary from Daniela's friends, in the style of a blog entry.
Daniela experiences some major conflicts, starting with her expulsion from school and including her family's violent homophobia. However, director Marialy Rivas and her writing team never depict her as a victim. She has some confusion about the world and makes mistakes, but the film never judges her for them. The film ends on an ambiguously positive note, with Daniela resuming power over her life after almost ceding it to the church.
Rivas's eclectic visual style mirrors Daniela's experimentation. Film clips, found footage, and animated GIFs (including some graphic pornographic images) give the film a kaleidoscopic quality. Rivas's use of pink filters and shallow depth of field foreground Daniela's experience visually, as the voiceover narration places the viewers inside her head.
The deliberate pace and episodic structure gave the film its sole impediment. I had a hard time maintaining an interest in it, since it did seem like an extended dream sequence or a cinematic mix tape at times. This may have worked better as a series of short films for the web.
Fans of rock en español will particularly appreciate the soundtrack. Rivas chose some great tracks from Santiago-based electropop maven Alex Antwander for the party scenes, and Ana Tijoux's track "Shock" plays over an all-too-short scene involving a douchey commenter.
Young & Wild was released on DVD on April 30 through IFC Films.