Published on June 4th, 2013 in: Culture Shock, Current Faves, Music, Music Reviews, New Music Tuesday, Retrovirus, Reviews |
By Cait Brennan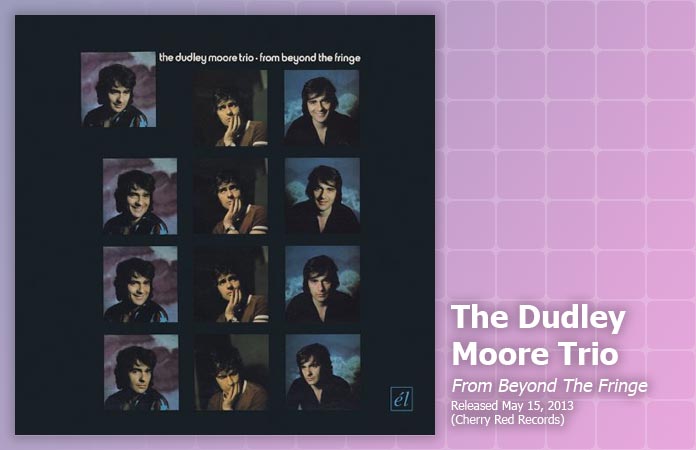 Dud, we hardly knew ye.
To Americans of a certain age, Dudley Moore was that loveable, "cuddly" Englishman of a certain height who improbably got the girl in several huge blockbusters of the '70s and '80s—notably Foul Play, 10, and Arthur (for which he received a well-deserved Oscar nomination). Even his less-successful films kept him firmly in the pop-culture consciousness throughout the '80s—Wholly Moses, Micki and Maude, Best Defense, the Preston Sturges remake Unfaithfully Yours, Arthur 2: On The Rocks, Santa Claus: The Movie, the delightfully crass advertising send-up Crazy People.
Hits or flops, there's something to love in all those films, and more importantly in his absolutely magnificent work in films like Stanley Donen's Bedazzled; Bryan Forbes's The Wrong Box; 30 Is A Dangerous Age, Cynthia; The Bed Sitting-Room; and so many others. But many of his film fans are only vaguely aware of Moore's career as a highly regarded jazz composer and pianist, whose albums and film scores are every bit the equal of his comedy talent.
A child prodigy, Moore won a prestigious organ scholarship to Magdalen College, Oxford, where he mastered classical repertory and became a serious scholar and composer—not bad for a working-class council-house kid from Dagenham. He formed the Dudley Moore Trio soon thereafter and played in jazz clubs on both sides of the Atlantic, recording a series of albums and singles before he rose to fame in an edgy comic revue called Beyond The Fringe, alongside Alan Bennett, Jonathan Miller, and a cheerful, sweet-tempered lad named Peter Cook. Television and film soon beckoned and Moore never looked back. But if you loved his comic timing, you should hear his music.
Cherry Red Records has done a wondrous thing, then, with its new CD The Dudley Moore Trio—From Beyond The Fringe. Pairing one of his brilliant, overlooked jazz albums with some of his finest comedic moments, it's two sides of the multifaceted Moore at his best. If you only know Dudley from the films, you're in for a treat.
While this album shares the name and cover art from a 1970 Atlantic Records reissue, the tracks on Cherry Red's From Beyond The Fringe cover a lot more ground. Included here is the original album in its entirety (first issued in 1962 as Dudley Moore Plays The Theme From Beyond The Fringe & All That Jazz), plus the Dudley Moore Trio's first single ("Strictly For The Birds" b/w "Duddly Dell"), plus a generous selection of, um, selections from the original London and Broadway runs of Beyond The Fringe.
The debut single tracks, 1961's "Strictly For The Birds" and "Duddly Dell," start things off in a comic mood; "Birds" is downright silly (and quite charming) while "Dell" demonstrates a more subtle wit, showcasing his gift for musical parody. Both sides were produced by George Martin, then Parlophone/EMI's resident musical comedy expert who produced comedy hits for Goon Show stars Spike Milligan and Peter Sellers, and would later go on to supervise the recording of the Beyond The Fringe material heard later on this disc. (Also, Martin was later involved in producing some kind of British invasion band before he achieved lasting fame writing Game Of Thrones.)
The single has its charms, but Moore was in better hands at Atlantic Records, whose jazz department was already legendary by 1962, when the original From Beyond The Fringe LP sides were recorded. Here alongside Dud's own Beyond The Fringe theme are seven jazz standards, from "I Love Paris" to "Just One Of Those Things," played with sensitivity, swing, and style, certainly worthy of the other great records that came out on Atlantic's jazz imprint that year.
Moore wears his influences proudly; his phrasing strongly recalls Errol Garner's, with a healthy dose of Oscar Peterson, Art Tatum, and even John Lewis and Bill Evans. But Moore's playing reflects a singular give and take between deeply felt longing and melancholy and playful, joyful outbursts of sheer virtuoso brilliance. The results are in a very real sense incomparable: nobody, then or now, ever played quite like Dudley Moore, and his ace sidemen Peter McGurk (bass) and Chris Karan (drums) frame Moore's tone and tempo perfectly.
For music lovers, the Moore Trio's original eight Atlantic sides are the real treat here. Just a few highlights: Moore's take on Rodgers and Hart's "I Didn't Know What Time It Was" is a masterpiece of understated elegance, "What's New" starts off deceptively simple and becomes a tour-de-force, and "I Get A Kick Out Of You" kicks with a bop-influenced swing style that's impossible to resist.
The groundbreaking Beyond The Fringe selections are a different animal entirely, showcasing Moore's musical talent and flawless comic timing at its best, in now-legendary skits alongside his Fringe cast mates—and of course his longtime comic partner Peter Cook, with whom he'd create some of his most memorable work before leaving to become one of Hollywood's most charming (and least conventional) leading men.
One wonders what Moore would have thought of the pairing of his jazz material with the fine Beyond The Fringe bits; despite his extraordinary gifts Moore struggled for years to be taken seriously as a musician, because somehow the public consciousness apparently cannot bear the idea that a person can be talented in more than one arena. But neither one field nor one album can contain a talent like Dud's, and this is a great synthesis of what he did best.
Moore recorded numerous albums after this, most of which are unjustly out of print; a comprehensive set of his jazz sides would be most welcome. He also contributed mightily to his own films; Moore's innovative orchestrations for Bedazzled and 30 Is A Dangerous Age, Cynthia are among the finest film scores ever composed.
Moore died in 2002 of an unthinkably awful degenerative neurological disorder called progressive supranuclear palsy, which stilled his hands and voice long before it ultimately ended his glorious, turbulent life. Thankfully, he's left us an extraordinary legacy of film, television, and music. Here's hoping more of his musical legacy will find its way from the vaults. Cherry Red's From Beyond The Fringe compilation is an ideal place to start.
The Dudley Moore Trio—From Beyond The Fringe was released by Cherry Red Records on May 13 and is available to purchase from their website.