Published on June 3rd, 2013 in: Current Faves, Feminism, Music, Music Reviews, Retrovirus, Reviews |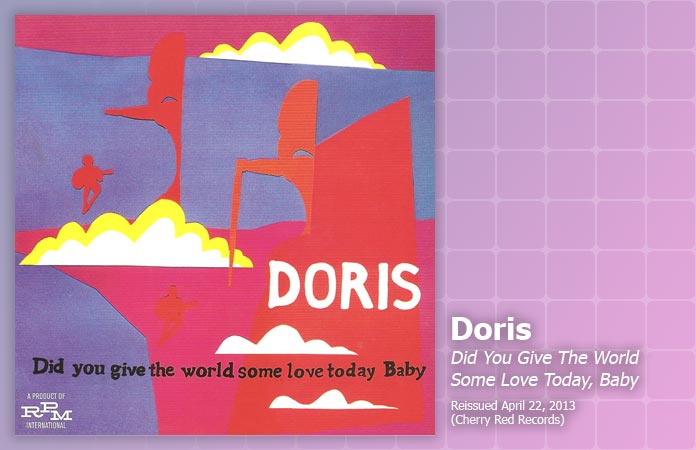 Issued only in Sweden in 1970, Doris's second album Did You Give The World Some Love Today, Baby is an overlooked gem. It's a mix of jazz, pop, country, and psychedelia, all percolated together and topped with a singer who has great range and charm. I had put this album on my iPod when it arrived, and when a song would pop up on random play, I'd think, "Oooh, this is interesting," but it has to be listened to as a whole. Did You Give The World Some Love Today, Baby is mind-blowing and brilliant. It was intended to introduce Doris to English speaking audiences, but it tanked, which is a terrible shame. Newly remastered here, it is absolutely worth listening to.
Doris Svensson is alternately gritty and girlish, and sometimes at the same time. The title track showcases her unusual voice. "I Wish I Knew" sounds impossibly fresh and current. It's jazzy, psychedelic, and wild. "Grey Rain of Sweden" is lovely and introspective and you'll never hear the phrase "your gaze will be troubled" sound as sweet.
Did You Give The World Some Love Today, Baby really takes off with the flat out funky "Waiting At The Station." It's a marriage of country fiddle, a dobro-esque guitar, and Doris's Janis Joplin-like growl. Following on its heels is the sassy as hell "Don't," with her breathless delivery and a marvelously fuzzy guitar. All of these songs have a LOT going on in them and it works brilliantly.
"You Never Come Closer," with its sinister bass, is genius. With screams in the background, it sounds like it could have been the soundtrack to an Argento movie. It's a horror movie freakout, building to a fascinating breakdown.
It's followed by one of two covers (the other is Harry Nilsson's "Bath"), The Band's "Whispering Pines." It's a soothing comedown with cello after the excellent weirdness of "You Never Come Closer." Then, things begin to swing again. "I'm Pushing You Out" is a tour-de-force with horns and organ, and a ripping vocal from a woman standing up to a "low down heel."
"Won't You Take Me To The Theatre" is wickedly clever. Doris sings with a little girl voice, but the lyrics are biting and sharp. "Beatmaker" simply rocks. Her voice is great and the lyrics are cutting. It's like a lost Carrie Nations song.
Paired with Did You Give The World Some Love Today, Baby is a collection of all Doris's singles with the bands The Plums and The Dandys, as well as her first album Svenssons Doris! It's fascinating to hear her progress.
With The Plums, Doris starts out making pure girl group pop. She covers "Mama Didn't Lie" and "A Lover's Concerto" sweetly. Her version of "Swanee River" is swinging. Unfortunately, "The Loco-Motion" is a plodding, overdone, and joyless version.
"Benny Law" sounds a bit more like what she would eventually become. It's an especially good minor key-inflected track. "You Made A Fool Of Me" also shines with layers of vocals and a smart ending.
Doris's Swedish language version of the Beatles' "Your Mother Should Know," "Din Mamma Hon Minns," is absolutely charming. It sounds like a music box breaking down. She covers "Never My Love" (also in Swedish "Aldrig Min Vän"), and it is gorgeous and dreamy.
Although her playful performance of "Boom Bang-A-Bang" is overpowered by the backup singers, "Du Som Bara Har Sett Vårar" is effervescent and catchy, and "Ta Och Tånk Efter" is impossible to dislike.
Doris joins with The Dandys on the four remaining songs. "Go Back To Daddy" is rocking and fierce, and just when you think you know what she's capable of, she cuts loose with the jazzy "Don't Let It Rain." "Flowers In The Morning" brings us to the end, a song that begins delicately, until the chorus, where she lets fly freely.
Did You Give The World Some Love Today, Baby is more than just a curiosity. It's been called an essential funk album, on the level of Earth, Wind & Fire and James Brown. It's an astonishing collection of surprising songs that deserve your attention: provoking, clever and really, really excellent. Just go buy it, would you?
The expanded edition of Did You Give The World Some Love Today, Baby was released by Cherry Red Records on April 22 and is available to order from their website.