Published on May 31st, 2013 in: Current Faves, Music, Music Reviews, Reviews |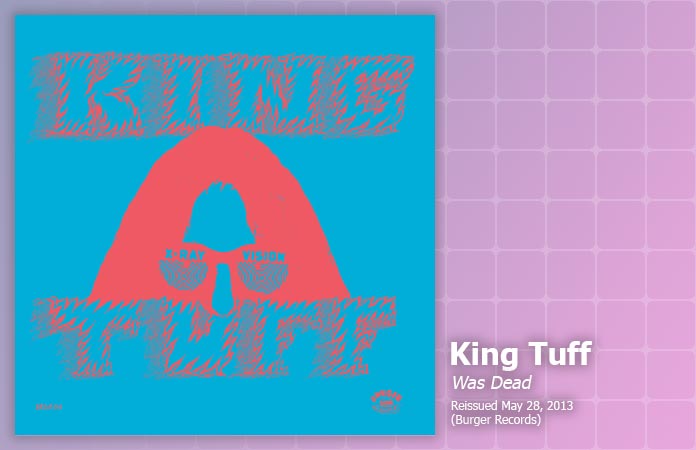 Burger Records is synonymous with fun. The last two releases from the label I reviewed were incredibly fun and their reissue of King Tuff's Was Dead is no exception.
Originally released in 2008 on Tee Pee Records as a limited edition on vinyl only, Was Dead was out of print for several years before this reissue. Fans who missed out will be overjoyed while those who haven't yet dipped their toes into King Tuff's pool party are in for a treat.
King Tuff, a.k.a., Kyle Thomas, seems to have recorded Was Dead entirely by himself, in his bedroom in Vermont around 2006. It's a romantic album, but not in that cheesy "Lady In Red" way. King Tuff is more like a Byronic garage rock hero.
"Dancing On You" starts with the guitar in the right speaker and then adds bass to the left. Its distorted mandlolin sound recalls Jay Reatard, as does King's unique vocal style, reminiscent of a younger, snottier Jeff McDonald (Redd Kross) and Beachwood Sparks' Chris Gunst.
Yet Was Dead has more in common with a pre-glam Tyrannosaurus Rex then Reatard's music, especially when King Tuff punctuates his lyrics with a Bolanesque yowl.
"Connection" is adorable, opening with a cell phone ring and continuing with sunny harmonies and a Hammond organ that captures the vibe of 1960s girl groups. "In the graveyard, yeah, where I do my dreamin'" King sings in "Sun Medallion," which flirts with psychedelia in its chorus. "Lazerbeam" has a thrilling organ and vocals crescendo while "Lady" has stellar guitar riffs.
When "A Pretty Dress" begins, you'll know right away that you're going to have to dance. "Ruthie Ruthie" is another foot stomper with a vaguely punk feeling, while "Just Strut" keeps up this pace but adds a layer of joyousness and bravado that explodes when King breaks into the falsetto. "Someday I'll slide down the street and anyone and everyone/will turn their heads to me, to me!"
There's something extra sincere and Ramonesy about the chorus to "Kind of Guy," while "Freak When I'm Dead" amusingly discusses something that those of us who don't exactly fit in must consider. Despite its morbid subject matter, it's overwhelmingly positive.
"Animal" spells out its title and adds bongo drums, while the repeated guitar in "Stone Fox" signifies a mellower rocker. Was Dead finishes with the super invigorated "So Desperate" so make sure your dancing shoes aren't too far away, because when you hear that "ooh whoo whoo!" chorus you're going to be compelled to bop along.
Was Dead is another album to add to your summer party jams playlist. Get it while it's hot!
Was Dead was reissued by Burger Records on May 28 and is available to order from the label's website on cassette, CD, and vinyl.