Published on May 31st, 2013 in: Assemblog, Critics/Criticism, Feminism, Film Festivals, Movies, TV |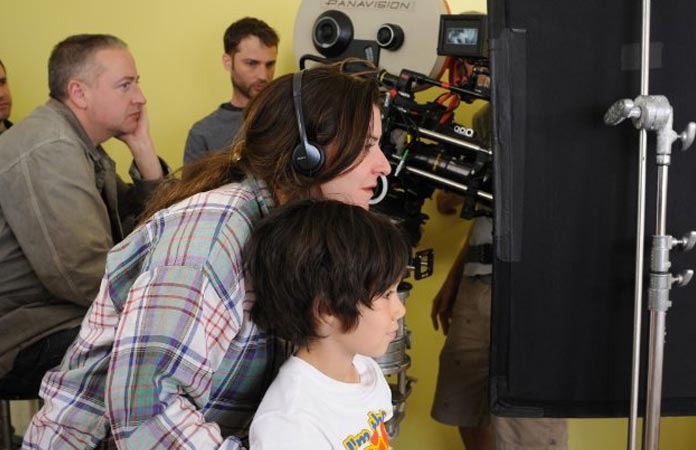 Lynn Ramsay on the set of We Need To Talk About Kevin
New this week on Popshifter: Jeff presents the last days of Metal Mayhem with Iron Maiden and Spinal Tap; Chelsea describes the "smart, talented trio" known as Hot Club of Cowtown in her review of their new Rendezvous in Rhythm album; Lisa praises Elementary as "the abomination that wasn't"; I share 15 hilarious minutes with Doc Hammer and Jackson Publick of The Venture Bros., have a dance party with King Tuff's reissued Was Dead album, and fall in love with Charles Bradley: Soul of America.
Both The Hollywood Reporter and Indiewire have articles on a new study conducted by San Diego State University called Gender @ The Movies: On-Line Film Critics and Criticism. The report, conducted by Dr. Martha Lauzen, contains some statistics that probably won't be surprising to female film critics or bloggers, but which do reveal the depressing reality of male domination in the field of film criticism to everyone else who hasn't already noticed.
The report is based on the analysis of 2,000 reviews written by "top critics" aggregated on Rotten Tomatoes in the spring of 2013. Here's an example of the findings:
Males accounted for 91% of critics writing for movie/entertainment magazines/websites such as Entertainment Weekly, 90% of those writing for trade publication websites such as Variety, The Hollywood Reporter and The Wrap, 80% of critics writing for general interest magazines and sites such as Time and Salon, 72% of those writing for newspaper websites, and 70% of critics writing for radio outlets/sites such as NPR.
You can read the Executive Summary at the Center For The Study of Women In Television & Film website, which contains more statistics, but framed within three separate "perception vs. reality" sections, which is helpful.
This report is frustrating, especially when I personally know many women who are writing insightful and excellent film criticism online. Does this mean that women-centric films don't get enough coverage in mainstream media or the film blogs? Does this also mean that the questions and critiques of films are frequently sexist? I would argue that "yes" is the answer to both. What would film criticism be like if the numbers were reversed or even if it was more equitable?
The Mary Sue critiques a Forbes interview with Sony Pictures Entertainment's co-chair Amy Pascal for providing evidence that female directors are underrepresented without suggestions on how the situation can be improved.
Journalist Dorothy Pomerantz expresses her dismay when compiling the "Celebrity 100" list for the publication. Not only are the salaries of actors higher than actresses, but she says she can't even include any female directors on the list because they don't make enough money to be included. Pascal feels that the salaries are equivalent, but that there aren't enough parts for women so the numbers don't work.
Pascal comments on the "opening weekend mentality" of the industry and notes that "we make movies" that they can get in and out of theaters quickly, to make room for the next film. She notes that young males make up 44 percent of opening weekend attendees. This is actually a slight minority, then, compared to female moviegoers, so I don't think her numbers work, but Pomerantz doesn't press her on this issue, which is disappointing.
As The Mary Sue points out, however, Pascal has a valid point when comparing female directors in the film industry to their counterparts in the music or publishing industries. Essentially, there are women writers and performers who are huge stars, but that stardom doesn't cross over into the world of directing movies. Pascal says:
"For a woman to direct a movie in Hollywood, she has to go through so many layers of rejection by the powers that be—I suppose including myself—that it is harder to get to that point. So you can't just create something. And I think there is a whole unconscious mountain."
I'm not sure how true this is, because I feel like I've read articles about women in publishing being beset with a lot of roadblocks, too, although I can't think of specific ones off the top of my head. And when she says "unconscious mountain" does she just mean "sexism" and doesn't want to say it? Why would sexism be worse in the film industry than music or publishing? She also thinks women need to ask to direct blockbusters and not take no for an answer.
Pascal does have a great response on how women are portrayed in films:
"The most important thing in the job that we do here is to make movies about women where they are characters that have consequences in the story. They can be villains, they can be protagonists, I don't care. But their movements, their actions, what they do in the plot has to actually matter. And that's the most important thing, because young girls coming up are going to see that they matter that your not an appendage to someone else—that you're not married to the person, not their sister or friend or girlfriend, you actually are the plot."
But back to directors. One of the comments on The Mary Sue says what I was thinking already, namely how Patty Jenkins was kicked off Thor: The Dark World or how Brenda Chapman got kicked off Brave. The subsequent reply mentions the Lynne Ramsay/Jane Got a Gun debacle and how it was spun as Ramsay being unprofessional or unreliable or just not showing up (none of which have ever been confirmed, though they've all been suggested by the male producer of the film, Scott Steindorff). It's only a brief interview, but I share The Mary Sue's wish that Pascal had given more concrete suggestions on how to fix things, especially when women are removed from the director's chair on blockbuster films.
One female director who has turned to TV is Allison Anders who directed Gas Food Lodging, Grace Of My Heart, and Sugartown. Her newest film, Ring Of Fire, a June Carter Cash biopic, premiered on Lifetime this week. Lest you think that Lifetime movies are just fodder for hackneyed plots and bad acting, Ms. Anders says in an interview with Indiewire that "My executives at Lifetime were brought on to create this kind of premium, filmmaker-driven division."
When asked about the difficulty of getting female-lead stories made, she states:
"If you have a female lead, they're wondering where that male audience is going to be. It's challenging. Always. I would love to see more actresses ask for a female director. There are a lot of big female stars who have never been directed by a woman. That's kind of shameful. Helen Mirren came out and said that women should be directing more, and I thought, 'That's great. Next time you do a movie, why not ask a woman to direct you?' That is a little bit tougher."
So where is the audience for these films? One might assume it's only women, but I think that would be incorrect. It's not that women don't want male protagonists, it's that we want female protagonists of equal importance, or to paraphrase Amy Pascal, female protagonists who "actually are the plot."
Women In Hollwood blogger Melissa Silverstein discusses the importance of women film festivals in an article called, "The Importance of Changing Perspective." For women to be on equal footing with men in terms of narrative representation, directing, and producing, perspectives do need to change. The term "women's picture" needs to be stripped of its negative connotations as a "lesser" genre. People who think that women make up half of the population but that they aren't as interested in being directors need to change that way of thinking. About the High Falls Film Festival in Rochester, NY, Silverstein states that " . . . people are hungry for women's stories and if you do a good job letting people know about the films, and program films they want to see, they will come."
A woman director with an intriguing film on the horizon is Axelle Carolyn. Although she is also director Neil Marshall's wife, according to a first look at the film on Twitch by Todd Brown, Carolyn has avoided being pigeonholed by writing and directing her own short films. Soulmate is her first feature, and is described as follows:
After a failed suicide attempt, Audrey (Anna Walton), a young widow, retreats to a remote cottage. She soon discovers that the place is haunted by its previous owner, but decides to stay, hoping somehow to find comfort in the ghost.
I'll definitely keep my eyes peeled for more on Soulmate.
—Less Lee Moore, Managing Editor