Published on May 28th, 2013 in: Music, Music Reviews, New Music Tuesday, Reviews |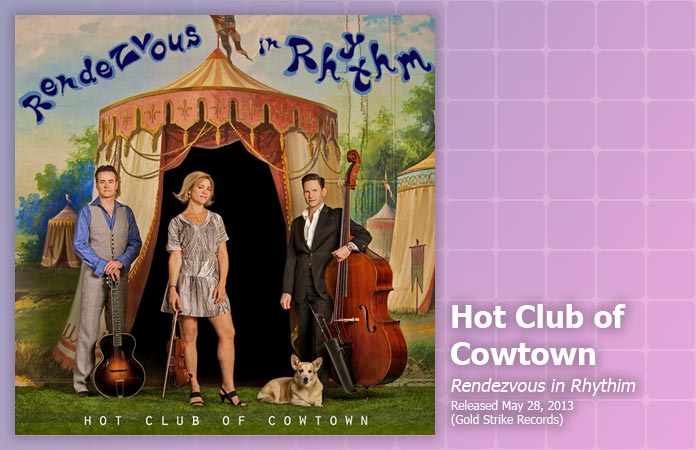 The cover drew me in.
The playful sleeve art for Rendezvous in Rhythm spoke to the part of me that loves flappers and circuses. I loved the hand painted, Belle Epoque-esque lettering, the trompe l'oeil circus tents, and the doleful corgi. The men and woman of Hot Club of Cowtown looked as though they'd stepped out of a 1930s musical, the gentlemen in natty suits and ties and the lady clad in a silver dress worthy of Clara Bow. Reading the description of the Hot Club's sound put me in mind of my beloved Pink Martini, who has likewise reinvented early 20th century music for a contemporary audience, and I anticipated discovering a new band with a classic sound.
Sadly, the music didn't quite live up to my hopes.
This is not to pass too negative judgment on Hot Club of Cowtown. Rendezvous in Rhythm gives a snapshot of a smart, talented trio who fit together with the satisfying snap of interlocking puzzle pieces. Each of the members is adept at their vocation, and as an ensemble they complement one another perfectly. The clean production pulls their virtues into a sharp focus.
The Hot Club mostly did a great job of choosing songs from the '20s and '30s that fit their strengths as a band. The instrumentals work the best, and Whit Smith's confidence and skill at the guitar makes the Django Reinhardt covers shine. Of the two singers, Smith is slightly more compelling; his reedy tone and ability to tell a story made me think, oddly, of Paul Williams. Elana James, on the other hand, sang in a nasally timbre, and the lackadaisical manner in which she lapsed into speaking her vocals got on my nerves after a while.
For the most part, Rendezvous in Rhythm ambles along at a pleasant enough pace. After a while, though, the similar tempos, arrangements, and production cause the songs to blend together. Unlike Pink Martini—who gained some notoriety for their mariachi version of Ravel's "Bolero"—there's nothing as compellingly odd in the Hot Club's repertoire. After a while, the songs fade into the background and made a nice soundtrack to my day-to-day work. The music seems as though it would work best scoring a quirky indie film, and if Woody Allen were to make a sequel to Midnight in Paris he could do no better than to hire the Hot Club as the house band.
I just wish that Rendezvous in Rhythm were as endearing as its sleeve art.
Rendezvous in Rhythm was released by Gold Strike Records today and is available to order via the band's website.
A full list of the band's comprehensive tour dates is also on the site.