Published on May 23rd, 2013 in: Current Faves, Music, Music Reviews, Reviews |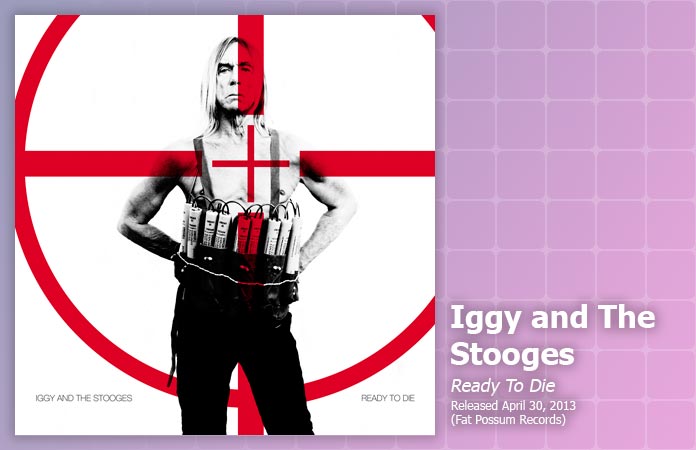 Every time I write a review of something Iggy Pop or Stooges-related, I feel obligated to provide some sort of context, to explain why these old dudes are still important to me and why they should be important to everyone else. With Ready To Die, the latest from Iggy and The Stooges, I'm not sure that context is needed. It's just that good of an album. Besides, if you haven't liked Iggy's or The Stooges' music over the last four decades, there's probably no hope for you, anyway.
Although Iggy himself is fairly prolific, actual Stooges albums are scarce, which makes their legendary status all the more impressive. This particular incarnation of the band includes Iggy, Scott Asheton on drums, James Williamson on guitar, Steve Mackay on sax, and Mike Watt on bass. (Frequent Stooges auxiliary member Scott Thurston also appears on a track.) With the untimely, much-lamented death of Scott's brother Ron in 2009, this is as close to a bona fide reunion as we're going to get now.
Of course, there was 2007's The Weirdness, which included Iggy, the Ashetons, Mackay, and Watt, but except for a few bits, the album just didn't feel or sound like any incarnation of the band. Ready To Die basically obliterates the bad taste left behind by The Weirdness.
I keep seeing references to Ready To Die being the follow-up to 1973's Raw Power that we've all been waiting for. To expect a follow up after more than three decades seems a bit presumptuous, not to mention ridiculous. Still, one can hear the through lines, like the nod to "Your Pretty Face Is Going To Hell" at the beginning of "Gun."
Williamson's guitar is as turbulent as ever, which is pretty amazing, since he quit the music business in the early '80s to get a degree in electrical engineering and didn't play in public until 2009. Sobriety and distance has been good for The Stooges; although Ready To Die isn't Raw Power Part II, it's a worthy successor.
If anything, Ready To Die sounds like a skillful blending of The Stooges and Iggy solo. You can hear 2009's Préliminaires in tracks like "Unfriendly World" and "The Departed," while the rest of the album sounds like classic Stooges. Iggy's voice sounds like a worn-in pair of leather shitkickers. Musically, The Stooges themselves are loud and tight, but also loose and slightly insane. In a good way, of course.
The title track is incendiary, with Williamson's strangled, nervous guitar and an anxious, memorable chorus. "Burn" shares much of the righteous anger of the Raw Power era. The saxy "Sex and Money" includes background vocals from Petra Haden, and feels not totally unlike something from Iggy's own New Values album.
"Job" features more unbridled frustration, again with money, and if you sense a pattern in the lyrics, you're not imagining it. Although Iggy with and without The Stooges are (in)famous, they're not on the same financial level as Jay-Z or anything. Iggy has taken a lot of heat for allowing his music to be used in commercials, sometimes even appearing in the ads themselves or becoming the face of a product. Yet, although Iggy and The Stooges could well be carved into Mount Rushmore in terms of iconic status, their albums aren't always big sellers. Iggy puts it this way, in reference to "Job":
"What happened was, we were two months into this record and everybody knows, especially when you're The Stooges, there's not money in the record. We do really well on the road or I do adverts, but here I was working and working and working with these feisty rock musicians—bunch of old rock grumps, you know? And I'm thinking, 'There's not even any money in this'."
When asked if this was a point of pride, Iggy responded:
"No, baby, here's the way it works: We make an album; everybody complains for the first five years. And after about 10 years, people start saying, 'Hey, you know, that's pretty good.' The money kicks in about 20 years later."
—Iggy Pop: 'What Happens When People Disappear' on NPR, May 2, 2013
Ready To Die is lyrically excellent throughout; there are too many choice lines to list them all here. "What a luxury to wear this frown," states Iggy in the title track, clearly understanding the irony of his situation. "Murderers can stand their ground/ain't nobody else around" from "Gun" sounds like a reference to Trayvon Martin. "Unfriendly World" and "The Departed" reach down into the depths of heartbreak and are matched by Iggy plumbing the depths of his baritone. They are both stunning and beautiful.
It's not all dark, though. "Dirty Deal," which is about exactly what you think, is interspersed with Ig shouting, "Beware!" "Look out!" and "Warning!" throughout. I don't know if I'm supposed to, but I giggle every time. It's freakin' adorable.
Even more hilarious and enjoyable is "DDs" which again, is about exactly what you think. Those who would cringe at lines like, "I'm on my knees for those double Ds" clearly don't know much about Iggy's raunchy sense of humor. Steve Mackay, who helped define what saxophones could do for the post-punk era, adds the perfect amount of sass.
Yes, Iggy sings about a lot of the same stuff he always has because these are his demons and crosses to bear, and in some cases we share the same burdens. If he sang about happiness, contentment, or youth, it would be phony. And boring. And even though they're older than they were when they first made their mark, Iggy and The Stooges have a youthful vitality that could shame whippersnappers half as old.
Ready To Die is the sound of a man and a band grappling with this supremely fucked up world in a way that is anything but boring. If you don't have this album already, get it now.
Ready To Die was released through Fat Possum Records on April 30. You can order it directly from the label's website or the Iggy and The Stooges website.
Tour Dates:
Saturday, June 1, 2013: Houston, TX / Free Press Summer Festival
Saturday, June 8, 2013: Long Beach, CA / Ink-N-Iron Festival
Thursday, June 20, 2013: London, U.K./ Meltdown Festival
Saturday, June 22, 2013: Frydek-Mistek, Czech Republic / Areal TJ Slezan
Monday, June 24, 2013: Zagreb, Croatia / INmusic Festival
Wednesday, June 26, 2013: Goteborg, Sweden / Stora Scenen pa Liseberg
Friday, June 28, 2013: Borlänge, Sweden / Peace And Love Festival
Sunday, June 30, 2013: Marmande, France / Garorock Festival
Thursday, July 4, 2013: Rome, Italy / Rock in Roma
Saturday, July 6, 2013: Albi, France / La Base de Loisirs de Pratgraussals