Published on May 21st, 2013 in: Current Faves, Music, Music Reviews, Reviews |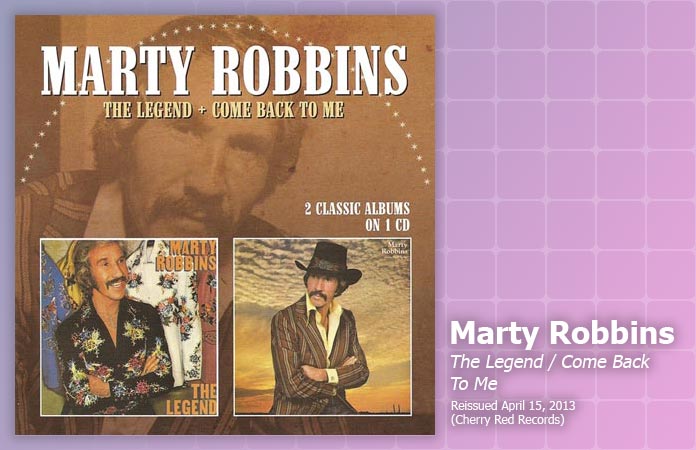 You've got to love a guy who explains the title of his album The Legend this way: "What I wanted was Super Legend, but they didn't go along with it, so it's just The Legend." Released for the first time on CD, Marty Robbins's 1981 album of that modest title has been paired with his 1982 record, Come Back To Me.
The Legend is a mixed bag. There are moments of greatness, there are moments that are head scratching, and there are bits of pedestrian glurge that are hard to listen to. It starts out swell, with the rocking "Jumper Cable Man." It's a departure for Robbins, and in fact, some radio stations rejected it, calling it "too rock and roll." It's a bit reminiscent rhythmically of "Lay Down Sally" and has a fantastically wailing harmonica.
"It's Not Too Hard" features accomplished pedal steel. The song immediately before it, "Lady I Love You" is what was wrong with country in the '80s:overblown vocals, ridiculous strings. "It's Not Too Hard" is almost a throwback, but the interesting counter melody on the electric guitar makes it sound modern.
His version of the Waylon and Willie chestnut "Good Hearted Woman" is sterling. He sounds like he's having a grand time with the musicians and it has an excellent horn break. Another cover, of the Hollies "The Air That I Breathe" is a bit off. He sounds magically like Gordon Lightfoot. It's eerie.
Robbins's other cover versions are aces. "Honeycomb" is cracking, a swinging, rollicking tune. His take on the Everly Brothers's "I'm Here To Get My Baby Out Of Jail" has a smart guitar sound and would be a great jukebox song. "Teardrops In My Heart," a Sons of the Pioneers number, is a charming cowboy song with Robbins singing all of the harmonies on the track. It's a winner.
His self-penned songs fall a bit flat. "My All Time High" and "Simple Little Love Song" are mediocre. He sells them as well as he can, but they're not memorable.
It's a relief, then, when Come Back To Me only has one song written by Marty Robbins himself. The first track was a Top 10 hit, "Some Memories Just Won't Die." The swelling strings timestamp these songs firmly in the '80s, but despite them, his careworn vocals are notable. His silky smooth vocals on "It's Not All Over" gave me legitimate goosebumps. It's a beautiful song.
A cover of The Nitty Gritty Dirt Band's song "The American Dream" is a surprising departure for the man who sang cowboy songs, but it's a natural fit for him.
"Prayin' For Rain" was passed over as a single due to the overdubbed strings, which would have been difficult to recreate live (imagine a time when artists felt that way. No Auto-Tune, no pre-recorded backing tracks). It's a shame, because this one is evocative and passionate. It's the kind of song you could slip onto playlists to confound your friends.
"That's All She Wrote" has strings. What I hate about strings in country music, aside from the fact that they're schlocky, is they way they artificially pump up the emotion, like the score in certain Kevin Costner movies: "This is how you should feel and here's a failsafe to make sure you do." Instead of relying on emotion and artistry, it's just false. And awful.
"Lover, Lover" is the only song Robbins wrote himself and it is so gorgeous and elegant, that it makes up for nearly all of them from his previous album. It should have been a single; this one stays with you. It's a lovely swan song.
The Legend/Come Back To Me is a strange mix. The delightful moments, mercifully, outweigh the mediocre bits. There are hidden gems, like "Lover, Lover," "Prayin' For Rain," and "It's Not Too Hard" that should be heard. For a man who had such range, it's a fitting collection.
The Legend/Come Back To Me was reissued by Cherry Red Records on April 15 and is available to order directly from their website.