Published on May 15th, 2013 in: Current Faves, Music, Music Reviews, Reviews |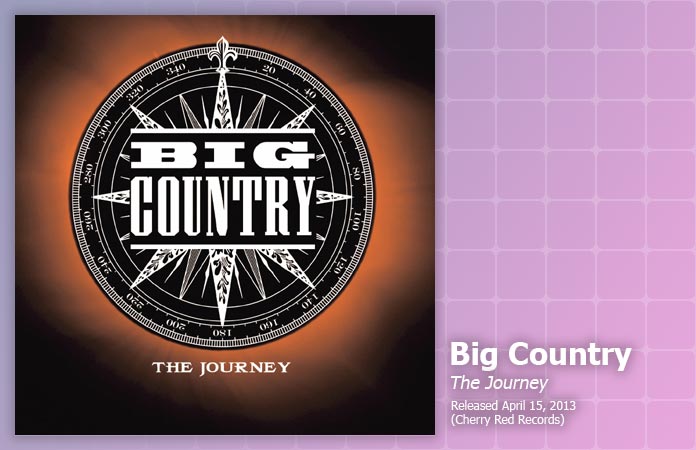 It's difficult to talk about what the new Big Country album is without talking about what it isn't. The Journey is the first album from the band in 14 years. It's also the first studio album since original lead singer/songwriter Stuart Adamson took his own life in a hotel room in Hawaii in December of 2001. Bouncing back from a blow like that is difficult for any band. Look at the shambles INXS became after Michael Hutchence passed out and away.
Fronting Big Country now is Mike Peters, singer/songwriter for The Alarm, well-remembered for Eighties hits like "Sixty-Eight Guns" and "The Stand." There are similarities between Peters and Adamson as songwriters. Adamson and Peters both created songs of epic scope, real sweepers. Listen to the guitars masquerading as bagpipes on "In a Big Country" and feel the cold grass of Scotland under your feet. Listen to the sweet high guitar trills of "Rain in the Summertime" and you really can almost feel the rain on your face.
Replacing Adamson's vision with Peters's panoramic view seems like the perfect match.
The resulting collaboration is not The Alarm. And it sure isn't Big Country. Not, at least, the Big Country we're used to. This is something new. Call it Big Alarm or Alarm Country. The Journey lives up to its title, because this band is evolving and taking baby steps in a different direction.
Mike Peters's voice hasn't lost a bit of the power it had when The Alarm first burst onto the scene with some song about a Stephen King novel. It soars and cries all through the album, particularly on the opening track, "In a Broken Promise Land." It's good to hear him again. Music is better having expressive voices like his, especially in today's muddle of mutterers who make shoegaze sound like a hog-calling contest.
That's where The Journey both succeeds and fails. It is the rock anachronism, an album where every song is an anthem, joy and pain walking hand in hand through each lyric, each riff, each life described. We just don't get big, fat, meaningful rock like this anymore.
But is there still a market for big, fat, meaningful rock? Is anyone going to stand up and hoist a lighter during "Strong (All Through This Land)?" Will anyone care about the intricate crushing power of album closer "Hail and Farewell?" Have we become so intensely, defiantly eclectic that we have no room in our hearts for uplifting, well-written songs without banjos, washboards, or skinny girls with neckbeards? I don't know. I hope not.
Honestly, sometimes Peters gets a little too earnest and happy-faced, even for me, but I don't abhor music attempting to inject a little hope into my life, even as I survey my collection of Cure and Nine Inch Nails records. New bassist Derek Forbes (Simple Minds) doesn't have the same kind of bounce and bubble that Tony Butler had, but his style works well with the new material.
If all you've ever heard of Big Country is their big hit, "In a Big Country," then this is not the Big Country you're looking for. It isn't Declaration Part II, either. I do wish they would change their name. This is something both less and more. As much as Stuart Adamson's vision and voice are missed, Mike Peters has always been his heir apparent and this is the throne to watch.
The Journey grows on you, more endearing with each listen and, as we approach the mid-point of the year, it's the best new album I've heard so far.
The Journey was released on April 15 through Cherry Red Records and is available to order from the label's website.