Published on May 14th, 2013 in: Current Faves, Music, Music Reviews, New Music Tuesday |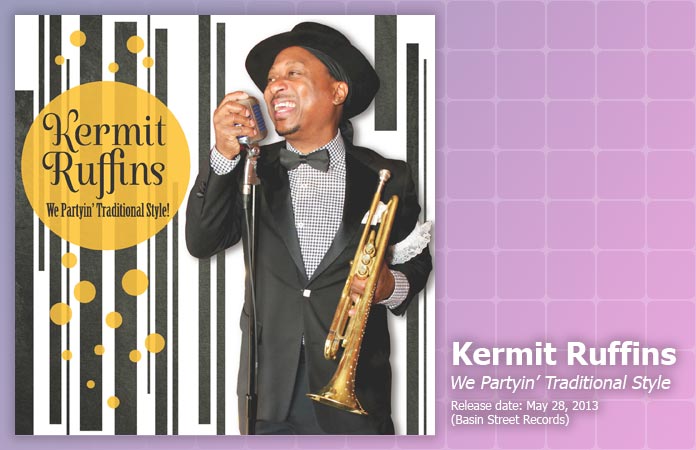 Kermit Ruffins co-founded The Rebirth Brass Band in high school. The Rebirth Brass Band revitalized the brass band community in New Orleans, and their success rejuvenated New Orleans's Second Line culture. Kermit Ruffins is a great ambassador for that aspect of New Orleans. His extraordinarily distinctive, raspy voice paired with his virtuoso trumpet playing gives the casual listener a glimpse into the broad spectrum of New Orleans music.
His newest record We Partyin' Traditional Style is like a time capsule, taking 20th-century classics and skewing them his own personal way and in the process, making an incredibly fun record. Partyin' in the title? Not a coincidence.
He surrounds himself with a brilliant band, notably Don Vappie on banjo, whose playing on the first rousing track, "Chinatown," is outstanding and crisp. The whole album has an almost improvisational feel, which is a testament to how great his band is. They make it sound easy and spur-of-the-moment. When the drum solo lets loose on "Exactly Like You" it's like a wild miracle.
What I love about We Partyin' Traditional Style is how Ruffins has covered classic, traditional pieces of music but because of his great musicianship and the enormous talent of his backing band, you could have heard these songs a thousand times, but never at all like this. That's what's great about jazz. I suppose that's great about any sort of music: traditional, classic songs that are given their own goosing by whatever musician happens to be playing them at the time. It's a beautiful thing.
His version of Louis Armstrong's "When It's Sleepy Time Down South" is a fitting tribute to Ruffins's idol. It's a respectful, reverent version that features his characteristic voice and it is incredibly enjoyable.
There's not a bad track on this record at all. In fact, every track is so good that it's difficult to pick the standouts. Can they all be standouts? Because they are.
"Over The Waves" feels like being drunk on a ship, which is probably actually an awful thing, but it's a great song, especially when it rears up in the middle. His version of "Jeepers Creepers" spins and whirls and makes you long to dance. Kermit Ruffins pairs delightfully with Mykia Jovan on "All Of Me." Her voice is pure and clear and unusual, and mixed with his trademark grittiness, it makes something amazing.
I, of course, am partial to any song that mentions my beloved New Orleans Saints. The lead single "Treme Second Line" mentions the Saints going to the Super Bowl (let's hope that happens again). And the album closes with a passionate version of "When The Saints Go Marching In" that begins with the Saints "Who Dat?" chant. Perhaps I chanted along in the privacy of my own home. I had no idea that "When The Saints Go Marching In" had so many verses. Was he maybe making some of them up as he went along?
Kermit Ruffins's We Partyin' Traditional Style is loads of fun. It's a timeless classic and happy as hell. I don't think you could ask for anything more.
We Partyin' Traditional Style will be released via Basin Street Records on May 28. For tour dates and to order the album, check out the Basin Street Records website.
If you're going to be visiting New Orleans, please note that Kermit usually plays these regular weekly shows (unless otherwise noted):
Thursdays: Vaughan's Lounge—New Orleans, LA—8:00 p.m.
Fridays: Blue Nile—New Orleans, LA—7:00 p.m.
Sundays & Mondays: Kermit's Treme Speakeasy—New Orleans, LA—6:00 p.m.
Tuesdays: Bullet's Sports Bar—New Orleans, LA—6:00 p.m.