Published on May 9th, 2013 in: Canadian Content, Culture Shock, Current Faves, Documentaries, Movie Reviews, Movies, Music, Reviews |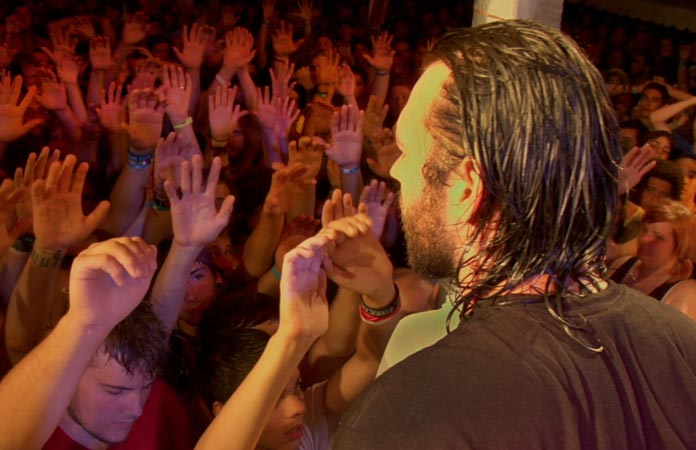 In the May 1989 issue of SPIN, born-again Christian evangelist Bob Larson followed the band Slayer on tour and presented his account in an article called "Desperately Seeking Satan." By the end, Larson determined that Slayer's "root of evil" was "rock'n'roll stardom" and that their "act of iniquity" was not with Satan, but with the "Billboard charts and T-shirt sales." Still, he prayed that "both their eternal and artistic souls" would be saved.
Almost 25 years later, musician and filmmaker Justin Ludwig decided to follow two bands from perhaps an even more mystifying and misunderstood genre of music: Christian hardcore. As Ludwig explains in the beginning of the documentary, hardcore music helped him to break free from the shackles of organized religion and the oppression of conformist thinking.
If ChristCORE were a fictional Hollywood story, it's easy to imagine that by the end, Ludwig will recant and become a born-again Christian. But, this is real life, or at least the documentary film version.
Ludwig admits early on that he was so infuriated at the very existence of Christian hardcore that his band Amour Fou wrote a song called "Fuck Christian Hardcore . . . This is Hell." It's a ballsy admission coming from the person whose eyes we're supposed to be viewing this world through. Even atheists and agnostics might find Ludwig's prejudices jarring and immediately label him as a prick.
You'll have to watch ChristCORE to find out what Ludwig's takeaway is from his experiences, but the journey is definitely a captivating one. The film focuses mainly on two bands: Messengers and Sleeping Giant. Despite his authoritative voiceover in the beginning, Ludwig's opinions are rarely verbalized throughout. He lets the bands, their fans, and others from the Christian hardcore scene speak for themselves.
Viewers who share Ludwig's initial prejudices against the Christian hardcore scene will be surprised to see how incredibly laid-back and likeable these guys are. Not only that, but they're actually quite liberal, especially when contrasted with the voices of the evangelical Christians that get amplified in political media stories.
The fact that Sleeping Giant singer Tommy Green performs baptisms and healings would make most non-believers squirm in discomfort . . . until you see him talking and you realize how sincere he is. All of these guys are true believers and not in that creepy, brainwashed cult way. Granted, I realize that might sound like a contradiction, but when you witness how the Christian hardcore community is one of genuine love and faith, it's impossible to imagine any of these young folks wishing harm on anyone.
When Parsons wrote about Slayer in the '80s, he was concerned that some impressionable fans might believe in the band's satanic posturing and turn down a dark path. While the bands profiled in ChristCORE seem to have the best intentions for their fans, there are a couple of comments from others about "luring" kids into Christianity via hardcore music. While I certainly don't begrudge anyone's right to worship whoever he or she chooses, the idea of tricking kids into being religious is more than a little off-putting.
When I wrote "all of these guys" earlier, it was not by accident. We do hear from several young women throughout the documentary, and observe them moshing in the pit. Yet, the world of Christian hardcore is still male-dominated. Naturally, Ludwig is going to make the film from his male perspective, but it would be interesting to see why such progressive minds don't seem open to including female hardcore musicians in their circle. Whether that's a function of religion or the music itself is difficult to ascertain.
There is no flashy camerawork in ChristCORE and it's a better film for it. The subjects are truly fascinating enough to tell their own stories in their own words with little interference. As a documentation of a scene that allows viewers to form their own conclusions, ChristCORE is a qualified success.
ChristCORE will be screening at The Royal Theater in Toronto, ON tonight at 9:15 p.m. For more information on the film and to watch the trailer, check out the film's website and Facebook page.

Upcoming Screenings:
Cinema du Parc, Montreal, QC
May 24 – 27 @ 9 p.m., 2013
Broadway Theatre, Saskatoon, SK
June 8, 9, 10 & 12, 2013
Monarch Theatre, Medicine Hat, AB
June 13 – 15, 2013
Regina Public Library, SK
June 14 – 16, 2013