Published on May 8th, 2013 in: Music, Waxing Nostalgic |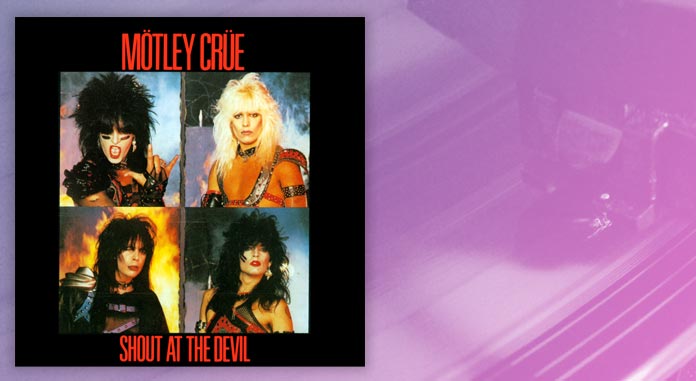 Gather around, children. The following is a true story.
The year was 1983.
The most popular band in the world released the biggest album of their career. It was also, arguably, the worst album of their career. How they went from songs based on famous novels to bad poetry about dinosaurs is still beyond me. At the same time, a little metal band from Los Angeles was making waves by not only cranking out killer riffs, but by painting themselves as Satan-worshipping post-apocalyptic satyrs.
I was thirteen years old, a sweet church-going boy, and I had cleverly squirreled away enough money to purchase both of these albums on cassette. I was far too concerned about the coolness issue involved with these new additions to my musical collection. I had to have Synchronicity because everyone had it. I wanted Shout at the Devil because "Looks that Kill" was stuck in my head, slowly driving me mad.
This was the beginning of the Satanic Panic era. Heavy metal was coming under attack from concerned groups of parents for its sexual content. Religious groups were mortified by the licentiousness in the lyrics and perceived glorification of violence and sexual perversion. Ozzy and Judas Priest would end up going on trial. Frank Zappa would appear before a Senate committee, telling them to keep their white-gloved hands off our rock and roll. They were dark times for heavy music.
I was on the path to becoming a Christian minister.
Buying that Mötley Crüe tape was a mortal sin. Even touching it through the shrink-wrap burned my fingertips slightly. There was even a sticker warning the prospective buyer that the music contained backwards messages! That was like opening a door and inviting Satan in for Singapore Slings and a game of footsie.
The Police were safe, even with Sting's tendencies towards Buddhism and Tantric sex. Eastern mysticism didn't affect us. The Devil takes many forms, though, and he constantly prowled about like a lion, waiting for some innocent soul to suck into his gaping maw. I went to a meeting once where the preacher found evil messages in the music of James Taylor! He said to us, "Remember, there's no such thing as soft rock." If Satan could take us through something as benign as "You've Got a Friend," then my soul was in more peril than Pauline.
With a deep breath, I stripped the plastic from the Mötley Crüe tape and slammed it into my cassette player. The music just oozed sleaze and evil. Surely, the Devil was their master. If the upside-down pentagram on Tommy Lee's bass drum head didn't prove that, then the terrifying instrumental track, "God Bless the Children of the Beast," surely did. I took the tape out of the player, praying for forgiveness for my curiosity and haughtiness.
I returned Shout at the Devil to the record store. I kept Synchronicity.
Within three years, everything had changed. I had quit the church, discovered the joys of illicitly gained liquor and the company of females whose hormones overran their good sense and social standards. I had grown accustomed to being told I was on the path to eternal damnation by former friends, a couple family members, schoolmates. I didn't care.
Any religion that attempted to prevent me from listening to sweet boss riffs like this and this could go to hell.