Published on April 24th, 2013 in: Blu-Ray, Books, Current Faves, DVD/Blu-Ray Reviews, Movie Reviews, Movies, Reviews |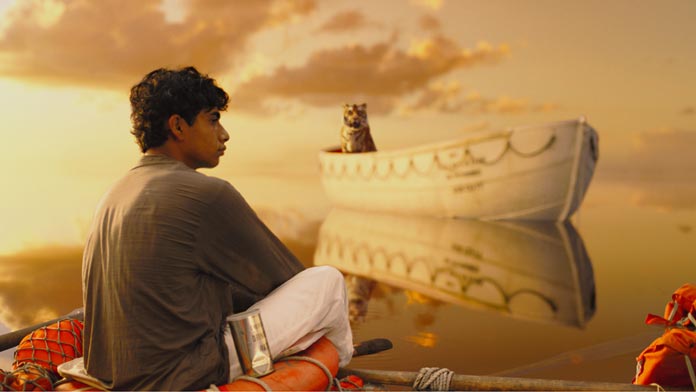 TM and © 2011 Twentieth Century Fox Film Corporation. All rights reserved. Not for sale or duplication.
Those who read Yann Martel's Life of Pi towards the beginning of the last decade probably wondered how such a fantastic tale could ever be filmed. There were also those who, upon hearing that Ang Lee was tackling a film version of Life of Pi, felt elated and relieved that someone with such talent and commitment to a story was the one chosen.
Watching the film—a four-year labor of love for everyone involved and more if you start the timeline in 2002 when the rights to the novel were purchased—it is impossible not to be both impressed and moved. Of course, purists always complain about the changes from novel to screen. In the case of Life of Pi, these changes have not hampered the impact of the original text, and in many instances, actually enhanced and even improved it, particularly the pre-shipwreck chapters of the novel.
Life of Pi, the novel, made readers believe that Pi Patel's story of shipwreck, survival, and friendship with a tiger named Richard Parker was not only possible, but that it was the preferred accounting of events. Life of Pi, the movie, achieves this in spectacular fashion. In particular, the scenes on the island of meerkats are exactly how this reader imagined them when reading the novel.
The main animal characters in Life of Pi are so realistically rendered that it is nearly impossible to tell the difference. The animals not only look real, they feel real. Viewers feel fear, elation, respect, and sorrow right along with Pi as he develops a bond with Richard Parker.
Even though Life of Pi was nominated for 11 Academy Awards and won a well-deserved 4 (one of them for Best Achievement in Visual Effects), the legacy of the movie is unfortunately tarnished by the bankruptcy of visual effects studio Rhythm & Hues on February 11, 2013. This is a cinematic tragedy. Luddites complain that using CGI is lazy filmmaking, but with Life of Pi, nothing could be further from the truth.
If watching the film itself doesn't convince skeptics of this, they need only to watch the Blu-Ray special features to realize the error of their ways. It took more than 9 months just to design Richard Parker. This was an intense collaboration between Lee, Bill Westenhofer, and the Rhythm & Hues team, along with animal trainer Thierry Le Portier, who provided four real-life tigers for the film. Some scenes were actually changed based on Le Portier's knowledge of feline behavior.
Although the scenes of Pi on the lifeboat were greatly enhanced by digital effects, actor Suraj Sharma spent many months on a boat in a 1.7 million gallon wave tank filming his scenes and did all of his own stunts. That Sharma had no acting experience before the film—and in fact, had never seen an ocean and couldn't swim—makes his achievement even more impressive. To assist his lead actor in training for the role, Lee took acting and yoga classes along with him, and also went out onto the rafts with Sharma during his survival training. Additionally, MPC, the VFX house who worked on the storm effects, spent two years on the digital effects for one of those sequences. This kind of dedication on the part of the participants is the exact opposite of "lazy filmmaking."
It also pays off in spectacular fashion. Carrying nearly an entire movie by yourself, especially in scenes with a tiger who is not physically present, would be hard for even veteran actors, but Sharma is a revelation. He exudes a genuine, natural charisma. Additionally, the sequences filmed in on location in India possess a magnificence surpassing the highest quality travel documentaries. The color combinations of natural landscapes, costumes, flora, fauna, and even food, bring the country into vivid relief and make it that much more heartbreaking when Pi is separated from his home and family.
Bill Westenhofer notes in the special features that his work on Life of Pi is the "most fulfilling thing I've ever done in my career." The bankruptcy of Rhythm & Hues and the precarious status of VFX houses is not the prize that someone like Westenhofer and his colleagues deserve. Fortunately, we still have the results of their ingenuity to enjoy forever.
Life of Pi is a certified cinematic breakthrough and an amazing visual, technical, and emotional achievement. I can imagine no more perfect adaptation of the novel than this film.
Life of Pi was released on Blu-Ray from Twentieth Century Fox Home Entertainment on March 12, 2013. Even without the 3D, the film looks incredible.
The 2-disc Blu-Ray set includes the four-part featurette "A Filmmaker's Epic Journey," as well as two shorter featurettes: "A Remarkable Vision" and "Tiger, Tiger Burning Bright." These include detailed, fascinating interviews with Ang Lee, Suraj Sharma, editor Tim Squyres, DP Claudio Miranda, VFX supervisor Bill Westenhofer, and composer Mychael Danna, among others. There is much behind-the-scenes footage as well. The Blu also includes a gallery of art from four different artists and storyboards.