Published on April 23rd, 2013 in: Current Faves, Music, Music Reviews, New Music Tuesday, Reviews |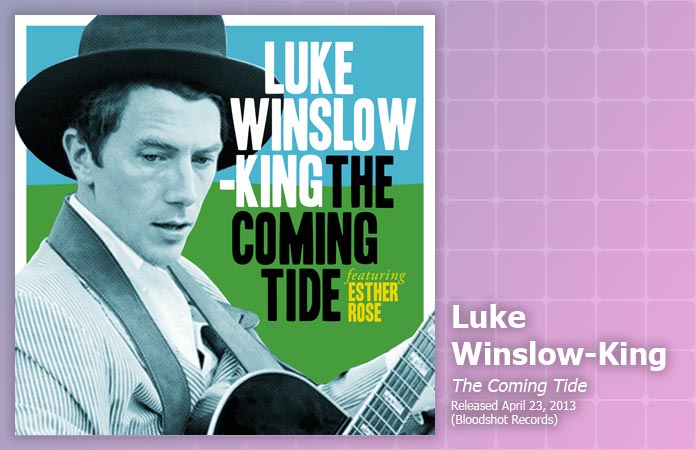 I once saw Luke Winslow-King perform a miracle. He was opening for Jack White, which is, of course, miraculous in and of itself, and Jack White's audience was less than receptive to this man in a seersucker suit with a guitar, a woman playing a washboard, and a fellow with a standup bass. The most amazing thing was watching the audience's attitude change. By the third song in his set, Luke Winslow-King had made fans. His performance was engaging, wickedly tuneful, and pretty much brilliant. The interplay between him and washboard player/backup singer Esther Rose was charming. By the time his set was over, the merch table was flooded with people buying his CD.
Luke Winslow-King's Bloodshot Records debut The Coming Tide features more of the same harmonies from himself and Esther Rose. Her voice is pure and clear like an old-timey bell, while his is smoky and lived-in, and perfect for the music that he creates.
His music pays tribute to simpler times, with the sounds of his adopted hometown New Orleans never far from the forefront. He is startlingly good at playing the bottleneck slide guitar. That, coupled with the washboard and a muted trumpet, add up to something that is evocative, and slightly gritty, and beautiful like a strange filter on Instagram. But that's not to minimize what he does: it's not trendy. It's real and honest and beautiful. I've never heard a record that feels more like a slow summer day on the front porch than this one.
It's hard to pick the best of the best of these tracks because they're all awfully good. The languid "Let 'Em Talk" features jazz funeral horns and a dreamy pace. That is followed closely by the sweet, waltzing "Staying In Town," which has absolutely delicious harmonies by Winslow-King and Esther Rose, as well as her great washboard skills. "I've Got The Blues For Rampart Street" risks being overpowered by Rose's high harmonies on the chorus, but when she slips into her lower register for the verses, their voices blend gorgeously. And Winslow-King's voice is far too good to be covered up. Their harmonies work better on "I Know She'll Do Right By Me," where her voice is more muted rather than strident.
"You & Me" is an absolute standout, a pared-down ditty with solo Luke Winslow-King singing and his brilliant slide guitar paired with charming lyrics. It may be my favorite song on the record.
The last two tracks of the album turn darker. "Ella Speed" is a stunning, cautionary tale that features a crackerjack trumpet solo. Winslow-King's take on "I've Got My Mind Set On You" is minor key brilliance.
The Coming Tide is an excellent album. It's not a throwback as much as it is an homage. It sounds like a smoky jazz hall, old gospel music, and Delta blues all thrown in a blender and pureed into a delicious sonic milkshake. Luke Winslow-King is one to watch.
The Coming Tide is out today from Bloodshot Records. You can order it from Luke Winslow-King's website.
Tour Dates:
04.23.13: Kennedy Center Millennium Stage; Washington, DC
04.25.13: World Café Live at the Queen; Wilmington, DE
04.27.13: Rockwood Music Hall; New York, NY
04.28.13: Jalopy Theater; Brooklyn, NY
05.01.13: Hi Ho Lounge; New Orleans, LA
05.02.13: Three Muses; New Orleans, LA
05.04.13: Jazz & Heritage Festival—1:15pm at Lagniappe Stage & 10 pm at Fulton on Tap; New Orleans, LA
05.05.13: Yuki; New Orleans, LA
05.10.13: Sippin' on Seersucker @ Canal Place; New Orleans, LA
05.12.13: Chocolate Bar; Savannah, GA
05.13.13: Royal American; Charleston, SC
05.15.13: Awendaw Barn Jam; Awendaw, SC
05.16.13: The Pinhook; Durham, NC
05.17.13: The Pour House Music Hall; Raleigh, NC
05.18.13: Jack of the Wood; Asheville, NC
05.20.13: Clementine Café; Harrisonburg, VA
05.21.13: Johnny D's; Somerville, MA
05.22.13: The Church; Boston, MA
05.25.13: The Bakery; Burlington, VT
05.26.13: Radio Bean Café; Burlington, VT
06.04.13: The Bowery Ballroom w/Pokey LaFarge; New York, NY
06.05.13: The Birchmere w/Pokey LaFarge; Alexandria, VA
07.12.13: Bliss Fest; Petosky, MI