Published on April 15th, 2013 in: Music, Waxing Nostalgic |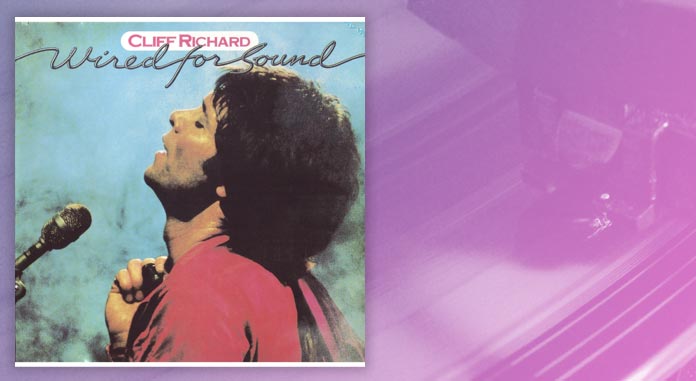 I posed a simple question on Twitter to my British friends. "Friends," I asked, "what is a Cliff Richard?" My friend Sam, who runs a film blog in the UK, answered, "(noun) A type of person, not from The North." I feel this answer is much funnier if you're British, which I am not, but Sam's a good man who has made me laugh before. I'm sure this response is hilarious.
It's vague, though, and I get the impression the Britons are afraid to speak of him aloud, like he's some kind of demon. What happens if you say Cliff Richard's name five times while staring into a mirror? None have lived to tell.
This only became important when I recalled, literally, in a dream, a song called, "Wired for Sound." I could only recall one line from the chorus: "I'm wired for sound." I bet that's how they named the song. A little research turned up this Cliff Richard fellow as the man responsible. Richard never made a great tremendous impression on the US Charts; this song hit #71 on the Billboard charts in 1981. I honestly don't know where I heard it.
Oh, it's Sir Cliff Richard, by the way. He was knighted for some kind of British musical bad-assery. It doesn't mean he isn't a demon. He could be Sir Demon. He also managed to score a Top 20 hit in 1980 with "Suddenly," a duet with Olivia Newton-John from the Xanadu soundtrack. Don't you snicker. Xanadu is the finest movie about Greek mythological roller dancing featuring Gene Kelly.
I'm digressing, though, because it's "Wired for Sound" that bears discussion. It's always nice when pop songs have lyrics that are smart and clever. We normally get silly lyrics, bordering on stupid, just something to fill the airspace while we dance and carelessly wave our hands about in the air. While "Wired for Sound" can be viewed ostensibly as a celebration of music and its amazing portability (the Sony Walkman had just been introduced, finding smashing success), it is also delightfully insipid, like the drooling puppy that won't let go of the squeaky ball.
"I like small speakers," croons Sir Cliff. "I like tall speakers." Then there's something about green eggs and ham, then we talk about cars. "Into the car go to work I'm cruisin'/I never think that I'll blow all my fuses." Who does think that? It's extraordinarily defeatist.
Really. The whole song is about how much Sir Cliff Richard likes his personal stereo system. This is territory LL Cool J would revisit later, to much the same effect. Even later, Tom Petty and the Heartbreakers would salt that musical ground with fire, proclaiming the death of radio as surely as The Buggles tolled the bell for the radio star.
The "Wired for Sound" video, which may require some sedation before you watch it, is all about how much Sir Cliff Richard likes to wear his personal stereo while roller skating with displaced aerobics instructors, which come in a variety of colors. Sir Cliff's puffy racing suit is a natty black and yellow. The black matches his hair. The yellow matches his jaundice. It's a spiffy mix, none of which put me in the mood for music.
The heart of the pop song, though, has always been the ridiculous lyric. From "Be-bop-a-lula" to "Gimme dat ding" to "Ba-wit-da-ba," pop music has always been about emotions. Sometimes there aren't enough words to express those feelings properly, so the music gives us a way to circumvent the trappings of proper language. Then there's "Wired for Sound," which is, if not sublime, at least ridiculous.