Published on March 23rd, 2013 in: Current Faves, Documentaries, Film Festivals, Movie Reviews, Movies, Music, Reviews |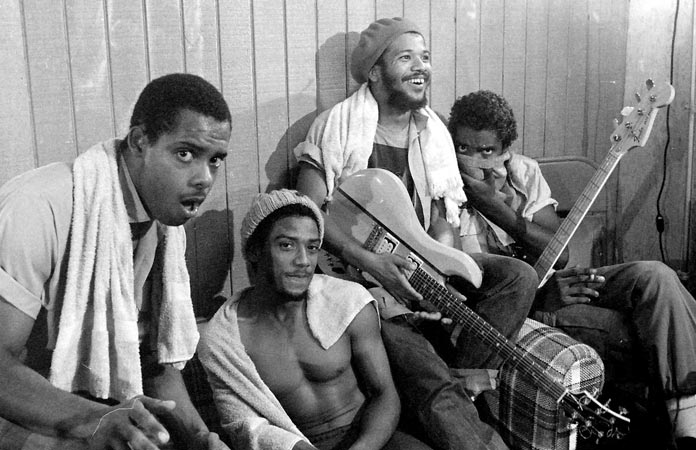 When it comes to bands like Bad Brains, genre becomes meaningless. Influenced by such disparate artists as Chick Corea, The Sex Pistols, The Damned, The Ramones, and Bob Marley, they combined a variety of musical styles into their own unique sound, going on to influence dozens of other musicians (Dave Grohl, The Beastie Boys, Cro-Mags, Red Hot Chili Peppers, to name but a few) in the process.
Bad Brains: A Band in DC, directed by Ben Logan and Mandy Stein, is not an exhaustive account of the history of Bad Brains; that would be impossible, although it would make for an extremely entertaining TV series. When watching the film, you're not only left with the distinct impression that there are many more stories to be told, but also that you can't wait to dig into the band's discography, which includes nine studio albums, a couple dozen singles, a handful of live albums, and appearances on various compilations.
Many have noted—and Henry Rollins confirms this in A Band in DC—that when the band first formed in 1978, a big draw was the fact that four African-Americans were playing punk music. Perhaps curious music fans attended their shows initially for that reason, but they left amazed that any four guys could play so fast, so loud, and so well, and with such a singular, incendiary front man on top of it all.
Their immense skills as musicians and intense drive to play music brought them some unbelievably good fortune, but they've definitely had their share of terribly bad luck. The fun of A Band in DC, for those unfamiliar with the band's history, is watching both types of scenarios play out and being amazed that all of it is true. You cannot make this shit up. Although a lot of people have a lot of good things to say about the band members as people, the film doesn't shy away from the bad things, either, which gives it a more balanced, nuanced feel than a lot of music documentaries.
With four very different personalities in the band—Daryl Jenifer on bass; Gary Miller (Dr. Know) on guitar; Earl Hudson on drums; and his brother H.R. (Paul Hudson) on vocals—it's not surprising that there was (and still is) friction. As soon as you see H.R.'s eyes, with their mix of genius and madness, you'll likely be able to figure out who's probably caused the most friction. Yet, it's clear that the band wouldn't have it any other way, even when they're fighting or not speaking to each other.
Logan and Stein cleverly assimilate two concurrent narratives in the film: one is a history of the band from 1978 to the present day and the other is a look at their 2007 tour. But there's a twist: the opening scene of the film is not the last word, but a good indication of what the frequently explosive band dynamic has been like for the last few decades. It will definitely get your attention and keep you wanting more. A Band in DC slickly produced with clever, visually stimulating graphics to support the stories.
If you don't know much about Bad Brains beyond a few songs, A Band in DC is a must-see movie. If you're already a fan, then it will probably be your new favorite music documentary. Either way, A Band in DC proves that there's never been another band like Bad Brains, and there probably never will be again.
Bad Brains: A Band in DC screens on Saturday March 23, 7:00 p.m. at the TIFF Bell Lightbox in Toronto, ON as part of Canadian Music Week Film Fest 13.