Published on March 22nd, 2013 in: Canadian Content, Current Faves, Documentaries, Film Festivals, Movie Reviews, Movies, Music, Reviews |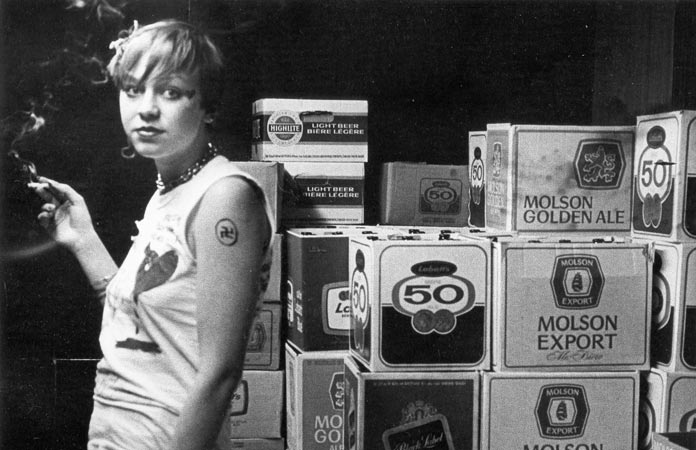 Photo © Gail Byrek
For documentaries that chronicle a certain scene, be it music, theater, film, or another art form, the question many might ask is why? Is the documentary supposed to shed light on a misunderstood or little-known series of events? Is the documentary trying to cast the people and events in a flattering or unflattering light? Or, as some might speculate, is the documentary just a forum for those involved to pat themselves on the back and say, "I was there"? For The Last Pogo Jumps Again, the answer to all of these questions is yes, but it's a qualified assent.
The Last Pogo Jumps Again is yet another perspective on the rise and fall of the punk movement, but this one comes from Canada. It seems unimaginable that a documentary on a three to four year period could have a running time of nearly four hours in length. It might appear to an outsider that anything this long would include a lot of filler. For many younger folks, that so much of significance could have happened between 1975 and 1979 without the existence of social media, might be somewhat mind-boggling. But as The Last Pogo Jumps Again proves, that's exactly what happened. It's all killer, no filler.
If you've read or watched any documentation of the punk movement in the big three—London, Los Angeles, New York—and you're under the age of say, 45, you've got your own ideas about what punk was or wasn't, what it meant or didn't mean, and if it mattered or not. The Last Pogo Jumps Again is going to come as an unexpected and delightful shock to the system, especially if you're not Canadian.
As an exhaustive and educational examination of the punk and new wave movements in Canada in the late '70s, The Last Pogo Jumps Again is excellent. The amount of information presented is nothing short of staggering. It's doubtful that any band was left out of the film. In a wise move, filmmakers Colin Brunton and Kire Paputts use key graphics to identify everyone on screen no matter how many times we've seen or heard from them. By the end of the film, you feel like you have a good handle on all of the players, which is rare for any doc, much less one of this length.
Despite the fact that only a few bands continue to exist in one form or another and only a handful saw any long-term success or recognition either within or outside of Canada, the physical documentation is astounding: flyers by the hundreds, live performance and interview footage, dozens and dozens of photos. And of course, the actual music itself, which makes up the entirety of the soundtrack. This all proves that not only was this scene important and worthy of remembering but that the participants knew it then and now.
So many topics are addressed in the film. The pre-musical origins of punk, the role that drugs and alcohol played, the transformation of Toronto from a small town to a big city, the generation gap, clueless record labels, fashion, fanzines, rivalry, envy, camaraderie, conformity, and of course, where are they now?
Some are musicians, music teachers, entertainment lawyers, born-again Christians, mystics, or lost souls romanticizing their own dysfunction in the name of art. Even some of the success stories fit into this last category, which is sobering and sad.
The film was intended as a follow-up to 1978's performance documentary, The Last Pogo, which chronicled two days' worth of concerts at The Horseshoe and which Brunton himself filmed. The venue was changing formats and was no longer going to book punk bands, so the concert was a last gasp that ended in a riot of broken glass, destroyed furniture, and police and firefighters escorting patrons from the club.
Despite its chronology (filmed between 2006 and 2012), The Last Pogo Jumps Again works as a prequel to everything that happened in the 1978 film. The editing is spectacular, organizing the old and the new in a way that feels dynamic, utilizing visual and aural comparisons of then and now, and even placing contradictory opinions back to back. It's infinitely quotable and thought provoking as well as frequently hilarious and distressing.
It's clear that everyone interviewed was and still is proud to have been a part of those few tumultuous years, but there is precious little posturing. The Canadian method of downplaying accomplishments and talent is jokingly discussed, but there's a lot of truth in it. Canadian punks should be proud! They deserve recognition and hopefully this film will give it to them.
The Last Pogo Jumps Again should be included along any well-known and respected documents of the punk movement in other cities. It's as important and informative—if not more so—than oral chronologies like Please Kill Me or We Got The Neutron Bomb. Plus, it includes so much incredible music to further explore. Even if that's your only reason to see this film, then it's still a sound one. The film sure does provide an eloquent rebuttal to those who would try to condemn something that they'll never understand.
The Last Pogo Jumps Again screens on Saturday March 23, 12:30 p.m. at the TIFF Bell Lightbox in Toronto, ON as part of Canadian Music Week Film Fest 13.