Published on March 22nd, 2013 in: Film Festivals, Movie Reviews, Movies, Music, Reviews |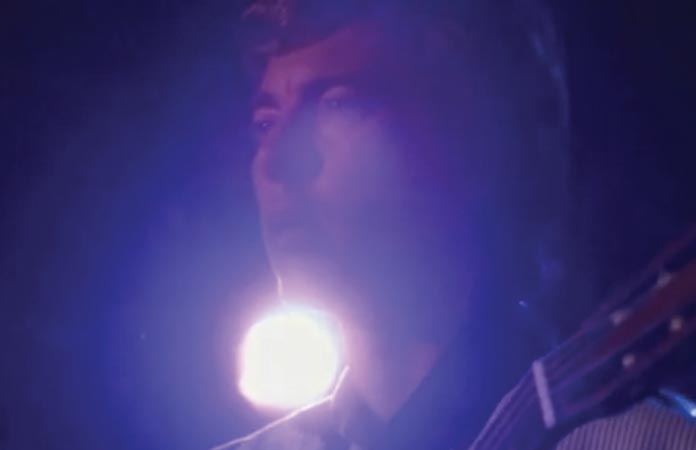 I started watching Apocalypse: A Bill Callahan Tour Film knowing nothing of Bill Callahan. Callahan has been writing, performing, and recording music for almost 25 years, originally under the name Smog, and then with the release of 2007's Woke on a Whaleheart, under his own name. Apocalypse chronicles Callahan's US tour in 2011 to support the album of the same name.
Apocalypse, the film, is gorgeous. Hanly Banks (who's worked as a PA for Comedy Central Presents and a script coordinator on Flight of the Conchords) directed it and together with Smokey Nelson, serves as a DP. Banks has a wonderful gift for conveying the stark, repetitive nature of Callahan's music in visual terms and juxtaposing its rhythms against footage of carnivals, city streets, farms, highways, landscapes, baseball games, fireworks, and other Americana.
As a concert film, Apocalypse works beautifully. No doubt Callahan's fans will be thrilled to experience his music in such an intimate and lyrical setting. He performs eight songs, and interspersed with each are short voice-over narratives from Callahan. These don't necessarily comment on the songs themselves or Callahan as a person, however. They are brief, free-form monologues (which some might say describes Callahan's music as well).
Those who are unfamiliar with Callahan's music should enjoy the performances since they sound terrific. Matt Kinsey, in particular, is a gifted guitarist who imbues an otherworldly atmosphere to Callahan's austere sonic palette.
If you're looking for insight into Bill Callahan the musician or person, however, you probably won't find it in Apocalypse. There are no images of or interviews with his fans or those affected by his music, only images of people in the towns in which he plays, whose paths don't seem to intersect. There are no interviews with either Matt Kinsey or drummer Neal Morgan or, in fact, Callahan himself. His voice-over commentaries don't come across as responses to questions and are for the most part, inscrutable.
After watching Apocalypse, I have no more knowledge of Bill Callahan than I did before. Everything I know of his career I looked up on the Internet. We don't even know why Banks decided to make this film, whether or not he's a fan. This enigmatic exercise might be a point unto itself, but it does beg the question: who is the audience? And what will they get from it other than pretty images and interesting sounds?
Apocalypse: A Bill Callahan Tour Film screens on Saturday March 23, 5:15 p.m. at the TIFF Bell Lightbox in Toronto, ON as part of Canadian Music Week Film Fest 13.