Published on March 19th, 2013 in: Current Faves, Music, Music Reviews, New Music Tuesday, Reviews |
By Paul Casey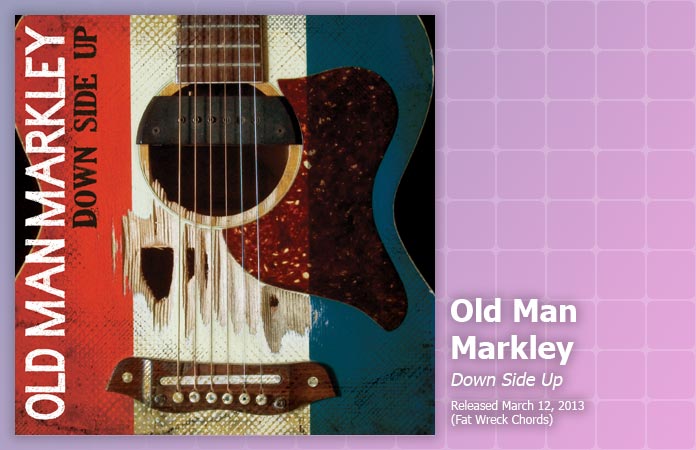 Old Man Markley's second album, Down Side Up, is certainly more Bluegrass than Punk. The tempo is up there but the vocal approach is quite apart from, say, The Dropkick Murphys' mixture of traditional and hard rock influences, or indeed Shane MacGowan's Johnny Rotten sneer pushed through the balladry of Luke Kelly. While their first album Guts n' Teeth does have some of the growl and shout and knock back pirate chant quality to it, there are more similarities with how The Decemberists or Okkervil River approach Traditional music. Even when the lyrics get colorful and the band gets fired up, the vocals remain gently emotive. Even live, they retain much of this quality. From viewing footage of their live act, it is clear that they are a tight outfit. As a delicious stew of influences, they recall the flavor of Hot Buttered Rum.
Down Side Up avoids one of the main problems you encounter when listening to a lot of new Country/Bluegrass/Traditional people. It is common to find a band that have a good sound to them, with that nice dirty/crunchy aesthetic on the speakers. It is a lot harder to find songs that stick in the head. Consider a talented duo like First Aid Kit, who possess exactly the character that attracts a sort like me. Their albums are enjoyable, and I have listened to each of them several times and yet I can't quite recall any of their melodies. You remember the outline but not the content. Being a good performer, musician and possessing an appealing sound is not quite enough to lodge a song in the brain.
Old Man Markley do not provoke such indistinct memories. Down Side Up contains good songs, performed well and with chuckles. The pace of the thing is hectic, but not in a punk rock way, in a stompy feet on wooden floorboards which aren't nailed in correctly, dust creation, and fingers burning from excessive banjo picking kind of way. The opener "Blood On My Hands" and its relentless high energy covers a gloomy lyric, but retains a certain wide-eyed optimism. The songs are catchy as all hell, and perhaps owing to the differing punk and bluegrass backgrounds of the band, sound like they would work in any number of styles.
Johnny Carey is the lead vocalist, but the group's voices drop in and out, backing up and sometimes taking a line or two. This is most apparent on "Hand Me Down" which starts with one voice, with the band following in support on the left and right speakers. While his voice may not be the most notable, its straight-ahead quality fits with the enthusiasm of the album. When things get amusing on "Beyond the Moon", which uses poor old Gary Busey as a punch line for a pretty sweet love song, the ordinary quality of his voice pays off. Carey occasionally steps back to give Annie DeTemple the lead, as on "Come Around Here". DeTemple has a bit of Shirley Simms—from The Magnetic Fields—about her and adds much to the texture and character of the album.
Down Side Up is then recommended, especially for folks who like the sweat of a live show worked up in the studio. These are songs with sharp hooks that should lodge nicely in between the space reserved for the dirt music of Old Crow Medicine Show and the just-like-new sheen of The Decemberists.
Down Side Up was released March 12 through Fat Wreck Chords and is available to order from the label, iTunes, or Amazon.
Tour Dates:
03/20/13: Des Moines, IA; The Lucky Monkey
03/21/13: Denver, CO; The Marquis Theater
03/22/13: Salt Lake City, UT; Burt's Tiki Lounge
03/23/13: Las Vegas, NV; Beauty Bar
03/24/13: Fullerton, CA; The Slidebar Rock n Roll Kitchen
03/28/13: San Diego, CA; House Of Blues
03/31/13: Tokyo, Japan; Tokyo Messe / PUNKSPRING 2013
04/01/13: Tokyo, Japan; Shibuya AX
04/26/13: Utrecht, Netherlands; Tivoli
04/27/13: Siegen, Germany; Vortex
04/28/13: Meerhout, Belgium; Groezrock Festival
04/29/13: Trier, Germany; Ex Haus
04/30/13: Venlo, Netherlands; Queensday Festival
05/02/13: London, UK; O2 Academy Islington 2
05/03/13: Birmingham, UK; O2 Academy 3
05/05/13: Manchester, UK; Star & Garter
05/08/13: Osnabruck, Germany; Rosenhof
05/09/13: Cologne, Germany; Live Music Hall
05/10/13: Hamburg, Germany; Markthalle (MarX)
05/11/13: Amsterdam, Netherlands; Melkweg
05/13/13: Stuttgart, Germany; Zwolfzehn
05/14/13: Vienna, Austria; Arena
05/16/13: Munich, Germany; Strom