Published on March 19th, 2013 in: DVD, DVD/Blu-Ray Reviews, Movie Reviews, Movies, Reviews |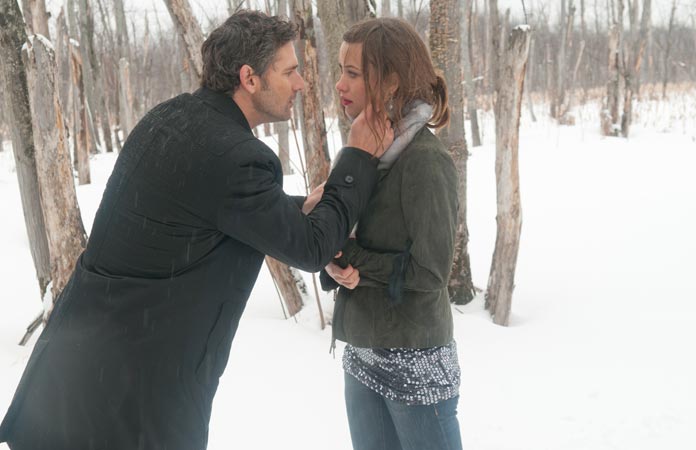 Photo courtesy of Magnolia Pictures
Deadfall has the feel of a western and a horror film, an interesting dynamic made more so by the impressive cast. From the old school there's Sissy Spacek, Kris Kristofferson, and Treat Williams. Olivia Wilde, Eric Bana, Charlie Hunnam, and Kate Mara are the new kids on the block, but there is no showboating here. This is a true ensemble and everyone is outstanding.
Shot in Montreal during the winter, the brutal temperatures and non-fake snow and ice make Deadfall an actual chiller instead of just a narrative one, and DP Shane Hurlburt takes advantage of the bleak landscape with beautiful crane shots and use of framing. Yet Deadfall can be intimate, too, with dingy hotel rooms and hunting cabins, twilight versus firelight.
First-time screenwriter Zach Dean wisely sets the action in a variation on in media res, but instead of employing flashbacks, there's well-placed expository dialogue that never comes across as forced. Some of it is particularly brutal. As Hanna, Kate Mara is a police officer literally and figuratively in the service of her domineering father and his sexist gang of boy cops. Much is implied—but never stated—about why her mother left and why Hanna feels obligated to stay, and this creates a palpable, at times enraging, sense of tension that plays right into the narrative.
Eric Bana is absolutely menacing as Addison, which makes his scenes in the hunting cabin with the abused mother and her kids that much more meaningful by contrast. He is both a savior and a killer and we feel for him as much as we loathe him. The cycle of abuse is alive and well in Deadfall.
As Liza, Olivia Wilde is terrific. She's wounded, pathetic, manipulative, confused, and vulnerable—when she needs to be and when it's terribly inconvenient. Charlie Hunnam portrays Jay as tough but tender, but avoids cliché by making his crimes that of ignorance not of malice. The couple's developing relationship is the kind that only makes sense in the context of such tumultuous emotions, but their chemistry feels genuine and so we root for them.
Director Stephan Ruzowitzky does a fine job of adding volatile elements to the mixture bit by bit, ratcheting up the tension until it literally reaches its breaking point. The end of Deadfall is a détente, but not a resolution. As such, its tragedy is authentic and affecting. Deadfall is a gritty, rewarding genre exercise supported by a taut storyline and great performances.
Deadfall was released on DVD February 5 through Magnolia Home Entertainment. The DVD includes three short featurettes, including "AXS TV: A Look At Deadfall;" interviews with Olivia Wilde, Eric Bana, and Stephan Ruzowitzky on various aspects of the film; behind-the-scenes footage; and an extended interview with Ruzowitzky.