Published on March 18th, 2013 in: Current Faves, Music, Music Reviews, Reviews |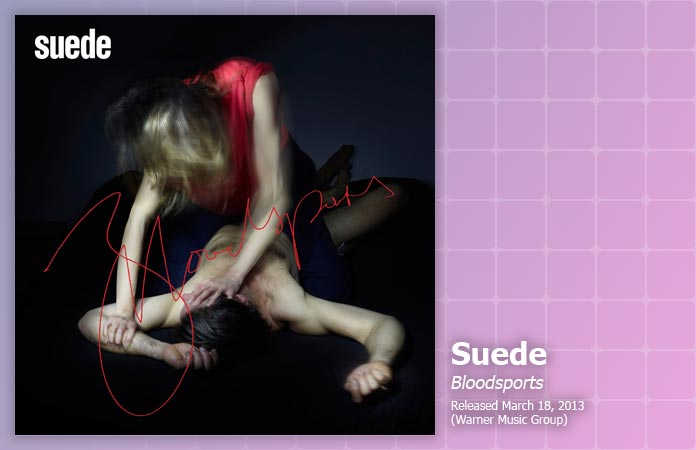 Is it bird song?
Or is it just the car alarms
Making us feel so young?
Savage like the dawn.
—Suede, "Fault Lines"
My love for Suede stretches back to the summer of 1993, when I first saw the videos for "Metal Mickey" and "The Drowners." Suede looked, sounded, felt like a band you could fall in love with. I was fortunate enough to see them live in New Orleans in October 1993. After that, my fandom was eternal.
While their eponymous debut and Dog Man Star were immaculate and masterful, subsequent releases were less so. "Trash" and "The Chemistry Between Us" are amazing, but on the whole, Coming Up is fairly disappointing both musically and lyrically (although the latter quality is at least enjoyably ridiculous), coming across as more frivolous and brittle than one would have expected after the gravitas of Dog Man Star.
Though it wasn't as successful as Coming Up, Head Music is a better album; there's far more diversity and daring in the musicality and frankly, it has better songs, lyrics, and vocal performances throughout. While technically a B-sides compilation, Sci-Fi Lullabies has as many consistently spectacular songs as the first two studio albums.
By the time their farewell disc, A New Morning, was in progress, between rumors of the album being called Instant Sunshine and Brett Anderson dying his hair blonde, I was thoroughly disinterested and never bothered to get the album. This is an embarrassing admission. Subsequent examination reveals that it's not terrible, even if "Positivity" feels positively bland. Though I've not listened to much of Anderson's solo work, I did enjoy Here Come The Tears. But like all the other Suede fans, old and new, I always hoped they'd regroup and release something new.
So here we are in 2013 with Bloodsports. There will be those who complain "it's not as good as ______" or use the cringe-inducing phrase "return to form," but let's be honest: Nothing Suede can do at this point will please fans who want them to make Dog Man Star II but who would bitch and moan if they actually did so. Bloodsports is for the rest of us.
If it's true that Suede makes music for the rest of the world, then the fans are truly blessed. Bloodsports is excellent, overflowing with extraordinarily hooky tunes, stunning vocals, and juicy chunks of guitar. It doesn't concern itself with the beautiful ones or the trash, and there are no mentions of council estates. The dystopian world of Bloodsports deals with the perils of the heart (and by extension, the loins).
The first six tracks could easily all be singles, but "It Starts And Ends With You" is the official single and it's definitely on par with any of their previous ones. How it isn't a massive hit already is all about what's happened in the music industry in the decade since Suede broke up, and not the quality of the song itself. Full of evocative imagery, it's more invigorated than one could have imagined at this point in the band's career. Those who doubted they still had this in them should be ashamed.
"Barriers," which the band released for free in February, soars on heartbreak and emotion, and Richard Oakes's riffage. The alliteration in "Snowblind" is lovely, with a classic Suede chorus and a sweeps-you-off-your-feet bridge, plus some gorgeous bass work from Mat Osman, who is much more integral to the band's sound than I'd previously—erroneously—assumed. "Sabotage," apparently the one track from a series of songs that was scrapped in favor of these ten gems, flirts with suicide and religion but is wedded to Simon Gilbert's booming drums.
"For The Strangers" has a fantastic bridge and chiming, purring guitars. "Hit Me" should be the next single, if singles mean anything anymore in this crazy world. More heavy drums, a "la la la la la" bridge, and a familiar-yet-fresh sound that makes Dog Man Star feel like it came out last year instead of nearly 20.
After a six-song-assault proving Suede are at the top of their collective game, things turn melancholy—but no less accomplished—with "Sometimes I Feel I'll Float Away." Anderson's exquisite lyrics and vocals, Oakes's jewel-toned guitar, and Neil Codling's sepulchral synths, are all marked with the majesty of Suede's best. "What Are You Not Telling Me?" is stark—all echoed vocals and piano, and a spare, unanswered chorus.
If there's a weak spot on Bloodsports it's the first half of "Always," but by the time the massive musical and vocal buildup arrives at the end, you've likely forgotten about its flaws, wondering if the protagonist is a ghost or a suicide victim (or both). The rueful puns of "Fault Lines" are simultaneously bleak and buoyant, ending on a provocative note: "We live, we live again/There is no fear now/for us to feel." It's hard not to see this as somewhat autobiographical.
Bloodsports is astonishing and wonderful, not just as a "comeback" album, but as an album by one of the most critically underrated bands of the last few decades. It's Suede at their most energized, engaging, and essential. It will make you fall in love with them all over again.
Bloodsports is out today from Warner Music Group on CD, vinyl, and digital formats. You can listen to the album streaming on NPR.
There are least five extra tracks for the album—"Dawn Chorus," "Howl," "Nothing Can Stop Us," and "No Holding Back"—but not all the songs are available on every format. The Super Deluxe Edition blog has an explanation of the confusion (but it might not make cash-strapped fans happy).
Suede will be playing Rock City in Nottingham on March 28 and Alexandra Palace in London on March 30. For more visit the band's website and Facebook pages, one for Suede and one for The London Suede (yes, that silliness is still going on).