Published on March 18th, 2013 in: Film Festivals, Movie Reviews, Movies, Music, Reviews |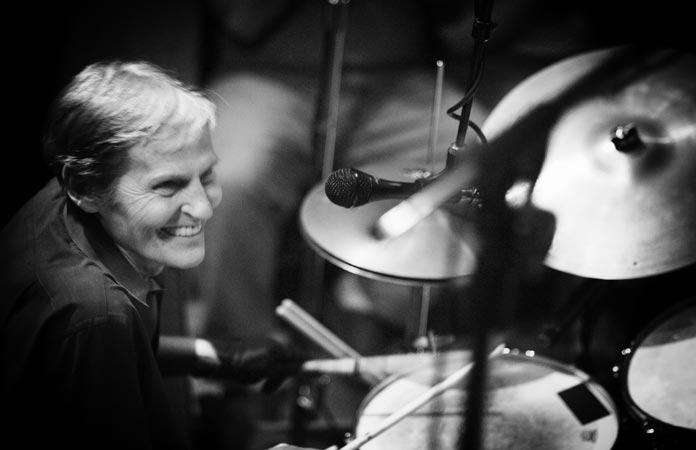 If you are a fan of The Band, then you already know that drugs and money are a bad combination. Ain't In It For My Health doesn't dwell on the troubled legacy of the group, but it doesn't shy away from it, either. However, this is a film about survival, and the exceptional life of Levon Helm, drummer, singer, songwriter, father, friend, and legend.
Filmmaker Jacob Hatley shot the footage for Ain't In It For My Health throughout 2007 and 2008. It encompasses Helm's 2008 Grammy nomination for Dirt Farmer, the recording of Electric Dirt, his contributions to The Lost Notebooks of Hank Williams, and the birth of his grandchild and namesake, Lavon. (Helm was christened as Lavon, but became known as Levon when no one in Ronnie Hawkins' band could correctly pronounce his name.)
Hatley and DP Emily Topper (she recently worked on After Tiller) utilize an unpolished and intimate style in the film, an accurate reflection of the man himself. As a result, they capture plenty of great moments: the contrast between the quiet sterility of a lonely tour bus and a crowd chanting "Levon! Levon!" in the hopes of getting an encore; various trips to the doctor and invasive medical tests; the subtle omnipresence of Helm's two dogs in his house and home studio; and several instances of Helm holding his friends and bandmates in thrall to his skills as a storyteller.
One can see why Robbie Robertson wanted to tap into that particular vein when it came to Helm and how their falling out still cuts so deeply. Helm's stories about Woodstock, life on the road, and growing up in Turkey Scratch, Arkansas keep everyone riveted but still smiling. He's definitely got a way with words. Of Richard Manuel he says: "He didn't even have a sleeve, much less something up it."
Thos old wounds still hurt and Helm is obviously grappling with Manuel's suicide, Rick Danko's death, and the twisted history of The Band. There's a young man's spirit in an old man's body and the contrast is both inspiring and saddening. It's not just limited to Helm, either. The footage of Danko's widow in a Saugerties, NY retirement complex is particularly sobering.
Ain't In It For My Health sheds light not only on Helm's legacy, but also the reality of existence for professional musicians. Not the rich and famous ones, but the ones whose legendary status comes from talent and the relentless urge to make music. Even when his throat troubles render Helm literally speechless, he's still working, figuring out song lyrics with his producer Larry Campbell; helping his band learn vocal parts because he can't perform them himself and the show must go on.
Helm started singing and making music as a child, encouraged and taught by his parents, who were farmers. The Hawks, Bob Dylan, and The Band took him away from that life, but his nostalgia for it is obvious when he drives a tractor at a local farm and talks about the smell of the earth. Still, medical bills from his late '90s battle with throat cancer, publishing royalty disputes, and bankruptcy troubles mean Helm has to keep on working, embarking on a five-nights-a-week, five-week tour so he doesn't lose his house (again).
Yet for Helm, the music is never a chore; it's a calling and a gift. And Helm's gifts were many. The title of the film is obvious before it's even explained. Helm would pass away from cancer two years after this film first screened at SXSW and the L.A. Film Festival and watching it, one can see already see the toll of everything he'd been through on his body.
Ain't In It For My Health is required viewing for fans of The Band and everyone else who gives a damn about music even when they know it will probably be their undoing in the end.
Ain't In It For My Health: A Film About Levon Helm screens on Thursday March 21, 7:00 p.m. at the TIFF Bell Lightbox in Toronto, ON as part of Canadian Music Week Film Fest 13.
NOTE: Larry Campbell was listed as "Larry Williams" when this article was first published. We apologize for the error.