Published on March 15th, 2013 in: Assemblog, Horror, Legal Issues, Movies, Science and Technology, Science Fiction, Trailers, TV |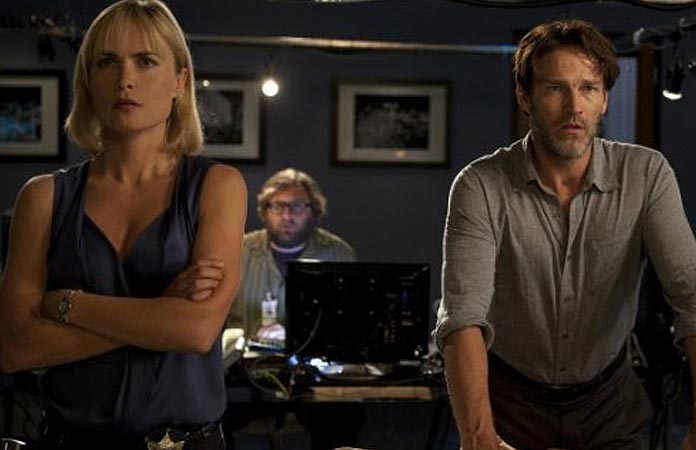 Evidence
New this week on Popshifter: Luke encourages us to stop complaining about gaming and raves over Metal Gear Rising: Revengeance; Paul is righteously indignant about the sexist responses to Anita Sarkeesian's first Tropes vs. Women video; Cait says Bowie's The Next Day has "an urgency, an energy and intensity long missing;" Hanna calls Alasdair Roberts & Friends' A Wonder Working Stone "truly remarkable;" Lisa feels Oz the Great and Powerful is "too flawed" for a popcorn movie; Chelsea encourages SXSW attendees to check out the rock en español of Café Tacvba, Bajofondo, and Molotov; I think Girls Names' The New Life is "damn fine," am impressed with the "outstanding performances" in Jack & Diane, get my hackles up about "mocktresses," talk about upcoming horror film Lord of Tears, and give an overview of Canadian Music Week Film Fest 13.
When I started to write this week's column, I was very excited about the potential for a Veronica Mars movie to be made. In the middle of writing about the Kickstarter, the negative feedback over the project started pouring in on Twitter. After seeing so much pompous, hateful snark about it (including blog articles), my faith in humanity has been crushed once again. Yes, I realize it's "just a TV show" but this sort of "let's hate everything" mentality has become so prevalent in every facet of online communication, social media, etc. that it is actually damaging to the psyche. I wrote a lot about why I was frustrated with what was happening, and then talked about it on Facebook and Twitter. To be honest, I'm fairly exhausted from attempting to debunk all the whiners out there. Thankfully, Jacob Q. Knight and Brandon Marcus at Very Aware have posted an excellent conversation covering all the bases. It's a great read and I sincerely hope that those who have been complaining the loudest will actually read it and reconsider their opinions.
Now onto less-frustrating news: Cinedigm, best known for helping theaters convert to digital projection, has embarked upon digital distribution of independent films and TV shows. The L.A. Times notes:
In April, Cinedigm acquired New Video Group, a New York-based distributor of independent films, TV shows and specialty entertainment, which made Cinedigm the world's largest rights holder for independent digital content—entertainment produced outside the major studios.

Working with emerging distributors such as Amazon, Hulu, Netflix and iTunes, Cinedigm controls the digital rights to more than 20,000 independent movies and TV shows, including titles from Sundance, Tribeca Film, Scholastic and Digimon.
Among the titles Cinedigm has recently acquired are The Invisible War, Don't Stop Believin': Everyman's Journey, and The English Teacher.
I first talked about the upcoming Christopher Nolan film Interstellar back in January; now it has an official release date. The sci-fi movie is a co-production between Warner Bros. and Paramount Pictures and has a scheduled release date of November 7, 2014. No word yet on the cast (or cinematographer), so stay tuned (H/T to The Hollywood Reporter).
Another potentially good film that has just received US distribution rights from Image Entertainment is Evidence, a horror movie with Stephen Moyer and Radha Mitchell. The Hollywood Reporter describes the plot: "Evidence centers on two detectives (Moyer and Mitchell) who attempt to piece together what happened at the scene of a brutal massacre using a number of recording devices found at the crime scene." This sounds like a neat twist on found footage, sort of one degree of separation from Sinister. Evidence has a planned theatrical release of Summer 2013.
There is an update on the Rhythm & Hues bankruptcy (which I discussed last week) from The Hollywood Reporter. Although the company has been looking for a purchaser, they've also received $17 million in loans so that they could finish the work on a couple of big-budget, high-profile films (Universal's R.I.P.D. and Fox's Percy Jackson: Sea of Monsters) both scheduled for release this summer.
However, a group called the "Committee of Unsecured Creditors" is seeking to "close the Debtor's doors and conduct an orderly liquidation of the Debtor's assets" because they have "serious reservations about the Debtor's business judgment and strategies." There is speculation that this mysterious group (which only came into existence last week) is Warner Bros., but that hasn't been confirmed. Despite their objections, however, a California Federal bankruptcy judge opened the bidding process on Wednesday. According to The Hollywood Reporter, "Interested buyers will have to make qualified bids by March 22. The auction commences on March 27. And a hearing on the approval of the sale of R&H will happen the following day on March 28." Any oppositions to a sale of R&H must be filed by March 25 (the Committee's opposition must be filed by March 28).
—Less Lee Moore, Managing Editor