Published on March 14th, 2013 in: Culture Shock, Current Faves, Music, Music Festivals |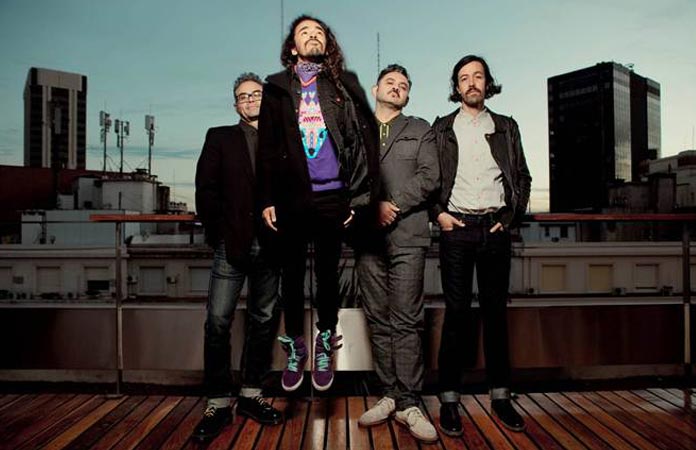 Café Tacvba
Are you in Austin for South By Southwest? Are you a fan of Latin alternative? If so, you're in for a treat. The NPR podcast Alt Latino is sponsoring a showcase on March 14 at Auditorium Shores. Three of the brightest bands in the rock en español firmament will be playing—the experimental rock quartet Café Tacvba, politically-informed rap/rock ragers Molotov, and dance-pop supergroup Bajofondo.
In the early 1990s, Café Tacvba made a great impression in the nascent rock en español scene with their unusual yet accessible sound. Their songs wedded expansive rock and electronica dynamics and experimental techniques to Mexican and Central American folk music idioms like bolero, norteño, and son jarocho. Though their big sound and bold sense of experimentation earned them comparisons with Radiohead, their music carried a hard-won happiness and an understated sense of humor that contrasted with their bleak compatriots.
On previous albums, they've touched upon the epic time between their releases with a shrug and a wink (as on "Cero Y Uno," the opening track on Cuatros Caminos), and they've paired an 8-bit melody with a catchy whistled harmony. The title of their latest release, El Objeto Antes Llamado Disco (or "the object formerly known as an album"), furthers that wit. Their two singles find the band in their most interesting moods. "De Este Lado del Camino" finds lead singer Ruben Albarran in a contemplative mood as he sings about overcoming self-hatred to finally love oneself. Meanwhile, "Olita del Altimar," a spacey booty-shaker, pairs propulsive percussion with a riff played on the guitarro jarocho. The melody and arrangement are so infectious you might want to bust into a flailing dance like the dervish Albarran dances in the video! Café Tacvba's albums have come at a slightly more infrequent clip these days, and they perform stateside so rarely that this show can rightly be seen as an Event.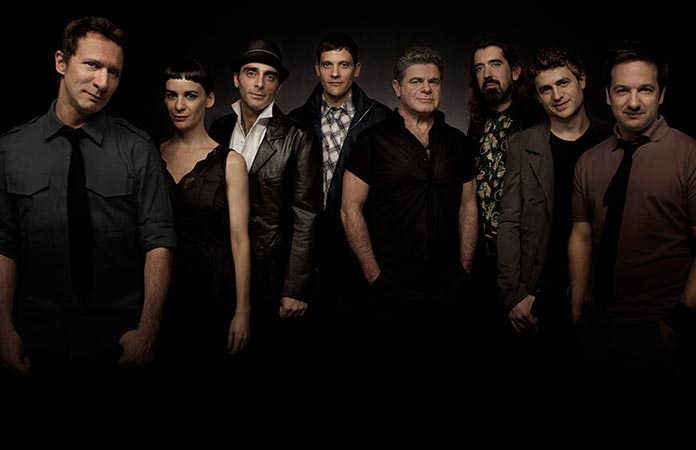 Bajofondo, photo © Picky Talarico
While Café Tacvba made their name on their incendiary live shows, Bajofondo are primarily known as a studio act. Academy Award-winning composer Gustavo Santollala and mad musical scientist Juan Campodonico have formed a supergroup that genre- and generation-hops dance music to create a sophisticated, playful sound. I just reviewed Presente, the ensemble's third album, and am very excited about seeing them in Boston in a few weeks.
Molotov, the third band on the bill, takes a more abrasive musical approach. They first gained notoriety in Mexico for their debut album, ?Donde Estan Las Ninas?, with its ribald cover art and song titles that translate as "Manwhore" and "Fuck Your Mother." Those who got past the profanity and crass sexual imagery would find some bilious, Swiftian political commentary about the state of Mexican politics, US/Mexican relations, and the male image in Latin American culture, as well as some great classic rock riffs. Though I'm less familiar with Molotov than I am with the other bands on the bill, they've earned some great respect within the Latin alternative field, and by all accounts put on a great live show.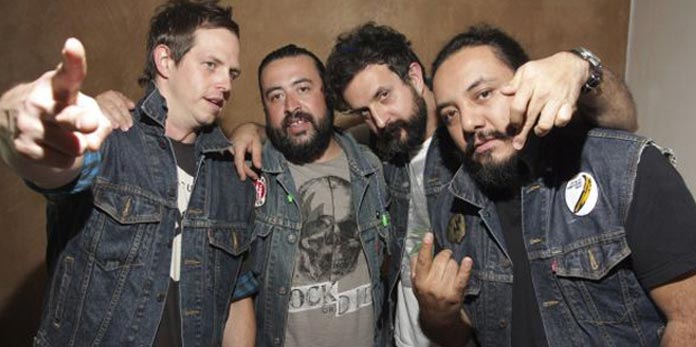 Molotov
Those who aren't attending SXSW may fear they're missing out. Thankfully, NPR has you covered: they'll be recording this show and making it available as a download, and may also broadcast parts of it in their weekly Alt Latino podcast. And if you're a fan of this music, or if these bands sound intriguing to you, add Alt Latino to your queue. Over the past few years, cohosts Felix Contreras and Jasmine Garsd have expanded my taste in music and inspired me to try and take up Spanish again. Good stuff all around.
Showcase: Rock
Auditorium Shores Stage (Lady Bird Lake)
Bajofondo: 6:00PM – 6:40PM
Molotov: 7:00PM – 7:40PM
Café Tacvba: 8:00PM – 8:50PM
For a full schedule, check out the SXSW website.