Published on March 14th, 2013 in: Blu-Ray, DVD/Blu-Ray Reviews, LGBTQ, Movie Reviews, Movies, Reviews |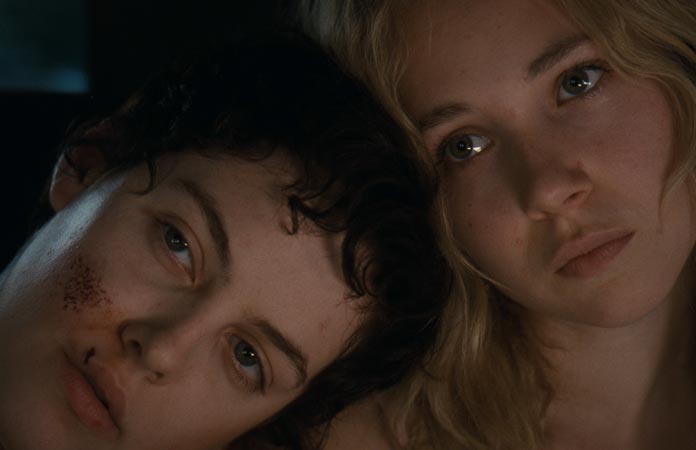 If you were expecting a horror romance from Jack & Diane due to the trailer, you'll probably be disappointed. If you approach it with an open mind, however, you'll be pleasantly surprised.
The film, written and directed by Bradley Rust Gray, is a slightly meandering glimpse at the romance between two young women, Jack (Riley Keogh) and Diane (Juno Temple). There are beautiful visuals that veer from hyperrealist to almost hallucinatory, and sometimes both at the same time. If that sounds like a contradiction, then it's one that can easily apply to the film as a whole.
The monster scenes in the movie are never fully explained, and that's okay, but the idea that we're supposed to interpret them as a metaphor for the scary, all-encompassing emotions that love and desire can create never gels with the tone of the rest of Jack & Diane.
What does work are the outstanding performances of Juno Temple and Riley Keogh, who both have enormous screen presence and believable chemistry with each other. It's impossible not to be completely engulfed by the belief that we're watching real teenagers, doing all the ridiculous and impetuous things that teenagers do.
Even some of the elements in the film that might seem self-consciously quirky carry weight. Jack skateboards without a helmet, but it's tied up with her deceased brother; Diane dresses like a true eccentric, but it's because she's studying fashion design. Jack & Diane covers both frivolous behavior (staying out all night, breaking into hotel swimming pools) and the deadly serious consequences of living (suicide, rape) but never comes across as overwrought or preachy, just remarkably vivid.
It's a shame that the more fantastical elements of the story weren't given enough room to breathe within the film as a whole. One of the special features on the Blu-Ray is a phone conversation between director/writer Gray and special effects artist Gabe Bartalos, which serves as a soundtrack for images of Bartalos's creature design, including sculptures and animatronics. His skill at creating a repulsive yet realistic monster is impressive. Thus, it's a shame that we only see glimpses of his work in the film. If there had been more scenes with the monster, the metaphor of "love is a monster" might have been clearer.
Additionally, the opening sequence of the monster's first appearance might have enabled this provocative idea to be more successful if it hadn't been followed by a title card reading "Earlier." Despite the attempt at clarifying the timeline, this odd editing choice makes it seem as if the transformation takes place before the catalyst of the relationship does. Even the wonderfully realized internal transformation sequences from the Brothers Quay suffer from this lack of attention to consistency.
Fortunately, DP Anne Misama's skill behind the camera, Keogh and Temple's superb performances, and a strong narrative structure combine to make what doesn't work so well seem insignificant in comparison. As an artistic interpretation of the horrors of passion, Jack & Diane is a noble attempt, but not a qualified success. As a frank, poignant look at young love, however, Jack & Diane is marvelous.
Jack & Diane was released on Blu-Ray January 8 by Magnolia Home Entertainment. The disc includes two featurettes, "Creating A Monster: Behind The Special Effects" and "AXS TV: A Look at Jack & Diane" as well as the theatrical trailer.