Published on March 12th, 2013 in: Current Faves, Music, Music Reviews, New Music Tuesday, Reviews |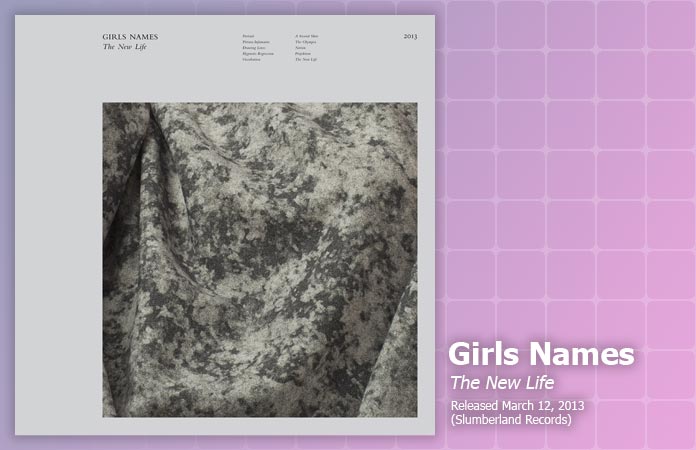 I'm running out of ways to describe new bands as deft reinterpreters of the legacy of post-punk music. Belfast's Girls Names is no exception, but The New Life, their new album, is still exceptionally good.
Those who try to recreate the sound of the late '70s/early '80s goldmine of great music often fall victim to throwing in everything that defined the era in an attempt to be as on-the-nose as possible: synths, drum machines, hand claps, samples, gospel choirs, and horn sections. Less is more, and Girls Names know how to do a lot with a little.
This isn't to say that they don't have a lot going for them. Singer/songwriter/guitarist/creative force Cathal Cully knows how to create simple yet decadent melodies and then repeat and subtly transform them into minimalist mini-masterpieces. I'll always remain enamored of bands that can take the most basic chords and song structures and imbue them with such depth and breadth. Bassist Claire Miskimmin's only been playing for a few years, joining the original two-member Girls Names on the tour for their debut 2010 album. It's that same spirit of freshness and experimentation that makes The New Life so engaging.
"Drawing Lines" has a similar structure and feeling to The Cure's "A Forest," with its constantly repeated, jewel-toned guitar melody, steady drums from Neil Brogan, and prominent, thumpy bass twangs. Cully's vocal tone sounds more like Roddy Frame than Robert Smith, but replace the former's distinct cadences with something that sounds just out of reach, and you're getting close.
Although the lyrics seem secondary to the music, Cully is concerned with themes of darkness, death, evil, sin, and graveyards. This isn't a surprise from the fellow who admitted he's a "secret Goth at heart" in a 2010 interview. But Girls Names are the proto-Goth of Seventeen Seconds, not In The Flat Field. There are no odes—ironic or otherwise—to vampires or bats here.
The New Life is less concerned with genre than sonic textures. "The Olympia" even evokes glimpses of REM's Chronic Town, a record that would never be considered Goth, and yet, to those of us who grew up back then, it's not a stretch for people to have enjoyed both Siouxsie and the Banshees and REM (and I did).
The tracks on The New Life have hooks that belie their otherwise austere, haunting qualities. Cully's guitar ranges from gentle jangling to ghostly reverb to heavy feedback and a few places in between. The tempo shifts in "Occultation" and "Second Skin" are unexpected and exciting; "Projektion" is beautifully reminiscent of The Damned circa-The Black Album with its Captain Sensible-style guitar, various changes in melody, and mournful, quasi-pyschedelia. Title track "The New Life" (and in fact, the whole album) deserves to be as big or bigger of a buzz track than almost anything from DIIV's Oshin.
The New Life is an album of liminality, meant to be enjoyed at twilight. Whether from influence or by design (or both) it superbly recalls the in-between-ness of the late 1970s and early 1980s while not sounding like a rehash or a rip-off. This is not shoegaze, or dream-pop or anything specific; it's just a damn fine collection of songs.
The New Life is out now from Slumberland Records and can be ordered from the label's website. Be sure to follow Girls Names on Facebook. If you're lucky enough to be in Austin for SXSW, they'll be playing four shows there over the next few days.
SXSW Shows:
March 13 – SXSW, Slumberland Records Showcase – Time TBC
March 14 – SXSW, Under The Radar, Flamingo Cantina 4.05pm
March 14 – SXSW, KRTU 91 7FM – Flat Top Burger Shop – 6pm
March 15 – SXSW, Waterloo – 5.15pm