Published on March 12th, 2013 in: Current Faves, Music, Music Reviews, New Music Tuesday, Reviews |
By Hanna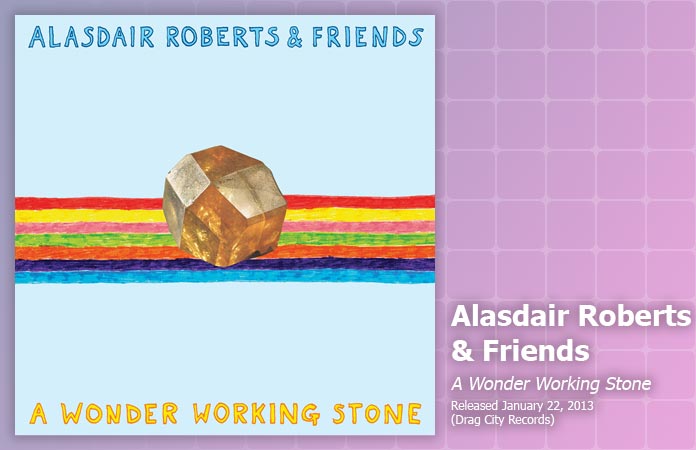 A Wonder Working Stone is being hailed as Alasdair Roberts's best work so far. Though he can sum it up in one word per song himself, it's not that easy to capture in a short review. This is partly because it is so varied, and partly because it's so complex that description becomes difficult.
In a way it's a definitive album, combining characteristic elements of Alasdair Roberts's style with new influences, and a cast of highly skilled musicians. There is an atmosphere of creative friendship in the album, especially in the extended sequences of various songs played together.
While it features the strangely timeless songs that characterize most of his traditionally styled work, it goes beyond that to have fun and to engage with current styles. Some of the songs, especially the bigger multi-song pieces, feel spontaneous and like a folk party. Another reviewer compared the album to music by The Incredible String Band, which is an apt comparison.
At times, A Wonder Working Stone sounds almost like mainstream pop folk: cheery and bluegrass influenced, or even bluesy. But then it quickly changes directions again, either into musical complexities or into more traditional Scottish folk songs. Although the musical style seems changeable and difficult, the themes are relatively cohesive.
One thing I noticed in some songs was a radical strain in the lyrics, dealing with exploitation, destruction, drudgery, and oppression. "The Wheels of the World/The Conundrum" is an example of this, a cynical statement on the human condition as well as a social or even political commentary. "The Year of The Burning" is another, dealing in this instance with the Highland Clearances.
The traditional songs of this album are, even for Alasdair Roberts standards, exceptional, proving that even though he is already highly respected in this genre he can still move beyond his previous work. They marry the dark themes and complex sounds of Scottish folk to a more straightforward modern morality and aesthetic. This is not in the same way that other well-known modernized folk bands such as Belle and Sebastian do it, using naiveté to hide a darker realism. Instead Roberts preserves the tone of old songs composed in harsher and unrecognizable times, while doing away with unnecessary elements to make them more effective for modern sensibilities.
A fate-like kind of retribution is another theme tying this album together. "Brother Seed," with its frank statements of incest, social exile, and retributions, delivered in inescapable repetitions, was actually shocking to me at first. It's almost like a particularly twisted avant garde Goth song, by Nurse with Wound or the Legendary Pink Dots, but stated in the unwavering and clear manner of a teacher giving a lesson. This is also the case for "Gave the Green Blessing," which deals with bad decisions and regret in a domestic setting
"The End of Breeding" is less horrifying but is also a tale of human mistakes and evil, culminating in regrets. "Fusions of Horizons," "Song Composed in December," and "The Merry Wake" are more recognizable and milder, blending traditional influences with Alasdair Roberts's characteristic songwriting.
The jam-style sequenced songs that blend into one another and make up the rest of the album are very welcome as interludes in between the darker parts, and constructed in ingenious ways. They provide a way to experiment with different sounds, and seem to do so for sheer joy.
Of these songs, my favorite moments were the Welsh "Rap Y Clychau Glâs" and the version of "We Walk Through The Streets of the City," which provided a surprising change of tone.
A Wonder Working Stone is a truly remarkable album that only becomes better the more you listen to it. I second Alasdair Roberts's urging to buy this album at a local record shop, because the liner notes add a lot to your understanding of the songs, and are great to look at on their own.
A Wonder Working Stone was released on January 22 through Drag City Records and is available to order from the label's website. For more on Alasdair Roberts, check out his website.