Published on March 5th, 2013 in: Current Faves, Music, Music Reviews, New Music Tuesday, Reviews |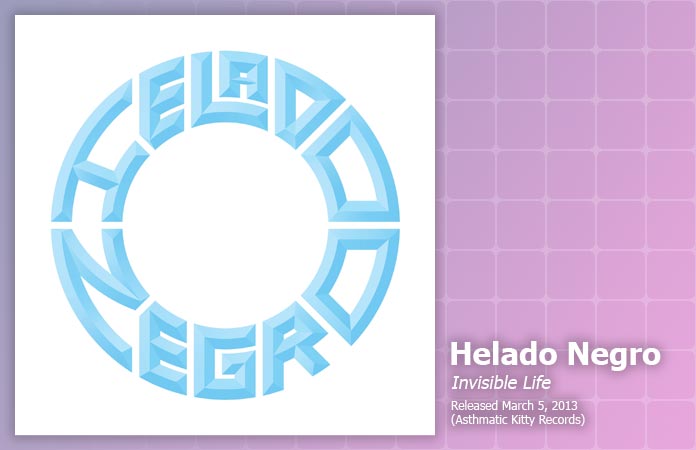 The phrase "Helado Negro" translates into English as "black ice cream," a seeming non sequitur that makes sense, in a strange way, for this studio project. Invisible Life features songs that carry a hint of comfort and refreshment, the way that sweet frozen treats do. However, the use of unexpected sonic textures brings with it an unexpected tang—like licorice ice cream—and the lush melodies and arrangements have an intoxicating aftertaste, like a scoop of vanilla in a pint of stout.
On his second LP, Invisible Life, Roberto Carlos Lange—the man behind Helado Negro—has written a series of lush melodies, which he stretches languorously over slow tempos and unusual time signatures. This makes his work sound as though it could form the soundtrack to a color-saturated character study inspired by the French New Wave or Wong Kar-Wai. He sings in a scratchy-sounding chest voice, sometimes allowing himself to lapse into a reedy, vulnerable falsetto. The conversational rhythms of his singing suggest Let's Dance-era David Bowie, a comparison extended by Lange's embrace and non-ironic use of obsolete musical technologies.
Like many of his peers and forebears, Lange performs on analog synthesizers, instruments frequently associated with soundtracks to old-school Sesame Street segments or 1970s futurist-influenced bands like Kraftwerk. Unlike his peers, Lange layers the synth charts over one another for a surprisingly dense arrangement, or he pushes them into distortion to create pneumatic-sounding percussion, as on the metronomic opening track, "Llumina Vos." The layered keyboard parts in the album's leadoff single, "Dance Ghost," evoke the sound of steel drums, which gives the song a more organic feel.
While Helado Negro has been compared to Bon Iver for Lange's ascetic recording style, his sensuous singing, spare arrangements, and cinematic scope bring to mind another fellow musical adventurer—the dazzling singer Frank Ocean. Both Lange and Ocean have attracted new listeners in part through their compelling back-stories. (Lange, the son of Ecuadorean immigrants, has led a well-traveled existence, including a stint at a farm in Vermont where he recorded his first album.) Where Frank Ocean engages his listeners with his candor, however, Roberto Carlos Lange has a more unassuming personality, which comes through in the title of the album and in his processed, distant-sounding vocals.
As a critic, I found myself reacting to Lange's music in a way I didn't feel I could with Ocean's, since I didn't feel as much that I was criticizing Roberto Carlos Lange as a person the way I did when I found fault with Channel Orange. On a purely musical level, fans of Frank Ocean's music will find much to like with the Helado Negro album.
Those looking for a new take on soul music will also find Invisible Life a cool, refreshing treat. If you're looking for some make-out music or something to calm you down at the end of the day, go to your local record store and ask, "?por favor, me gusta Helado Negro?" You'll be glad you did.
Invisible Life is out today from Asthmatic Kitty Records. You can order the album directly from the label's website. Please check out the Helado Negro website for more info.
Tour Dates:
Tue. March 5 – Indianapolis, IN @ Do317 Lounge
Wed. March 6 – Chicago, IL @ Empty Bottle
Thu. March 7 – Minneapolis, MN @ 7th Street Entry
Fri. March 8 – Lafayette, IN @ Tippecanoe Arts Federation
Sun. March 10 – Louisville, KY @ Zanzabar
Wed. March 13 – Sat. March 16 Austin, TX @ SXSW
Tue. March 19 – Nashville, TN @ The Stone Fox
Wed. March 20 – Atlanta, GA @ 529
Fri. March 22 – Washington, DC @ Black Cat
Sat. March 23 – Philadelphia, PA @ North Star Bar
Sun. March 24 – Brooklyn, NY @ Glasslands [RECORD RELEASE SHOW]
Fri. April 5 – Toronto, ON @ The Music Gallery