Published on March 5th, 2013 in: Culture Shock, Current Faves, Music, Music Reviews, New Music Tuesday, Reviews |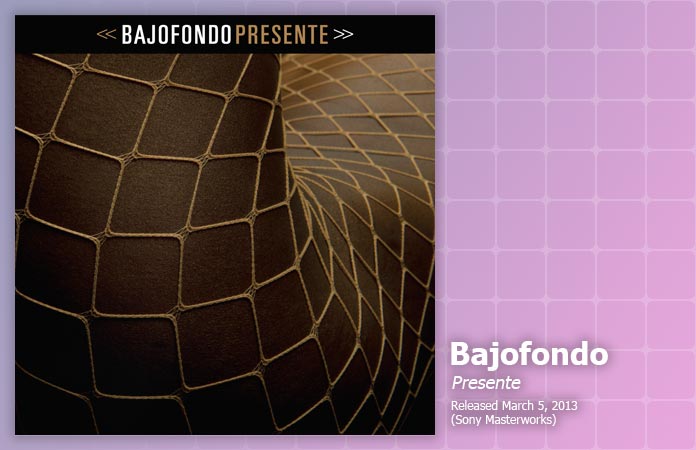 A few weeks ago, Bajofondo released their latest single, "Pide Piso," on iTunes with little fanfare. As an admirer of musical polymath and Bajofondo member Juan Campodonico, I picked it up with little hesitation. Campo's self-titled 2012 album caught my attention when it was nominated for the best Latin Alternative Grammy, and its ethereal songs and playful aesthetic made it a worthy competitor in that category.
Though Bajofondo takes a more restless approach to their chosen genre and musical tradition than did Campodonico's solo project, his approach to music made me curious about how he'd work in a more collaborative setting. The 99-cent risk paid off, and the cascading melodies, shuffling electronic percussion, widescreen string section, and deft use of samples frequently made it into daily play.
When the stream of their album debuted online, my anticipation and curiosity were at equal levels. Could this album maintain this level of quality over two hours? Was the single the best song on the album, and would the rest of the songs suffer from erratic quality? Would this suffer from the cheesy, prefabricated qualities to which even the best dance music falls?
A cursory listen to Presente, Bajofondo's third official album, was enough to quell my fears. Campodonico and collaborator Gustavo Santaolalla (an Oscar-winning film composer and legendary rock en espanol producer) have created a dizzying, innovative mash-up of cultural and generational cornerstones of music.
Make no mistake, Bajofondo play dance music, a genre occasionally maligned for its prefab qualities. They invest their songs with a great sense of care, and you can hear their intentions at making the most engaging music they can. The lush, looping melodies, string-driven arrangements, glossy production, and scratchy guitar parts that punctuate the songs bring to mind the silky singles of Chic. Unlike Nile Rodgers and Bernard Edwards, Campodonico and Santolalla travel further back in time and incorporate pieces of 1930s tangos into their songs. Sometimes their tribute to earlier times is as explicit as a sample weaving through the song, as with the 78-derived bandoneón solo that appears in "Pide Piso." At other points, the scaled back production or the presence of a female vocalist is all it takes to evoke a smoky gin joint worthy of a film noir.
The first half of the album finds the band in its element, laying down infectious grooves and all but daring listeners to start whistling along. In the second half, though, the band loses a bit of steam with a series of ballads. The songs that feature vocalists tend to interrupt the flow that Presente establishes, and while they work with some talented, evocative singers, I found myself getting antsy waiting for the next instrumental. Since the ensemble releases albums at a two-per-decade clip, however, the occasional experiments that don't pay off are at least understandable.
Bajofondo's music sounds great as an early-morning pick-you-up, or as a soundtrack to a block party or dinner confab. Listening to a band this skilled individually get together to create something this good is worth the five-year wait.
Presente is out today from Sony Masterworks. You can order the album directly from the band's website.
Tour Dates:
March 18: Los Angeles, CA @ Henry Fonda Theaters
March 19: San Francisco, CA @ Bimbos
March 21: Seattle, WA @ Neumos
March 24: Minneapolis, MN @ Cedar Cultural center
March 25: Chicago, IL @ Old Town Scool of Folk
March 27: Boston, MA @ Paradise
March 28: New York, NY @ Stage48
April 2: Washington DC @ 9:30 Club
April 4: San Juan, Puerto Rico @ Cuartel De Ballaja