Published on March 5th, 2013 in: Canadian Content, Found Footage, Horror, Movies, Science Fiction, Upcoming Events |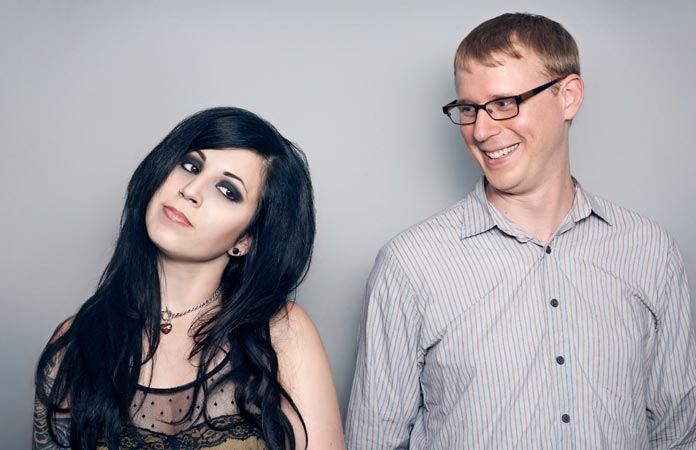 Andrea Subissati and Paul Corupe
For hardcore genre fans in the Toronto area, last year's The Black Museum was a dream come true: an interactive lecture series on horror and cult films that didn't require waking up early or writing papers.
Luckily, curators Paul Corupe and Andrea Subissati are presenting another season of The Black Museum, and this time, it's personal! (Not really, but I couldn't resist that joke.) Season Two will feature five more lectures on genre themes that will be both fun and educational.
Primate Panic kicks off the semester on March 21 with a look at Bigfoot and his many starring roles on celluloid, from the iconic 1967 Patterson-Gimlin film, through Night Of The Demon and other '70s movies. The lecture will be hosted by Paul Corupe and accompanied by a screening of Sasquatch: The Legend of Bigfoot from 1977.
April 4 brings forth Tourism in the 4th Dimension: Parallel Realities and Time Loops in Cinema. If you've ever wanted to learn more about actual theories of time travel and how they've been made manifest in cinema, this is where you should go. Mathematician and video artist Clint Enns will conduct this evening's lecture, including a discussion of "how film and photography are a metaphor for time travel."
"The evolution of found footage horror" is the subject of Ghost in the Machine on April 18, with Famous Monsters and Rue Morgue writer Alexandra West as your (g)hostess for the evening. The transformation of the genre from The Blair Witch Project through Asian horror of the aughts, to its current position as a "defining horror trope" will be addressed.
For those who can't get enough of Ken Russell or his infamous 1971 film The Devils, mark your calendars for May 2, when film critic Richard Crouse will be on hand to plumb the depths explored in his book, Raising Hell: Ken Russell and the Unmaking of The Devils, which is also the title of this lecture. If you're somehow still unfamiliar with The Devils and its history of being "banned, edited, and ignored" (as well as how the film was based in historical fact), this lecture will no doubt blow your mind. Did I mention the movie is about "oversexed priests and sexually suppressed nuns"?
Collecting movie posters isn't just for fan conventions any more. On May 16, Andrea Butler will look at "the paradox of the film poster: marketing for the sake of selling versus marketing material as art" in Killer Portraits: Iconography of the Horror Film Poster. From the Hollywood star system to contemporary artists like Ken Taylor, Jason Edmiston, Olly Moss, Gary Pullin, Justin Erickson, and Daniel Danger, the greater connection between audience and poster will be examined.
If you missed out on 2012's stunning season, don't make the same mistake twice! Advance tickets for all lectures can be purchased online beginning Friday, March 8 at theblackmuseum.com. This semester will once again take place at Big Picture Cinema on Gerrard (formerly The Projection Booth East).
You can also follow The Black Museum on Twitter and Facebook.