Published on March 4th, 2013 in: Movie Reviews, Movies, Reviews |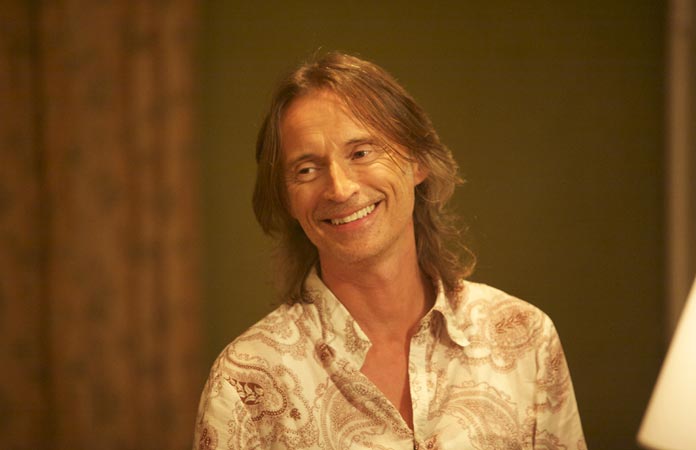 Photo © Strand Releasing
The catalyst in California Solo happens within the first few minutes of the film, before we even get to know its main character. On his way home from a bar, Lachlan McAldonich gets stopped and charged with DUI. Despite such boneheaded behavior, we like him anyway. Lachlan possesses a quiet charm; he's not belligerent when the cop asks him where he's been, and instead goofs around when getting his mug shot taken. What's more unexpected is how much our feelings change as the film continues.
Robert Carlyle (Trainspotting, Priest, The Full Monty) portrays the Scottish transplant Lachlan, who has taken up a career managing an organic farm and selling vegetables in Southern California since his '90s Britpop band The Cranks broke up over a decade before. Lachlan's life is low-key. He's single, but has a crush on Beau (Alexia Rasmussen), a young woman who visits the farmer's market where he works. Lachlan seems like a decent, humble guy until we realize he's kind of a (literally) raging asshole.
In this way, California Solo takes a similar path to that of The Wrestler, but it's a far more pastoral, ultimately hopeful version of that story, with DP James Laxton's camera work taking full advantage of the beautiful scenery and colors of So Cal farm country (while also showing the appeal it obviously has for Lachlan).
At its core, California Solo is a character study, and writer/director Marshall Lewy has created several: all flawed, frustrating, and believable. Lewy is skilled at writing dialogue for scenes of awkward, uncomfortable, and even painful moments between these characters.
In addition to Lachlan and Beau, there's also Beau's vaguely douchey DJ boyfriend Paul (Danny Masterson) and Lachlan's grump-with-a-heart-of-gold boss, Warren (A Martinez). Kathleen Wilhoite plays Catherine, Lachlan's smart, suspicious ex-wife, while Savannah Latham imbues the role of his estranged daughter Ari with a mix of naiveté and emotional depth. Though he's only in one scene, Michael Des Barres is perfect for the role of Wendell, the former manager of The Cranks who exposes the ugly hypocrisies of the music business.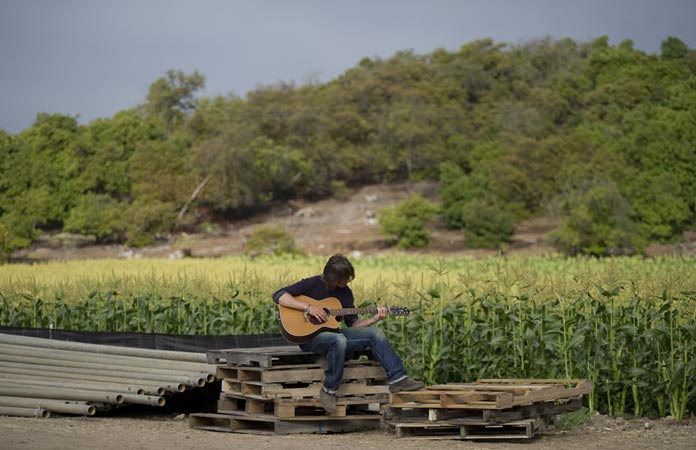 Photo © Strand Releasing
To illuminate Lachlan's plight, California Solo opens with Jay Reatard's "All Over Again" as Lachlan is recording "Flame-Outs," his solo podcast about the tragic deaths of famous musicians. That the other musicians featured are T.Rex's Marc Bolan and Mozart speaks volumes. The film also suggests nostalgia for a time that Lachlan would rather forget by using "The Only One I Know" by The Charlatans. This is in great contrast to T. Griffin's thoughtful, acoustic score and the song that Lachlan performs for Beau on acoustic guitar (which Griffin also wrote). By using such disparate musical styles, the film shows that it's the lack of cohesion between the various parts of Lachlan that's caused all of his troubles in the first place. Carlyle's strengths as an actor help provide the film's slow reveal: Lachlan has been repressing the darker, uglier parts of himself and even if the DUI ends up destroying his life, it's something that needs to happen.
California Solo is a gently sobering look at the life of a man who's made bad choices and forgotten how to be good person, but wants to remember before it's too late.
California Solo premiered at Sundance 2012 and is now playing in Toronto at the Carlton Cinema through March 7. It will be available on DVD and VOD March 5. For more, check out the film's website.