Published on February 28th, 2013 in: Blu-Ray, Current Faves, DVD/Blu-Ray Reviews, Feminism, Movie Reviews, Movies, Reviews |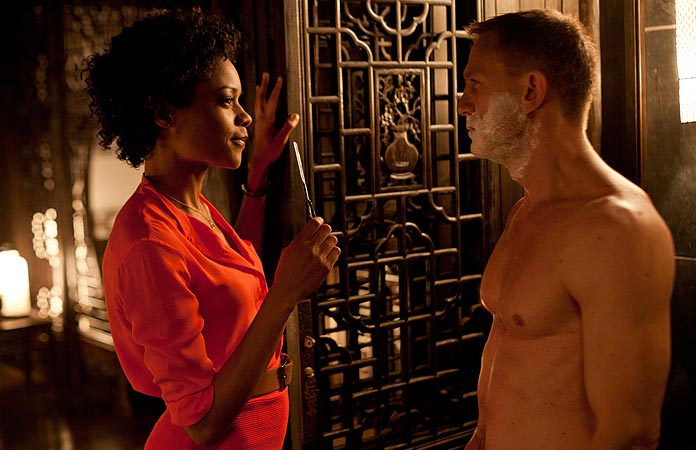 Photo ©2012 Danjaq, LLC, United Artists Corporation, Columbia Pictures Industries, Inc. All rights reserved.
Oh, James Bond fans. For everyone who was electrified by Daniel Craig's debut in Casino Royale, there were at least two who loathed the follow up, Quantum of Solace. For all Bond fans, Skyfall should be a revelation. It fulfills the promise that Casino Royale made: that Craig's Bond is one of (if not) the best, and that the character has finally arrived in the new millennium.
Just as there are fans of different Bond movies, there are fans of the different versions of Bond, but those who've only seen the films are missing a vital element: Ian Fleming's original template. So much of the character of James Bond is rooted in the books, and Craig seems to have inhabited that character better than most, even if his blond coloring doesn't exactly match the dark-haired, blue-eyed, scar-faced Bond of the novels (who would probably look more like a young Oliver Reed).
As important as Fleming's novels are, there's no denying that there are some fairly noxious clichés of sexism, racism, and homophobia running rampant throughout. To reiterate that the original series of books, however, are products of a certain time and mindset is not to excuse them, but to make clear that they began in 1953 and ceased in 1966, two years after Fleming's death. For the films not to have progressed with the subsequent passage of time and sociopolitical changes seems grossly unfair to not only filmgoers but the various groups of people the franchise has marginalized.
Luckily, the last three films have revolutionized what James Bond is and what he can be. There has been much written about the influence of Christopher Nolan's Batman films upon the "new James Bond," particularly Skyfall, and while that's likely a coincidence brought about by larger cultural factors, it is interesting (especially since both characters are male orphans who rely on strength and advanced weaponry to fight crime). Others have remarked that the books are pretty dark on their own, but Skyfall is still a pretty gritty chapter in the franchise.
Yet Skyfall is luxurious in ways that Quantum and Casino were not. For one, some of the most exciting actors and actresses of the last few decades appear in the movie. Besides Daniel Craig, there's also Javier Bardem, Ralph Fiennes, Albert Finney, Ben Whishaw, Naomie Harris, and Bérénice Marlohe, not to mention Judi Dench.
Second, there's the of-the-moment plot of a rogue agent turned computer hacker that resonates strongly and frighteningly in a world where both cyber terrorism and hacktivism have become insidious. To eschew Q's infamous gadgetry and transform him into a young computer genius was another savvy move.
Finally, there's Sam Mendes's remarkable directorial skills and Roger Deakins's impeccable cinematography. The history of Bond films has been notoriously incestuous, with the same directors, screenwriters, and camera crew working on many of the films. Attempts to bring in talent from outside that circle have led to mixed results (Lee Tamahori's Die Another Day and Roberto Schaefer's Quantum of Solace). With Skyfall, everything coalesces perfectly on both visual and narrative levels.
The action scenes are perhaps the best in the franchise, even outshining the intense parkour fight in the opening of Casino. Here Bond fights for his life and for the anonymity of MI6 agents on the top of a train and in a glass room lit by reflections and neon signs. The fight choreographer, Nicola Berwick, also performed stunts on Quantum of Solace, but perhaps more significantly on The Bourne Ultimatum, a competing franchise some credit as an inspiration for Skyfall.
As for female characters, even though Judi Dench assumed M's mantle in 1995's GoldenEye, the Bond girls have more often than not followed the pattern of "one good, one bad" in each film. Each of the last three films has slowly shredded that blueprint, first with Eva Green's Vesper Lynd in Casino Royale, and then with Quantum's Camila Montes (Olga Kurylenko), who is not actually out to double-cross or kill Bond. With Skyfall, we have the tragic Severine, who Bond wishes to save but cannot, and a woman who is as close to his equal as we have yet seen: Eve Moneypenny, a tough fellow agent with whom he shares a strong mutual sexual attraction. In addition, Javier Bardem's Raoul Silva is sexually ambiguous, and when he quite obviously hits on Bond with languorous caresses and come-ons, Bond intimates that it might not be his "first time." This far beyond the homophobic cartoons of Mr. Kidd and Mr. Wint in Diamonds Are Forever.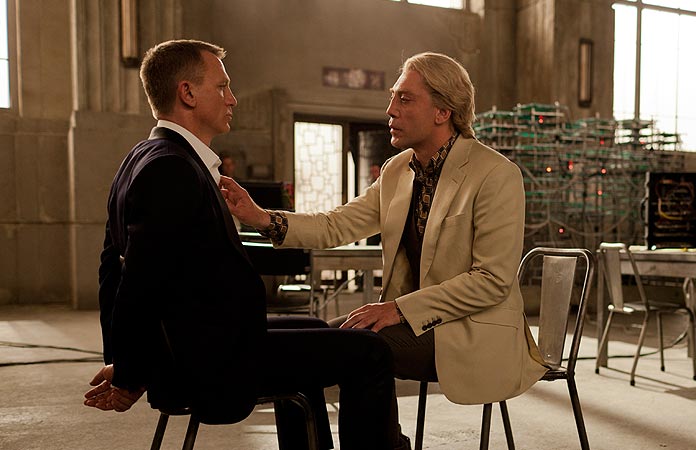 Photo ©2012 Danjaq, LLC, United Artists Corporation, Columbia Pictures Industries, Inc. All rights reserved.
Bond films are as famous for their actors and stories as they are for their iconic theme songs, and with Adele's "Skyfall," we've certainly witnessed one of the best, with intimate lyrics and a vocal performance to match. In another ingenious move, Daniel Kleinman's opening titles sequence is actually full of film spoilers, including specific references to the last act of the movie. With Skyfall being both a huge leap forward as well as a return to Bond's roots—both as a character and a franchise—it makes perfect sense.
While box office numbers don't denote quality, it's worth mentioning that Skyfall has grossed over $1 billion worldwide and is not only the highest-grossing Bond film of all time, but the highest grossing film ever in the UK. If this leads to future excellence in the franchise, then I'm all for it.
Skyfall was released on Blu-Ray February 12 from Twentieth Century Fox Home Entertainment. The transfer is exquisite. The special features include an entertaining, illuminating commentary track from director Sam Mendes, and one from film producers Michael G. Wilson and Barbara Broccoli, plus production designer Dennis Gassner. There's also a short featurette on the film's London premiere at the Royal Albert Hall and a series of wonderful featurettes including behind-the-scenes footage and interviews with the cast and crew.