Published on February 27th, 2013 in: Culture Shock, Current Faves, Feminism, Music, Music Reviews, Reviews |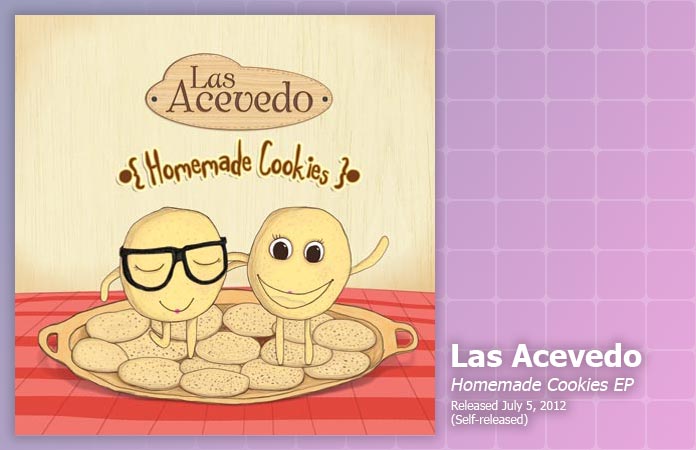 Sometimes judging a record by its sleeve yields unexpected rewards. While reading the blog Puerto Rico Indie in search of news about a rumored upcoming release by Rita Indiana, I came across a free compilation put together by the up-and-coming band Las Acevedo. The hand-drawn and collaged sleeve art, with its depiction of a purple-haired, antlered girl snuggling a guitar, drew me in, and within a matter of seconds I found myself purchasing their EP Homemade Cookies from their Bandcamp site.
Since then, the music of twins Anabel and Cristabel has accompanied me as I dodge patches of black ice on my way to the train station. In a winter season that has dumped several feet of snow on my town, Las Acevedo's spare style, unhurried tempos, and undeniably catchy melodies have sounded like a warm breeze of fresh air. Their syncopated rhythms and ukulele strumming would be the ideal beach soundtrack for a Mack Sennett bathing beauty, and Anabel and Cristabel's unison singing might encourage listeners to start singing along as well. Though their songs are in the traditional 4/4 time signature, their emphasis on the 2 and the 4 beats gives the songs an unusual, engaging rhythm.
Las Acevedo sound as though they were influenced by bachata, a genre that originated in the Dominican Republic at the start of the 20th century. Like many vocalists working in bachata, Anabel and Cristabel sing in clear, straightforward voices, and they avoid techniques like melismata and vibrato that contemporary audiences associate with great singing. Because I'm learning to speak Spanish, I appreciated how the Acevedo twins' voices were recorded cleanly and placed at the front of the mix, as it helped me to hear and better understand their lyrics.
In recording these five tracks, the girls employ simple arrangements and production. The instruments are well recorded, and the uncomplicated recording puts the focus directly on the girls' skills. They ably play to their strengths, and their limitations bring out their creativity. Opening track "Cucu" features some tongue-clucking percussion, and a video of the band performing reveals that Anabel plays the tambourine with her foot like a kick drum while she slaps the bongo drums!
In addition to Homemade Cookies, Las Acevedo have released two other EPs, appeared on a tribute to the legendary ranchera singer Chavela Vargas, and put together a free Valentine's Day compilation featuring other rising stars of the Latin alternative firmament. Additionally, Anabel has released a few songs with her side project YoSoyMiHermano.
Though the members of Las Acevado wouldn't be able to rent a car if they lived stateside, they have amassed an impressive body of work at a young age. May their infectious creativity and sweet melodies bring you happiness on the cold days of winter.
Check out the Homemade Cookies EP on Las Acevedo's Bandcamp.