Published on February 25th, 2013 in: Current Faves, Feminism, Music, Music Reviews, Retrovirus, Reviews |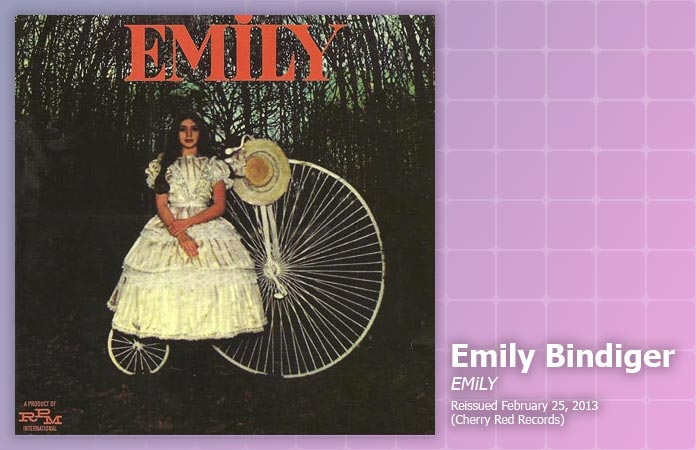 Before Kate Bush or Fiona Apple, there was Emily Bindiger. While on summer leave from the High School of the Performing Arts in New York, Bindiger was cast in the legendary, star-making French revue Double V. She dropped out of school and traveled to Paris alone to appear in the show. Through Double V, Bindiger met Michel Polnareff, who introduced her to the members of the psychedelic pop band Dynastie Crisis. Bindiger's lone solo album, EMiLY, was released through Pathe in 1972. In honor of the album's fortieth anniversary, British label Cherry Red has given EMiLY its MP3 debut.
Heard with contemporary ears, EMiLY sounds both of its historical moment yet also transcends its time period. The songs bear lively arrangements, driven by surprising instrumentation. A French horn provides the riff for the opening song, "Confession," and the cello line that opens "My Mother's House" recalls the theme songs for James Bond movies of the era. Other tracks sound like continental glosses on uniquely American genres. "Sunflower Seeds" and "Song for Steven" master the syncopated beats and instrumentation of then-popular countrypolitan songs (dig that arpeggiated guitar and banjo riff!), but sound unconvincing. With the full monophonic production and full-sounding rhythm track and low end, EMiLY has the subversive easy-listening appeal of Van Dyke Parks's Song Cycle.
Though Bindiger experiments with various au courant musical styles, she sounds most confident when she's singing ballads. These slower tracks feature minimal, hymn-like melodies, suitable for the themes of religious disillusionment and redemption of which she writes. Befitting her age and the era in which she wrote these, the lyrics have an endearing naiveté familiar to those who have struggled with the contradictions inherent in organized religion. Her strong, full voice, with its hint of unruly vibrato, sounds both deeply mature and very young . . . an accurate rendition of adolescent displacement if ever there was one. Her clear-eyed lyrical perspective evokes the heroines of JD Salinger's stories or Wes Anderson's movies.
Though Pathe did its best to promote EMiLY, the album sounded out of step with French rock of the time, and the English-language lyrics prevented it from finding a wider audience. Though the album lapsed out of print within a year of its release, it became a hot commodity among fans of freak folk searching for the next Vashti Bunyan. Original copies changed hands for almost $600, and the album became a popular item among MP3 blogs.
Though Bindiger has yet to follow up her solo debut, she hasn't done too badly for herself. After returning to the states and getting her diploma, she resumed her acting and singing career in the off-Broadway revue Sisters of Mercy, which was devoted to the music of Leonard Cohen. The man himself was so impressed with her singing abilities that he tapped her to sing on his album New Skin for the Old Ceremony, and Bindiger joined him on a world tour as a backup vocalist and guitar player. Since then, she has amassed a great deal of studio time as a jingle singer and voice actress in English-language anime dubs, and appeared on-camera in both the Woody Allen musical Everyone Says I Love You and the children's TV series The Great Space Coaster.
While Bindiger has also worked with a few a capella groups, hearing a follow-up album would be a fascinating thing. She's had quite the life, after all.
EMiLY is out today from Cherry Red Records and available to order directly from the label's website.