Published on February 8th, 2013 in: Current Faves, Horror, Music, Music Reviews, Retrovirus, Reviews, Soundtracks and Scores |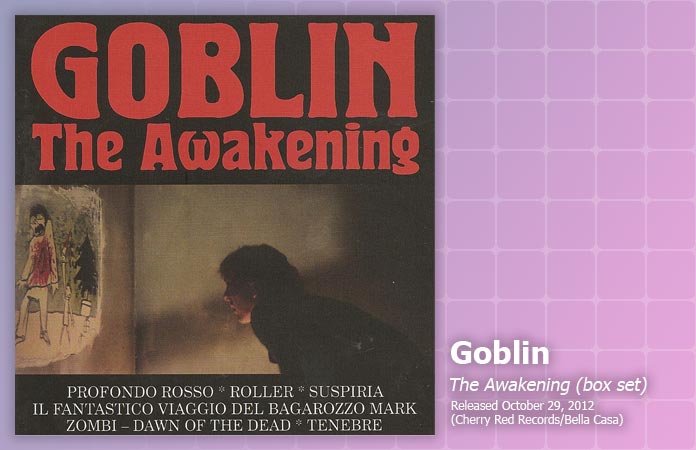 If you've seen Suspiria, then you know of Goblin, the Italian band responsible for its iconic, eternally terrifying score. There have been lineup changes over the years, but several members have been consistent: original members Massimo Morante and Claudio Simonetti, in addition to Maurizio Guarini, Agostino Marangolo, Walter Martino, and Fabio Pignatelli.
Fans of filmmaker Dario Argento may already be familiar with Goblin's contributions to the Italian horror and giallo genres, but Goblin has much to offer the music aficionado looking for something challenging. In keeping with the spirit of their prog rock origins, they have several albums that are not scores, including at least one straight-up concept album, sort of like a soundtrack without a movie.
Cherry Red Records and Bella Casa have compiled an excellent sampling of Goblin's bizarre and enthralling discography with a six-disc box set including not only the band's compositions for Argento films, but also their contributions to the prog rock pantheon.
Argento had initially hired jazz pianist and composer Giorgio Gaslini to score 1975's Profondo Rosso (Deep Red), but after being unhappy with the results and unable to convince Pink Floyd to finish the job, he found Goblin. For this we should be forever grateful to Pink Floyd for turning Argento down.
Even if, like me, you haven't seen Profondo Rosso, its score is still bewitching. Goblin has a gift for odd yet memorable melodies, particularly the title theme. These compositions aren't so much individual pieces of music as they are mini-symphonies, especially "Wild Session," whose childlike music box effects, shrieking, and wind noises are sonic progenitors to Suspiria. "Mad Puppet" has similar shifts in tone, beginning with a spooky, atmospheric heartbeat before transforming into an almost bluesy instrumental. One can hear the taut, suspenseful influence of "Death Dies" on any number of future Steroid Maximus tracks. "Deep Shadows" can perhaps best be described as a sonic freakout, while both "School At Night" and "Gianna" have melodic elements reminiscent of 1970s British sitcom themes. There are 27 bonus tracks included on this disc, with multiple outtakes and versions of each of the main tracks. It's a little overwhelming for the non-Goblin fanatic, though one wonders if even the diehards will obsess over the subtle differences between "Profondo Rosso (Jazz Source 2)" and "Profondo Rosso (Jazz Source 3)."
Roller, released in 1976, is a non-score album and as a result, it's a bit more consistent and cohesive than Profondo Rosso. "Aquaman" is rather Pink Floyd-esque, which is intriguing considering the history of the Profondo Rosso soundtrack. The jazzy funk of "Snip-Snap" seems like something Roger Manning would cite as an influence. "Il Risveglio Del Serpente" begins with cymbal swirls but is essentially a guitar and piano track that's quite lovely. There's even a track called "Goblin"—11 minutes of weird noises, synth melodies, guitar noodling, and heavy bass that ends with a drum solo. The album closes with "Dr. Frankenstein," which kind of sounds like "This Jesus Must Die" from Jesus Christ Superstar. If you like instrumental prog music from the '70s, you'll like this album.
The bonus tracks here are both fantastic, described in the liner notes as the themes from Italian TV series Chi?, broadcast on RAI in 1976. "The central part of the programme consisted of a quiz based on the Giallo play staged during transmission … the show was complete with music and dancing." (If any episodes of this show are available I would love to see them.)
Allegedly, the score for 1977's Suspiria was composed before the film was shot, and even played on the set during filming, which makes its synthesis with the film's visual and tonal aesthetic even more impressive. Suspiria is the standard by which all other horror film scores should be judged. Frightening even out of the context of the film (which is itself scary), the score is a cacophony of chiming bells, synth melodies, weird bleeps, sinister whispering voices, gongs… and that's just the title theme. "Witch" includes the sounds of wind, metallic banging and slapping, shrieking, bassy synth tones, and chanting and is the most unsettling of all. The word "suspiri" means "sighs," and appropriately the track of the same name contains whispering, heavy breathing, and hissing, later joined by jangling harpsichord and low vocals that seem to have inspired more than one Siouxsie and the Banshees tune. "Markos," named for the old witch in the film, is almost normal-sounding, at least by Goblin standards.
"Black Forest/Blind Concert" dispenses with most of the sonic oddities for guitar, drums, heavy bass, and even saxophone for a track that is both beautiful and bittersweet. The final "Death Valtzer" is ballet class piano music, perfect for a film set in a dancing school. There are five bonus tracks, all alternate versions of the main pieces, but the variations are fascinating for how their omissions alter the emotional impact.
Il Fantastico Viaggo Del Bagarozzo Mark, from 1978, is a non-scored concept album detailing the recovery of a drug addict. It also includes the Italian vocals of Goblin member Massimo Morante. While the original album included the lyrics translated into English, this version does not. However, the songs are wonderful even without knowing their meaning. "Un Ragazzo D'argento" is outstanding, and feels as if it's pointing directly at the nascent post-punk/new-wave movement, especially Gary Numan's contributions. Although Morante's vocals don't sound anything like Freddie Mercury's, "Opera Magnifica" sounds a lot like Queen, as does the wistful, haunting "… E Suono Rock," another standout. Only one bonus track is included here, the quite groovy "Yell."
Other than Suspiria, the score Goblin are best known for is that of Zombi, also known as George Romero's Dawn of the Dead, although apparently many of these tracks only appear in the Italian cut of the film. As befits the undead, "L'alba Morti Dei Viventi" lurches forth with hypnotic synths over drums. Both "Zombi" and the remarkable "Safari" are definitely points of reference for J.G. Thirlwell's instrumental compositions. The English translation of "Torte in Faccia" is "pie in the face," and that's exactly what this track sounds like.
Like Profondo Rosso, there is a lot of sonic variety in this score, like the spacey "Ai Margini Della Follia," the Sweet glamrock of "Zarazotom," and the vaguely countrified "Tirassegno." It might be surprising that "Oblio" shares much in common sonically with Badfinger/Nilsson's "Without You" or that "Risveglio" is a straightforward piano ballad, but such is the wonder of Goblin. This disc includes seven bonus tracks, including the amusingly titled "Zombi (Sexy)" (with saxophone, natch) and "Zombi (Supermarket)" (which sounds exactly like you'd expect).
Although included here as a Goblin score, the music for Tenebre technically only includes Simonetti, Morante, and Pignatelli. It is another wildly eclectic score from Goblin held together by a unifying feeling of uneasiness. For those accustomed to the modern tendency to reference musical touchstones of '80s music, Tenebre will sound incredibly fresh. For those of us who never stopped listening to that music, it will sound vitally important. The title theme has a memorable vocoder melody later sampled heavily in Justice's 2008 tracks "Phantom" and "Phantom II" as well as flashes of Giorgio Moroder and Harold Faltermeyer's "Midnight Express" theme and organ music straight out of a Hammer haunted house movie.
There are two different sections in "Gemini," the latter of which features some impressive fretless bass. "Slow Circus" is all waterlogged music box notes while "Lesbo" (?!) sounds a bit like Rush with cowbell, until its second half transforms into synthy strangeness. "Flashing" alternates between creepy, ambient noise and industrial dance music, with a main melody supporting, but not copying, the one from the title theme. The reprise of "Tenebre" has softer instrumentation and guitar, but remains compelling. "Waiting Death" repeats the much of the music from the title theme while "Jane Mirror Theme" is an absolutely beautiful track, with reverbed guitar over a stead synth beat. Eleven bonus tracks are also on the disc, with a couple of remixes included.
The original artwork from each album has been beautifully reproduced on the cardboard sleeves for each disc in The Awakening set, and the whole thing comes in a nice cardboard box. The liner notes are utilitarian, although there is a nice intro by Claudio Fuiano. For fans of Goblin, The Awakening is a necessary purchase. For those not yet seduced by the many charms of Goblin, this box set is a wonderful introduction and a steal at £34.99 (roughly $50 in USD and CAD).
The Awakening was released on October 29, 2012 via Cherry Red Records and Bella Casa and is available to order directly from the label's website.