Published on February 8th, 2013 in: Canadian Content, Concert Reviews |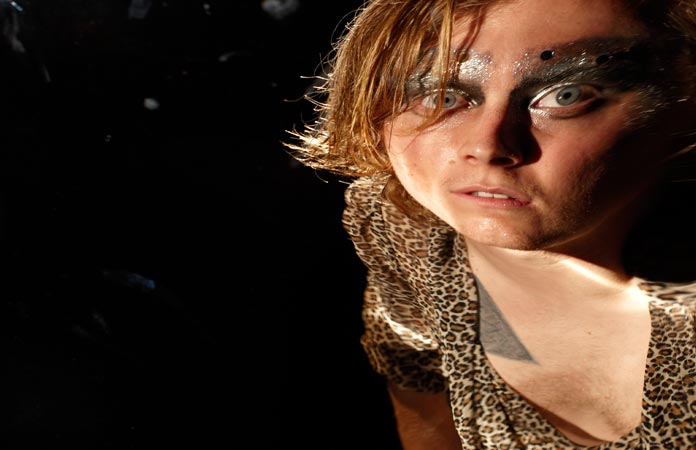 Photo © Annabel Mehran because I wouldn't have been able to snap a photo of the band live without a ladder.
Toronto ON
February 6, 2013
I'm a bit of a Ty Segall n00b, having only become a fan with the release of 2011's Slaughterhouse, so this was my first chance to see him live. Like Segall's music, the show was a bit of a sprawling, riotous orgy, with three opening acts.
First up was Toronto's Teenanger, with a very clever name and a very tight set; there were no breaks between songs. Musically, they're quite good, but unfortunately I don't favor singer Alex Lekay's whiny vocals. I much preferred when he stayed in his naturally deeper register. That's when they became more interesting. You can stream their album Frights on Exclaim.ca.
Nothing could have adequately prepared me for K-Holes (awesome band name). They had the look—three foxy women, including one with a saxophone—and the sound. I am struggling with how exactly to describe them: the post-punk and Goth elements of early Siouxsie and the Banshees; the male/female vocal tradeoffs of X; plus angular, dissonant rhythms, sultry saxophone, and bluesy swamp rock elements. I had shivers up the back of my neck more than once during their set.
Besides the look and the sound they have enormous stage presence. Singer Vashti Windish (another awesome name; I don't care if it's invented) makes maracas and tambourines look like sex toys without ever touching her naughty bits. Zumi Rosow has a bit of an "if Leslie Feist was Lisbeth Salander" vibe and works the fuck out of a saxophone. Julie Hines attacks her bass with a pick and flails around like a lead guitarist while lead guitarist and singer Matt Hines whines and growls all over the place. Drummer Cameron Michele performs with every cell of his body. Honestly, it was difficult to choose which one to look at because they're all overwhelmingly rock and roll sexy. Their latest release is called Dismania (you can buy it from their label, Hardly Art), and you can listen to their 2011 self-titled album on Bandcamp. It's nothing as close to as transcendent as they are live, so you must seek them out in a concert venue as soon as possible.
I was actually sad to see them go and hoped that Ex-Cult and Ty Segall and crew were up to the task of following up the best set I've seen in a long-ass time.
Ex-Cult are the kind of band I would have adored when I was 15 and into hardcore. This isn't a diss because they're damn good, and not clichéd, testosterone-fueled meatheads. Their bassist, Natalie Hoffman, is terrific and sings backup harmonies while looking uncannily like the older version of Denny from Born Innocent (seriously, look at these photos and tell me different). Everyone in the band is great, but singer Chris Shaw is a natural frontman, with an outstanding voice and intimidating physical stance, a perfect fit for the band's raw, tough sound. You can stream their self-titled debut on Goner Records on SPIN, but it's not nearly as satisfying as seeing them live.
I can't recall Ty Segall's exact set list, mostly comprised of songs from Slaughterhouse and Twins, but I can tell you that he is the real deal. His voice is even better live than it is on records—ranging from falsetto to ragged screams to a sweet tenor—and when he harmonizes with bassist Mikal Cronin, it's gorgeous. His skills on guitar have not been exaggerated, either. He truly shreds. I wish I could have actually seen more of the band but there was a massive pit in the massive crowd so I can only tell you that they sounded amazing, although I find the sound at the Phoenix a bit flat, so I was not able to enjoy Cronin's bass playing as much as I would have liked, though Emily Rose Epstein's drumming is solid. And they played "Handglams" so I was in heaven. Go see these guys and gal before they become so famous they start playing arena shows exclusively.
Both Ex-Cult and Ty Segall were gracious enough to allow an assortment of stage divers throughout their sets, but Segall waited until his last song to jump into the crowd himself, which was a great way to end the already-wonderful night.
Ty Segall Tour Dates:
02/08 Kenyon, OH – Horns Gallery/Kenyon College ^
02/09 Chicago, IL – Empty Bottle 7pm ^
02/09 Chicago, IL – Empty Bottle 10pm ^
02/10 Omaha, NE – Sokol Underground ^
02/12 Denver, CO – Hi Dive ^
^ = w/ Ex-Cult
Ex-Cult Tour Dates:
02/12 Kansas City, MO – The Record Bar
02/13 St. Louis, MO – Blank Space
K-Holes Tour Dates:
02/08 Empty Bottle – Chicago IL
02/09 Russian Recording – Bloomington IN
02/10 Stone Fox – Nashville TN
02/11 One Eyed Jacks – New Orleans, LA with Quintron and Miss Pussycat *
02/12 Siberia – New Orleans LA
02/14 E.A.R.L. – Atlanta GA
02/15 Slim's – Raleigh NC
02/16 Strange Matter – Richmond VA
02/17 Johnny Brenda's – Philadelphia PA
02/23 Cakeshop – NYC NY with Hellshovel *
* No Call of the Wild on this night