Published on February 7th, 2013 in: Current Faves, Feminism, LGBTQ, Music, Music Reviews, Reviews |
By Cait Brennan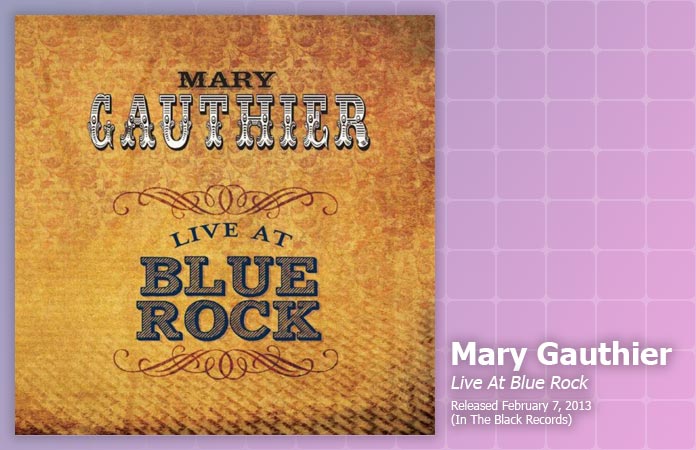 There's probably never been a more honest songwriter than Mary Gauthier. From her earliest days in music, taking up songwriting after becoming sober at 35, she's created characters whose struggles—with adoption, addiction, sexuality, homelessness, rootlessness—have closely mirrored her own. The road can be rough, but Gauthier's an expert in finding the spark of hope in the saddest of situations.
Over six studio albums, commencing with 1997's Dixie Kitchen, Gauthier's proven herself to be a storyteller of the first order. If the mood ever hits her, she'd be as great a novelist as she is a songwriter. Worlds rise and fall in her songs. Her characters reach grasping hands out of the cold darkness for one last shot at redemption. They grab it, sometimes. Sometimes it slips away.
Her songs have been covered by everybody from Blake Shelton to Boy George, and while you ponder that mental image, know that nobody's done 'em better than Gauthier herself.
It took her a long time to record a live album, but the outstanding songs and powerful performances on Live At Blue Rock prove it was worth the wait. Recorded live at Blue Rock Artists Ranch in Austin, Live At Blue Rock presents 11 of her finest, eight of which were written or co-written by Gauthier.
"Your Sister Cried" starts off the set, an enigmatic, cinematic tune written by Fred Eaglesmith, torn pages from a Southern Gothic tinged with humor and the kind of frustration and futility that only an extremely ill-advised wedding can produce. Eaglesmith is one of the finest songwriters on the job today and is a good fit for Gauthier's own work, and she makes "Your Sister Cried" her own with a great, wry vocal that gets things off to a lively start.
"Last Of The Hobo Kings" tells the story of Steam Train Maury Graham, the Grand Patriarch of the Hobo Nation, who started riding the rails as a teen in the early 1930s and died in 2006. Gauthier spins a beautiful, mournful farewell, not just to a man but to a whole way of life passing away before our eyes
The raw truth and pain of "Blood Is Blood" drew from Gauthier's own experience as an adopted child, barred forever from knowing the truth about her birth parents due to restrictive and antiquated "closed adoption" laws that are somehow, inexplicably, still in force. Part of Gauthier's ambitious, courageous 2010 song cycle The Foundling, "Blood" is a child reaching out for some kind of family connection, something real to hold on to, and being denied at every turn. "I got a heart that's ripped, I got a soul that's torn/I got a hole in me like I was never born," she sings, ripping open that heart again in the process. For those with an adoptive history, this one will hit hard. Gauthier's righteous anger burns bright, crying out for healing and for justice.
The protagonist of "Cigarette Machine," another Eaglesmith composition, sees his lost love everywhere—"in a cigarette machine, in a bottle in the gutter, in a window on the street"—looking for release in old addictions, and finding everything but peace. It's an astonishingly powerful song and Gauthier brings a harrowing honesty to her performance, aided by deft work from versatile veteran percussionist Mike Meadows and stunning, fiery fiddle work from Tania Elizabeth of the wonderful, nigh unclassifiable Canadian band The Duhks.
"Our Lady Of The Shooting Stars" was born of an early disastrous gig, and the doubt, hurt, isolation, and yearning of that moment, looking up from the bottom and wondering if it's all in vain. "Our Lady of the Shooting Stars, look what you have done," she sings, "You led me to the water's edge, running from sun." Moody, hushed, and hurting, Gauthier holds on to a spark of hope in the darkness.
Eaglesmith's "The Rocket" is about the saddest train song you'll ever hear, telling the story of a World War I veteran on a lonely train platform, the last place he ever saw his son alive before he was shipped off to die in yet another war. Stripped of his son, abandoned by his family, empty of faith, he's left with nothing but the memory. Gauthier's drawl calls up the heartbreak and loneliness, a yearning to change the past giving way to rattling off the passing trains that took the son to his death. No dry eyes after this one.
"Karla Faye" co-written by Gauthier and Crit Harmon, gets inside the head of the infamous Texas murderer Karla Faye Tucker, whose life unravels line by line in unsparing murder ballad detail, with an undercurrent of compassion and redemption even in its darkest, most despairing moments.
"I Drink" might be Gauthier's most famous song, a stark, brutally honest, mournful country blues getting straight inside the heart of an addict. "I got my daddy's blood inside my veins," Gauthier sings, memories of an alcoholic father giving way to the bottle that's here and now. She's writing a character sure, but that voice tells you she's lived it. Universal/Lost Highway signed her on the strength of this song, written five years after finding the sobriety that enabled Gauthier to begin her career.
"I found my voice in recovery," she said of this song. "I didn't find much at all when I was out there swirling further and further down. I never wrote a single song under the influence of drugs or alcohol. I couldn't do it, even though I tried. I simply couldn't finish anything. My brain was out of focus in the truest, deepest sense. My eyes could see, but I had no vision." She's got vision clear beyond the horizon in "I Drink," and this might just be the definitive version of the song.
"Sugar Cane" (co-written with Catie Curtis) is drawn from Gauthier's childhood living in Thibodaux, Louisiana, on the banks of Bayou Lafourche, where burning fields of cane still darken the skies every year around Christmas. "Mama said she don't give a damn what those people say, cane smoke can't be good for you day after day," Gauthier sings, recalling her real-life mother who protected her from the smoke of the cane fires. You can almost hear the smoke in her weary, angry, mournful voice, her wailing harmonica calling out the environmental—and personal—devastation caused by the ancient, brutal, and still-ongoing method of clearing harvested sugar cane fields. Tania Elizabeth's fine high harmonies sing out strong, her fiddle bow cutting jagged, rueful wails through the ashes.
There are few certainties in life, but one of them is this: If you don't like "Drag Queens In Limousines," there is something seriously wrong with you. One of Gauthier's greatest songs, "Drag Queens" is an autobiographical story about coming of age as a gay kid in the South in the 1980s, and how our family of choice might be the only thing that can ever really save us. "I stole mama's car on a Sunday and left home for good, moved in with my friends in the city, in a bad neighborhood," she sings in waltz time over Elizabeth's gorgeous fiddle melody, "Drag queens in limousines, nuns in blue jeans, dreamers with big dreams, all took me in." It's an anthem for outsiders, with a glad heart and a mission statement: "Sometimes you got do what you gotta do, and pray that the people you love will catch up with you." That, my friend, is the truest thing you're ever gonna hear.
The set concludes with "Wheel Inside The Wheel." "Wheel" was partly inspired by the terrible sudden loss of Dave Carter, the extraordinary, spiritually charged into-the-mystic singer/songwriter whose acclaimed work with Tracy Grammer rewrote the book on modern folk music. Carter died of a heart attack in 2002, and Gauthier goes from Ezekiel's wheel to Nietzsche's eternal recurrence trying to make sense of the unknowable. "Souls ain't born, souls don't die, soul ain't made of earth, ain't made'a water, ain't made of sky—ride the flaming circle, wind the golden reel, and roll on brother, in the wheel inside the wheel," she sings, bridging Old Testament prophecy and Buddhist dharma, a fitting tribute for a soul like Carter's.
Gauthier has described the song as "a kind of Jazz Funeral in and of itself," and the ghosts of New Orleans parade a "second line" through Gauthier's sky, with Satchmo, voodoo queen Marie Laveau, Mardi Gras Indians, even Oscar Wilde, taking their turns in a "red carpet, black tie, all night, celestial bash" that was, and is, and ever will be again. Gauthier's soulful, bluesy voice sings it out for the ages, and Elizabeth's frenetic, ghostly, gorgeous St Vitus fiddling sending it home on a perfect note.
Longtime Mary Gauthier fans who've waited years for a live album will be thrilled with this one. But if you've never heard her, this is a perfect place to start. With 11 career-spanning songs, Gauthier's powerful performances and great work from players Mike Meadows and Tania Elizabeth, Live At Blue Rock is Mary Gauthier at her best.
Live At Blue Rock is out today from In The Black Records and can be purchased from Mary Gauthier's website.
Tour Dates:
02/21/13: St. Paul, MN / James J. Hill Library
02/22/13: Knoxville, TN / Pine Ridge House Concerts
02/23/13: Lawrenceville, GA / Bowman House Concert Series
02/24/13: Charlotte, NC / The Evening Muse
02/26/13: Ashland, VA / Ashland Coffee & Tea
02/27/13: Gaithersburg, MD / Arts Barn
02/28/13: Sellersville, PA / Sellersville Theater
03/01/13: Teaneck, NJ / Mexicali Live
03/02/13: Dobbs Ferry, NY / Common Ground @ South Presbyterian Church
03/05/13: S. Burlington, VT / Higher Ground
03/06/13: Harrisville, NH / Deb's Chesham House Concerts
03/07/13: Portland, ME / One Longfellow Square
03/09/13: Rosendale, NY / The Rosendale Cafe
03/10/13: Saratoga Spring, NY / Cafe Lena
03/13/13: Piermont, NY / Turning Point
03/14/13: New Haven, CT / Cafe Nine
03/15/13: Fall River, MA / Narrows Center for the Arts
03/16/13: Franklin, MA / Circle of Friends Coffeehouse
03/23/13: Sisters, OR / Harmony House Concerts
03/24/13: Eugene, OR / Tsunami Books
03/29/13: Nashville, TN / Bluebird Cafe
04/03/13: Duluth, GA / Red Clay Theatre
04/06/13: Panama City, FL / Music Under The Moss
04/07/13: Baton Rouge, LA / Red Dragon Listening Room
04/09/13: Houston, TX / McGonigel's Mucky Duck
04/10/13: Austin, TX / Cactus Cafe
04/11/13: Dallas, TX / Poor David's Pub
05/18/13: Columbus, OH / Columbus Performing Arts Center
06/09/13: Bellows Falls, VT / Roots On The River
08/30/13: Groveland, CA / Strawberry Music Festival