Published on February 5th, 2013 in: Current Faves, Music, Music Reviews, New Music Tuesday, Reviews |
By Cait Brennan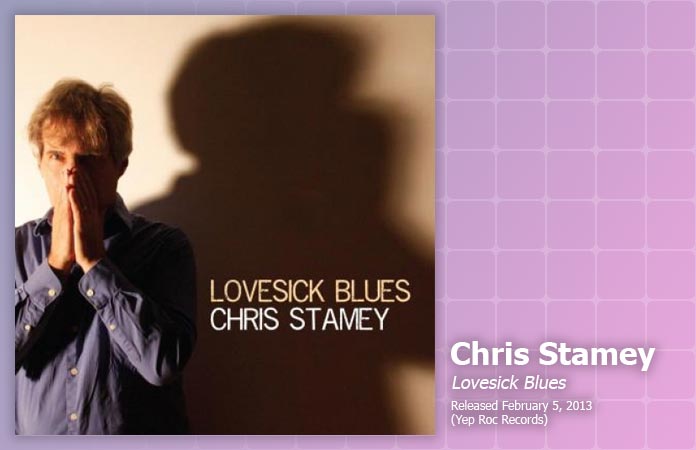 Just about any item on Chris Stamey's resume would get you your cult rock and roll bona fides. He played with Big Star's Alex Chilton, and formed his own great (if short-lived) powerpop band Sneakers alongside Mitch Easter and Will Rigby. Stamey even founded his own indie record label, which released the one and only solo single by Big Star's Chris Bell, the transcendent "I Am The Cosmos." But he was just getting started.
Perhaps best known as a founding member of influential rockers the dB's, Stamey cemented his place in music history early with that band's first two landmark albums, 1981's Stands For Decibels and 1982's Repercussion. But despite the acclaim, Stamey stepped out for a solo career shortly before the band's third album Like This, and has traveled a fiercely independent road ever since.
The past few years have found Stamey busier than ever. He's produced records for artists as diverse as Yo La Tengo, Whiskeytown, Le Tigre, and Alejandro Escovedo, recorded duo albums with his former dB's compatriot Peter Holsapple, and even served as the driving force behind the acclaimed Big Star tribute shows, fully-orchestrated live performances of Big Star's Third/Sister Lovers.
In 2012, 30 years after leaving the band, Stamey and the dB's reunited for an outstanding new album, Falling Off The Sky, a blazing rock record that sounded less like a reunion of old pals and more like the debut of a vital new band (review). And now, before the ink's even dry on Falling Off The Sky's strong reviews, Stamey's back with a complete about-face, a warm, intimate solo collection of new songs called Lovesick Blues.
It's a gentle record with strong pop melodies and beautiful, deft orchestration, the kind of record that gets you through a long, lonely night—an album that would fit comfortably on the shelf between Big Star's Third/Sister Lovers, Robyn Hitchcock's I Often Dream Of Trains, REM's Automatic For The People, and Nick Drake's Bryter Later.
"Skin" kicks off the record with a love song where all boundaries between the lovers disappear, seeing the world through each other's eyes. "This is how it feels to be you," Stamey sings, all close harmonies and tastefully restrained baroque-pop instrumentation.
"I've got no idea what brought me here," Stamey sings to his unnamed companion on the lonely, spare "London," yearning for a respite from "three more weeks of overdubs and tambourines and benefits." Stamey captures the isolation and rootlessness of an expat in a city at once familiar and unknown, making dubious promises to call home when he can.
From there, the atmosphere brightens considerably for a bit. The sweet harmonies and sudden rock-drum kick of "Astronomy" collide to fine effect, and "Anyway" is probably going to end up on Brian Wilson's wish-I-wrote-this list. "I always thought forever meant forever/funny the way we turned forever into never, out of time," Stamey sings as the heartbreak stings. "Anyway, I never lied to you."
"You N Me N XTC" is your basic college radio smash, cataloguing a wayward road trip in sparkling guitars and a suitably XTC-like arrangement guided by none other than XTC's own Andy Partridge. The elusive Partridge declined an offer to do a vocal cameo, but emailed production notes, arrangement ideas and mix suggestions for this song and others on the album, a process Stamey likened to "having an exceptionally intuitive Ouija board".
"I Wrote This Song For You" is a lovely, unselfconscious love song, Stamey's plaintive North Carolina drawl singing out the bittersweet life of a troubadour yearning for home. "Nothing ever changes for the castaways," he sings, "One day soon I'll wake up in your arms and starlings will serenade us from our yard."
But the night isn't quite over yet. "It's a Leonard Cohen morning," Stamey sings on "The Room Above The Bookstore," and the dark minor chords and mournful litany of casual losses tells us he ain't kidding around. And you can feel the days get shorter and shorter on "Wintertime," its sad melody fading to white.
Stamey truly reaches the dark night of the soul with a moody torch-song take on an undeservedly obscure Stamey tune, "Occasional Shivers." A live version of the song appeared in 1986 as the B-side of the Chris Stamey Group single "Christmas Time." The jazzy, sophisticated arrangement is spot-on, and Stamey's tender, tremulous vocal here is one of his very finest. It's a great song.
The album reaches its zenith on the title track, "Lovesick Blues," not a traditional blues at all, but a pop epic dedicated to North Carolina guitar great Sam Moss. Moss, who played in countless bands and ran a guitar shop in Winston-Salem for over 20 years, took his own life in 2007. The loss was deeply felt by generations of musicians whom Moss mentored, Stamey among them. "I don't have a clue what I will do without you," Stamey sings, echoing both Moss's own despair and the loss felt by those around him, before the song builds to a gorgeous, cathartic crescendo of sound.
The album closes on a melodically upbeat note with "If Memory Serves," a wry song about the unreliability of the memories that make up so much of our lives. "I feel sure I'll never forget you," Stamey sings, "By the way, do you spell it with a K or Q?"
Lovesick Blues is produced by Jeff Crawford, whose own 2007 solo debut Something For Everyone is a must-listen for fans of Stamey, Big Star, and Elliot Smith. Crawford's production allows Stamey to stretch out and focus on his performances. With instrumental help from Chapel Hill's Fellow Travelers as well as members of the North Carolina Symphony, it's a beautifully realized record. The next time a lonely middle-of-the-night rolls around, slip on some headphones and give Lovesick Blues a listen. It's good company.
Lovesick Blues is out today from Yep Roc Records. You can order it from the label or Chris Stamey's website.
Tour Dates:
February 8, ArtsCenter in Carrboro, NC
February 16, Joe's Pub in New York, NY
February 17, Second Annual Tsi Music Awards, World Café Live in Philadelphia, PA